How to Avoid the Crowds When Visiting an Old Town in China September 07, 2017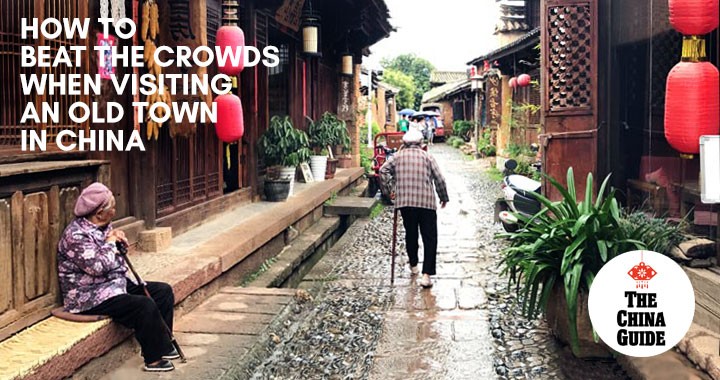 The many well-preserved old towns dotted around China offer a fascinating glimpse into the country's past, from their architecture to the traditional way of life of the people who live there. However, rampant over-commercialization and the jostling crowds that come with it can threaten to sour your experience. This is especially true for old towns that have become famous inside and outside China, such as Pingyao in Shanxi Province, and Lijiang and Dali in Yunnan Province.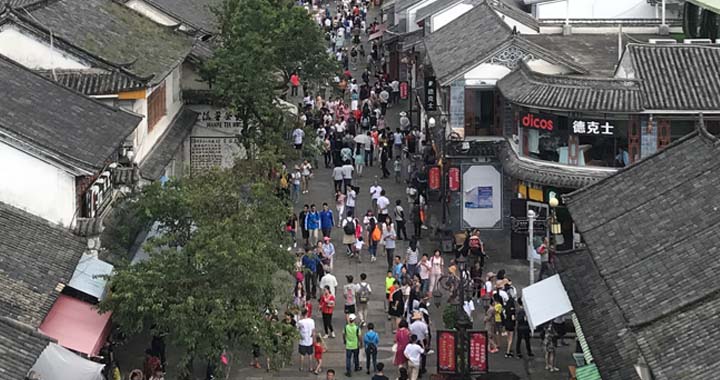 Crowds on the streets of Dali Old Town
That being said, don't let the prospect of crowds scare you away. Based on a recent trip to Yunnan and The China Guide's years of experience of organizing China tours, we have come up with a few suggestions for how to avoid the crowds while visiting old towns in China.
Firstly, spend a night in the old town you are visiting and then get up early the next morning to explore the streets with fewer tourists. Large Chinese tour groups usually arrive at the sights after breakfast at about 9am and even most independent travellers won't head out until later in the morning. It's worth sacrificing a few hours of sleep to see an old town as it wakes up and get a feel for how life might have been hundreds of years ago. An added benefit of staying overnight is that you get to experience the evening scenery, which is often just as beautiful as the daytime. For example, Fenghuang Ancient Town in Hunan Province is beautifully lit up at night, making for great photo opportunities.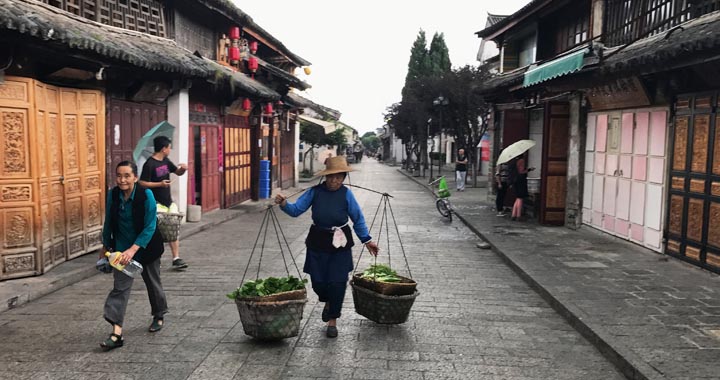 Dali Old Town in the early morning
How early is early enough to beat the crowds, you may ask? We recommend getting up before 7am, giving you a couple of tranquil hours before the hoards of people arrive. Another advantage of getting up early is that you may see locals starting their daily routine.
If you want to be sure you won't be rubbing shoulders (and elbows and hips and feet…) with thousands of other tourists, then avoid traveling during Chinese public holidays at all costs. This is especially true of the weeklong National Day Holiday, which begins on October 1, when hundreds of millions of people across China travel to popular tourist attractions. On the plus side, you may find that the same attractions are much quieter in the weeks immediately following the holidays.

Shaxi Old Town
Another way to beat the crowds is to choose an old town that hasn't made it onto the itinerary of most tourists yet. For example, we recently visited the old town of Shaxi, about two hours' drive away from the incredibly popular Lijiang Old Town.
Shaxi is much smaller than Lijiang but most of the streets and buildings have remained untouched by modernity. Most importantly, there has been very little commercialization (although there are still several great places to stay, such as thoughtfully restored boutique hotel, the Old Theatre Inn). Life goes on in Shaxi much as it has done for hundreds of years, a life that you can get a taste of at the long-established Friday morning market.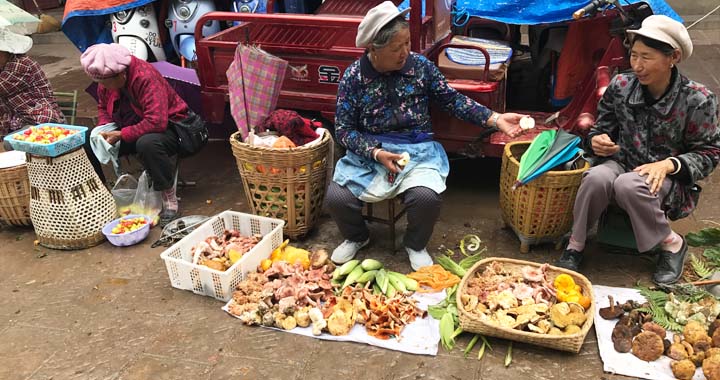 Local people selling mushrooms picked from the surrounding mountains
Although more and more Chinese old towns are being renovated and commercialized, there are still some hidden gems to be unearthed. ■
—
If you want to put a visit to an old town on your China bucketlist, don't hesitate to reach out to our travel specialists for suggestions and advice.