Our Favorite Places to Eat Local Shanghainese Cuisine in Shanghai October 10, 2017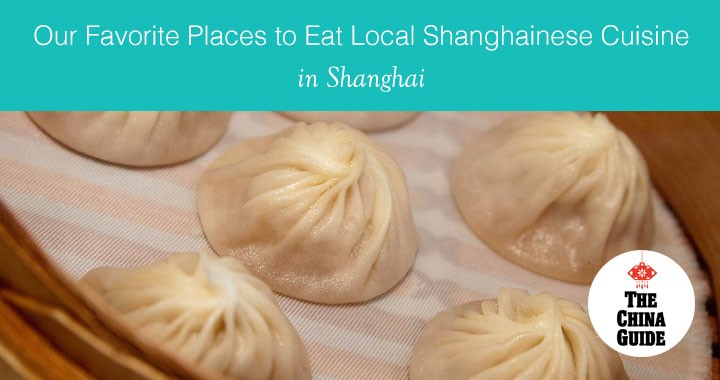 A buzzing, international city of 24 million people, Shanghai is one of China's best foodie destinations, home to thousands of restaurants serving just about any cuisine you can think of. While you can easily spend your days feasting on dishes from around the world, you shouldn't miss Shanghai's local cuisine, which is known for its rich, oily, slightly sweet flavors. Below are a few of our favorite places to try quintessential shanghai dishes such as fried soup dumplings and red-braised pork.

Din Tai Fung
Delicate steamed dumplings filled with meat and soup, xiaolongbao should be on the itinerary of any visitor to Shanghai. Pork is the most usual filling but you will also find versions made with crab (a popular Shanghai ingredient) and shrimp. Din Tai Fung is actually a Taiwanese chain but their renditions of Shanghainese street foods such as xiaolongbao are exceptional. There are a number of locations in Shanghai, including one in Xintiandi in the French Concession and one in the Super Brand Mall in Pudong.
Yang's Fry Dumplings
Yang's Fry Dumplings specializes in shengjianbao, the heartier cousin of xiaolongbao (both are filled with pork and soup but shengjianbao have a thicker, bread-like wrapper and are fried before serving). Rough and ready Yang's Fry Dumplings is the benchmark for shengjianbao in Shanghai - be prepared for long queues. Yang's has a couple of locations, of which the one on Wujiang Road near Nanjing West Road is the most convenient.
Shanghai Min
Shanghai Min is a great place to sample a range of traditional Shanghai dishes, such as scallion oil noodles and the dumplings mentioned above, in upscale surroundings. The location in the Super Brand Mall affords great views over the Huangpu River.
Jesse
Don't be put off by the slightly run down interior or the idiosyncratic name - this institution in the French Concession has been serving the same outstanding Shanghai dishes for decades. Be sure to order the braised pork shank and the tofu with crab roe. The popularity of the so-called "Old Jesse" has spawned several other branches but be sure to go to the original on Tianping Road for the full experience.
Fu 1039
Set in an early 20th century villa, Fu 1039 serves beautiful Shanghainese classics in equally beautiful surroundings. Prices are a little bit higher than in some other local restaurants but that makes it a good place to treat yourself at the end of a long trip. Be sure to order the traditional smoked fish appetizer and the drunken chicken (chicken poached in rice wine). ■
—
Have our restaurant suggestions got your mouth watering? Contact our travel experts now to start planning your trip to Shanghai, which can be customized to include any or all of the restaurants mentioned above.

---
Images: Wikimedia