Top ten things to do with kids in Beijing Last updated on 2018-08-10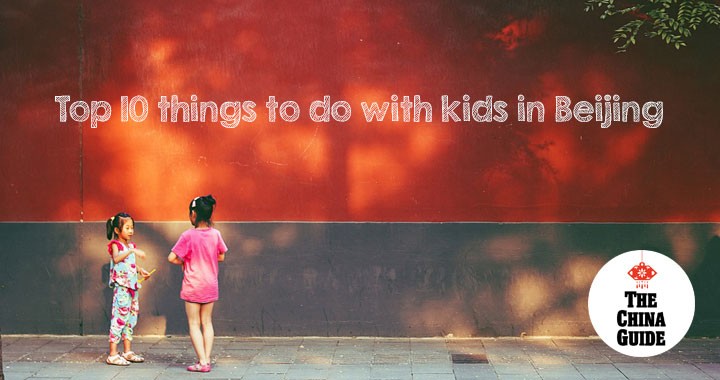 A sprawling city of 20 million people, where the ancient shares close quarters with the modern, Beijing really embodies the phrase "something for everybody." While adults will no doubt want to tick off major sights like the Forbidden City and Tiananmen Square, there is plenty to do to rouse flagging spirits and keep the little ones amused in between sight seeing. We've laid out a few of our absolute favorite things to do in Beijing when you're traveling with kids in tow.

The Great Wall at Mutianyu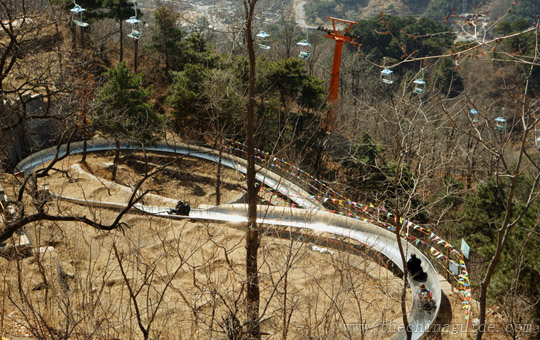 The Great Wall is a must on any China itinerary and with several parts of the Wall easily accessible from Beijing there is something for everyone, whether you want to make a quick trip or take a challenging hike along an unrestored section. Our favorite section is Mutianyu, which, while still accessible and equipped with good facilities, is slightly less crowded than tour group favorite Badaling. The very best thing about Mutianyu, however, is that you can take a hair-raising toboggan ride on the way back down – don't worry though, the toboggans are all equipped with handbrakes!
Go ice-skating on a frozen lake…
Proof that there is something fun to do in Beijing whatever the season, the winter weather might be cold but these low temperatures mean that many of Beijing's lakes freeze over and Beijingers of all ages start getting out their ice skates. The most popular lake for skating is Qianhai, where you can rent ice bikes, ice slides, and much more, at very cheap prices.

… or go boating on a lake in summer!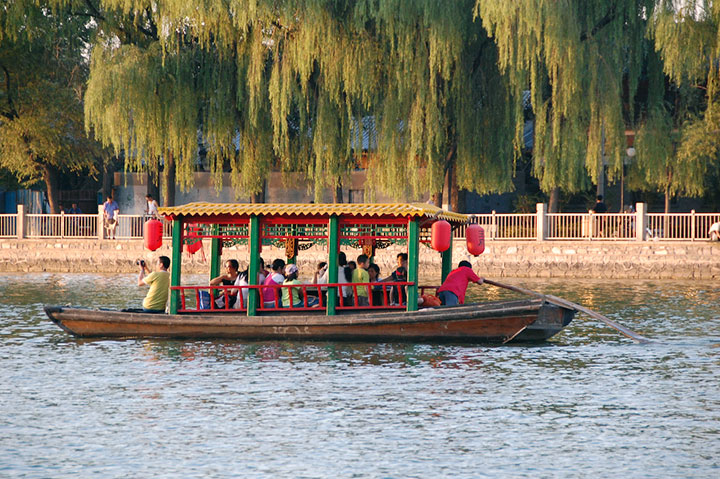 Of course, Beijing's lakes aren't just fun in winter. Once the ice has thawed out in spring, you can rent electric and paddle boats (depending on how energetic you're feeling). In addition to Qianhai, popular boating lakes include Chaoyang Park, Beihai, and Kunming Lake in the Summer Palace.
Have fun at a theme park
If you're in Beijing for a few days, take a break from the sightseeing completely with a visit to a theme park. The most popular one in Beijing is Happy Valley, located in the southeast of the city. Similar to Disneyland, the park is split into different themed areas including ones inspired by ancient Greece and the culture of Tibet and southwestern China. While the state-of-the-art roller coasters will delight thrill seekers and older kids, there are plenty of rides aimed at younger kids as well. The park is a bit off the beaten path, so ask your hotel to call you a taxi or take Subway Line 7 to 'Happy Valley Scenic Area' station.
Tour the hutongs in a rickshaw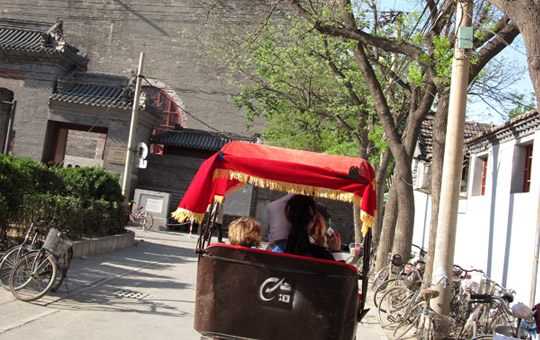 The hutongs, Beijing's traditional alleyways, are our favorite part of Beijing, with some new tidbit to discover around every corner (or so it feels like). Kids will love zipping through the winding streets in the back of a cycle rickshaw. Hop off at the home of a local family, where you can learn all about daily life in these traditional lanes, try some local food, and maybe even catch a glimpse of the crickets that many Beijingers still keep as pets.
Try local Beijing food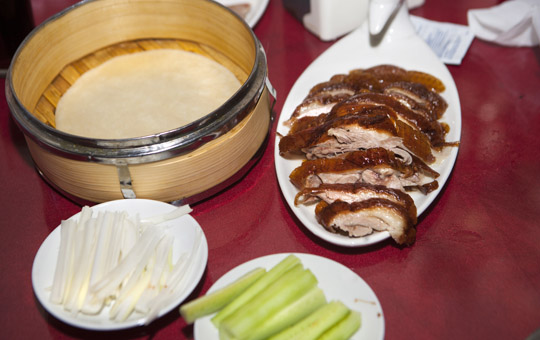 Even the pickiest eaters will find something to enjoy among Beijing's diverse dining options. One dish you certainly shouldn't miss is the city's eponymous Peking duck — kids will love wrapping up their own pancakes.
Be amazed by the Chaoyang Acrobatic Show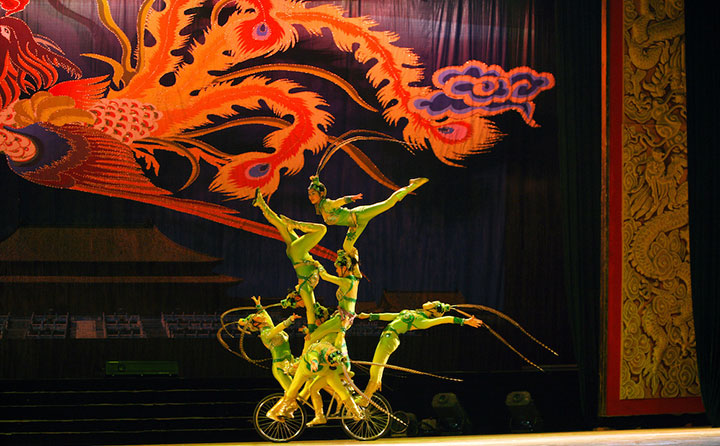 The Chaoyang Acrobatic Show is in our opinion one of the best shows to see while on tour in China. It appeals to all ages, from young children to adults - you won't be bored taking the kids to this one! Rather than cheap "tricks," the show is full of feats of skill and fitness. It is comparable to many international Cirque de Soleil type shows but at a price much lower and an opportunity to sit much closer. Having seen all the acrobat shows in Beijing and Shanghai, we consider this one to be the best of the lot.
Relax at a family-friendly brunch
If you're in Beijing for more than a couple of days, particularly over a weekend, then it can be nice to take some time out of sight seeing and enjoy an indulgent buffet brunch. Some of Beijing's best family-friendly brunches can be found in hotels, many of which have supervised play areas so parents can really relax for a few hours.
See the world at Beijing World Park
Travel the world without even leaving Beijing at Beijing World Park. This kooky theme park is home to replicas of more than 100 of the world's most famous landmarks, including the Eiffel Tower, the Pyramids of Giza, and the Statue of Liberty. Hop on the park's mini train to take a transcontinental rail journey! The park is a little way out from central Beijing (in the southwestern district of Fengtai) but it is worth it for the unique experience!
Take a cooking class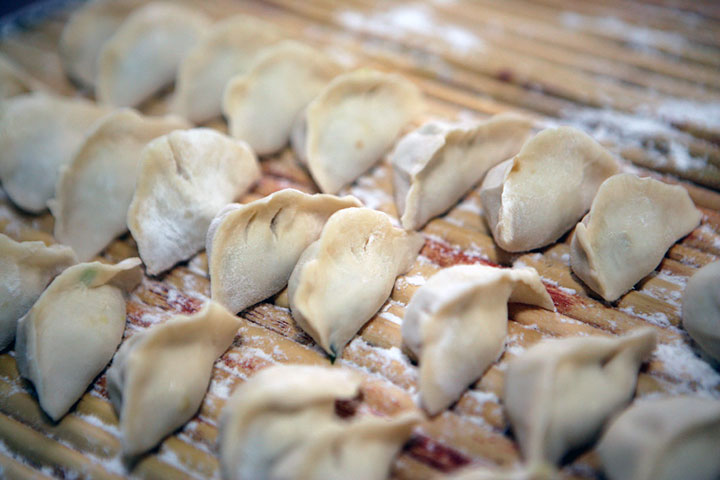 There's no better way to learn about a country's food than making it for yourself. Older kids will love to get their hands dirty preparing ingredients, while dumpling making classes are a good option if you'd rather keep little fingers away from sharp knives. ■
Please note that this is an extended, updated version of a blog originally posted on our website in December 2016.

---
Images: The China Guide, Wikimedia