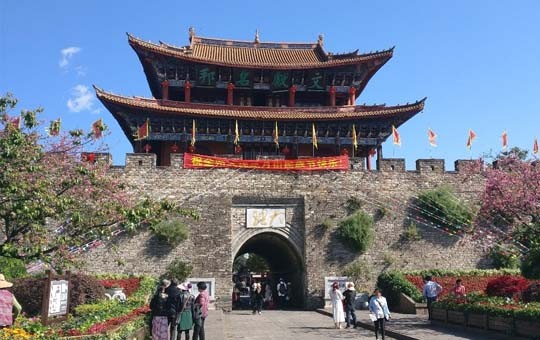 An indispensable part of any trip to Yunnan, Dali is a dreamy, bohemian town, ideal for anyone looking for a spot of relaxation.
Location and Transportation
Located in the heart of Yunnan province, Dali Old Town is 350 kilometers away from the provincial capital, Kunming. Buses depart Kunming for Dali every twenty minutes, the journey taking around four to five hours, and there are also overnight trains.
Dali is also located conveniently close to many other beautiful towns and and villages, such as Lijiang, Xizhou, and Shaxi, a small village between Dali and Lijiang. Shaxi, in particular, is a treat, as it has has been protected from mass tourism, but is still easy to access. Xizhou is located to the north and used to be a military fortress for the Nanzhao Kingdom; it is regarded as one of the most representative towns of the Bai minority, and has many well-preserved old houses and streets typical of the Bai style.
Attractions and Travel Tips
In terms of natural landscapes, Dali boasts two major landmarks, Erhai Lake and Mount Cangshan. Erhai Lake is one of the largest freshwater lakes in China. The Cangshan Mountain Range has 18 peaks, all over 3,500 meters high; its highest summit, Malong, is 4,122 meters high.
Some of Dali's most instantly recognizable landmarks are the Three Pagodas of Chongsheng Temple, built during the Kingdom of Nanzhao in the 10th century. The Three Pagodas form a symmetrical triangle. They have different sizes, and are made of brick and painted white. The main pagoda, Qianxun Pagoda, stands 69.4 meters high and was built during 823-840 AD by king Quan Fengyou of the Nanzhao Kingdom. The other two pagodas are smaller, standing 42.19 meters high and are located to the northwest and southwest of the Qianxun Pagoda; they are both octagonal multi-eave ten-story structures.
A nice place to visit near Dali is the Little Putuo Island, located six kilometers away and named after Putuo Island in Zhejiang province. Little Putuo Island is the most relaxing spot on Erhai Lake.
There are two well-known temples in Dali: Tianjing Temple and Gantong Temple, also known as Danshan Temple. Gantong Temple is located on the northern bank of Mocang Brook, at the southern foot of Shengying Peak (part of the Cangshan mountain range). Constructed during the Tang Dynasty, the temple originally had 36 halls, all of which have since been destroyed, leaving only one intact. However, it still makes for a great starting point to explore the mountain.
Halfway between Dali and Lijiang, the historic Shaxi Ancient Town and the Shibao Mountain are definitely two must-sees.

Dali is one of the favorite destinations in China for free-spirited foreigners, and a great place for outdoor activities and adventure tourism. There are many opportunities for rock and mountain climbing, trekking, kayaking, and - especially - cycling. There is a 120-kilometer circuit around Erhai Lake that takes visitors around traditional villages, including Xizhou. You will find bikes for rent on every corner in Dali. Some of the roads are paved, while others are simple dirt roads, which makes the experience even more interesting.
The tie dyed fabrics produced by the Bai people make for unique souvenirs to bring back home.
Best Times to Visit
One of the best times to visit Dali is during March and April when the Bai people celebrate different festival and events. Spring is also an ideal time to climb Cangshan Mountain and visit Erhai Lake.
While the average annual temperature is a fairly temperate 15 degrees Celsius, it is important for visitors to bring seasonally-appropriate clothes to enjoy their stay in Dali.
Dali Tours