Its name literally translating to "Southern Capital", the city of Nanjing lies on the lower reaches of the Yangtze River and is the capital of Jiangsu province. Nanjing was the capital of the Ming dynasty and later the Republic of China, before Beijing (Northern Capital) took that crown away.
Nanjing is only four and a half hours away by bullet train from Beijing and only two hours away from Shanghai, and while it is one of China's favorite college towns it is one of the country's most underrated tourist destinations.
Things to Do and Travel Advice
While the Great Wall is an instantly recognizable icon, not many people have heard about Nanjing Ming City Wall, which is the longest circular city wall in the entire world. Built between 1366 and 1386 by Ming dynasty emperor Zhu Yuanzhang to protect the founding capital of the Ming Dynasty, the original city wall was 35 kilometers long. About 25 kilometers of the original structure remain today. The Ming City Wall serpentines its way through Purple Mountain, Xuanwu Lake, and the Qinhuai River. The wall is an average of 12 meters tall and 7 meters wide.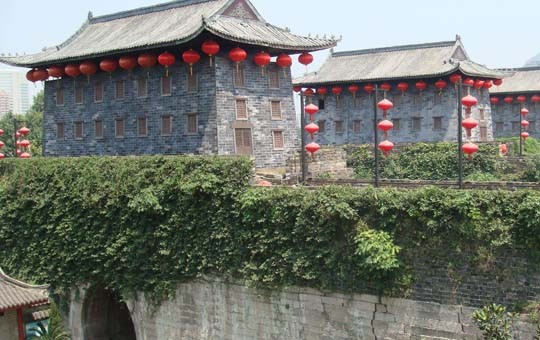 Six sections of the wall are open to the public: Zhonghua Men and Dong Shui Guan, which are both six kilometers long; Ding Huai Gate, which is four kilometers long; Zhongshan Gate and Zhong Fu Road, both 2 kilometers long each, and finally Qingling Mountain, which is approximately one kilometer long. Zhonghua Men used to be the southern gate of Nanjing, home to four layers of defenses and three grand castles.
Nanjing was also the birthplace of the Republic of China, whose founder Sun Yat-sen is buried there in an 80,000-square-meter mausoleum. In order to reach Sun Yat-sen's mausoleum, visitors must first climb 392 steps.
Another of Nanjing's landmarks is the Confucius Temple, also known as Fuzimiao, first built in 1034 to venerate and study the famous Chinese philosopher's works. During the Ming dynasty, the temple was used as the imperial examination hall. Over the course of its history, the Confucius Temple has been destroyed and rebuilt several times, and it was last renovated in 1984. The modern temple holds a 4.18-meter-high, 2.5 ton bronze statue of Confucius.
Nanjing was also the scenario of one of China's most tragic and darkest episodes: the Nanjing Massacre. Over a span of six weeks during World War II, the Japanese Army ravaged the city, raped over 20,000 women, and systematically assassinated Chinese citizens. The death toll is estimated to be anywhere between 100,000 to over 300,000, with this last number being the most accepted among Chinese people.
The Memorial Hall of the Victims of the Nanjing Massacre was built to commemorate those who lost their lives in some of the most horrific crimes ever committed in China. There are photos, documents, weaponry, testimonies from survivors, and a mass grave in the Museum. Be warned that many of the images contained in the exhibition halls are extremely graphic.
For those looking to get back to nature, Nanjing also offers several options. Xuanwu Lake Park, a 472-hectare natural reserve surrounded by water, is located in the middle of the city. The park used to be China's largest imperial lake garden. There are two other famous gardens where visitors can take long strolls, Zhan Garden and Bailuzhou Garden, which is also known as Egret Island Park.
Despite its big size and eight million residents, Nanjing is quite green and has several parks, including Xuanwu Lake Park, Wuchaomen Park, Mochou Lake Park, and Qingliangshan Park.
One of Nanjing's biggest highlights are its hot springs, which are not well known outside of China. Just an hour drive east of downtown lies Tangshan, home to some of the best hot springs in China. Tangshan has several spas and resorts for travelers who would like to spend some time relaxing away from the rapid rhythm of city life.
In fact, there are many lesser-known spots in this already little-known city. Just north of the river that divides Nanjing, the old Pukou Railway Station is remnant of the early 1900s. Its European-style architecture seems very quaint in bullet train-loving modern China but before the rail and road bridge was built across the Yangtze River in 1968, Pukou Railway Station was Nanjing's major transport hub. While time may have forgotten the Pukou Railway Station, local visitors certainly haven't and many couples flock to the station to take their wedding pictures dressed up in 1930s fashions. Many Republican era (1912-1949) movies have also used the old station as one of their filming locations.
Those looking for artistic inspiration may find it at 1865 Creative District, where turn-of-the-century factories and decommissioned military arsenal now function as an art zone and business center. The 1865 Creative District is quite new, and largely deserted, so it's a good place to have a cup of tea while working or planning the next place on your Nanjing itinerary.
For architecture buffs, the Yangtze Villa Hotel near Nanjing's old port is an interesting sight. The hotel was built exclusively with Ming Dynasty stone slabs, which are 40 to 50 centimeters long and 20 centimeters wide. The hotel is three stories high and was built between 1912 and 1914 by a French man who traded with the city government and is an example of rural French architecture in China.
Best Times to Visit
Nanjing is a fabulous destination to visit at any time of the year; spring sees beautiful plum blossoms erupt across the city, while autumn offers some of the most attractive foliage in eastern China; summer is all about lotus leaves, while winter is the best time to relax in Tangshan soothing hot springs.