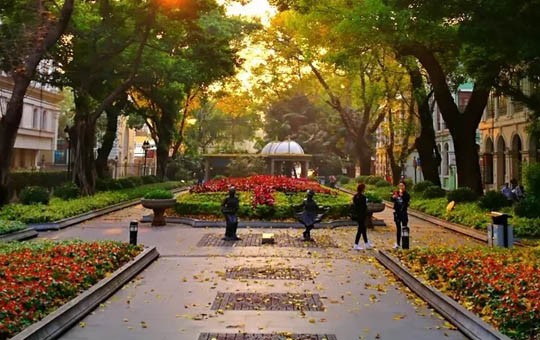 The city of Guangzhou is famous for foreign trade and business and hosts China's largest trade fair, the Canton Fair. Yet in between the seemingly endless skyscrapersn and shopping malls, there is also a lot of culture and history to explore.
Things to Do and Travel Advice
Guangzhou's relatively isolated geography and comparatively early exposure to the outside world have created a unique culture, lifestyle, and cuisine that makes it a fascinating destination to visit. The city is home to some of China's most impressive colonial architecture and some beautiful parks that serve as a welcome respite from the fast pace of life.
Once a major trading port, Shamian Island is now one of the best-preserved examples of European architecture anywhere in China.The old foreign concession area offers a glimpse into Guangzhou's colonial past and is a tranquil oasis in the heart of the city.
This still-active Sacred Heart Cathedral is another physical representation of the city's colonial past. Built just after the second opium war (1856-1860), its 48-meter-high neo-gothic towers stand in impressive juxtaposition to Guangzhou's modern skyscrapers.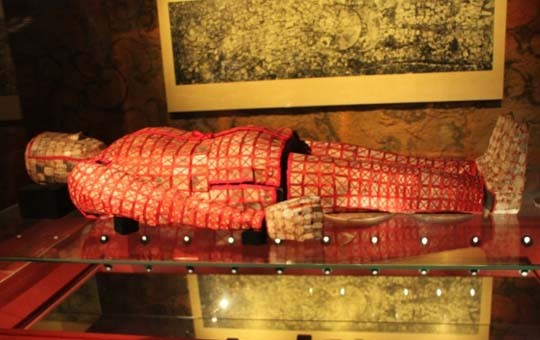 Accidentally discovered in 1983, the Museum of the Mausoleum of the Nanyue King is home to some of China's best cultural relics, the most impressive of which is the burial suit of Zhao Mo (the Nanyue King), which is lavishly embellished with the jade, once believed to make one immortal.
Built in 1894, the Chen Clan Academy is an architecturally fascinating complex of 19 buildings constructed in the traditional southern Chinese style (also known as the Lingnan Style). The buildings themselves are as intricate and beautiful as the many artworks that they house.
Standing at just under 600 meters tall, the Canton Tower once topped the list of the world's tallest buildings. The building is best viewed from afar at night when it is spectacularly illuminated, but there is also a dizzying observation deck where you will take in some fantastic views.

Eat in Guangzhou
By far one of the biggest attractions of Guangzhou is the food. Cantonese cuisine emphasizes the freshness and flavor of ingredients such as green vegetables and just-caught seafood, avoiding the strong seasoning and saucing of northern Chinese cuisines. Roasted meats such as goose, duck, and pork are a regional specialty and are often served sliced on the bone with a plate of dipping sauce. Head to the Xiguan district to sample a range of the authentic local dishes.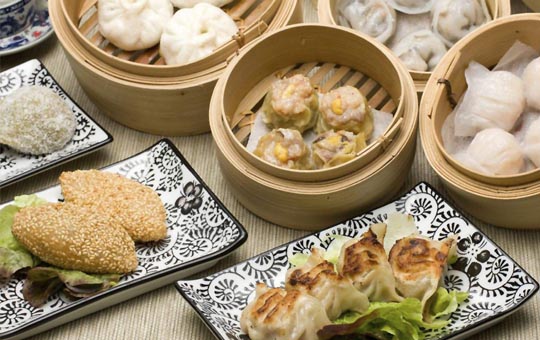 However, if you only have time for one meal while in Guangzhou, make it dim sum (also known as yum cha). Served primarily at breakfast and lunch, a dim sum meal consists of dozens of small plates of buns, steamed dumplings, and noodle dishes, accompanied by copious amounts of tea.
Guangzhou's history of bustling trade means there are also many international restaurants to be found around the city, especially if you head to the old concession area.
Popular Nighttive Activities
Guangzhou's night scene is ever-expanding. From clubs to craft breweries to trendy cocktail bars, you are guaranteed to find something to suit your tastes.
For fans of the performing arts, Guangzhou Opera House is both architecturally spectacular (especially when lit up at night) and plays host to a wealth of different acts and performances.
Best Time to Visit Guangzhou
Spring and autumn are the perfect time of year to visit the region, with October to December offering less rainfall than the spring, but temperatures in spring reaching slightly higher. Avoid the in between months if possible to escape the high rainfall and chance of typhoons.
Transportation
Located in the southern Chinese province of Guangdong, Guangzhou is one of the country's main transport hubs. The city is well connected to Southeast Asian and further afield by both land and air.
Baiyun International Airport is located around 30km north of Guangzhou city center. You can fly from here to many international destinations such as Southeast Asia, Europe, and North America. Flights to Beijing take around 3 hours and Shanghai can be reached in 2 hours 30 minutes.
A high-speed rail line connects Beijing and Guangzhou, with a journey time of 8-10 hours. There are also slower overnight trains available for the budget traveler. Guangzhou south station, located 50 minutes from the city, is the high-speed rail hub for trains to Beijing and Shanghai.
Guangzhou has a ten line metro system and a very extensive bus network which make traveling around the city very easy. You can purchase a transit pass (30 CNY deposit) that can be used on buses, trains, and yellow taxis.

Guangzhou Private Tours