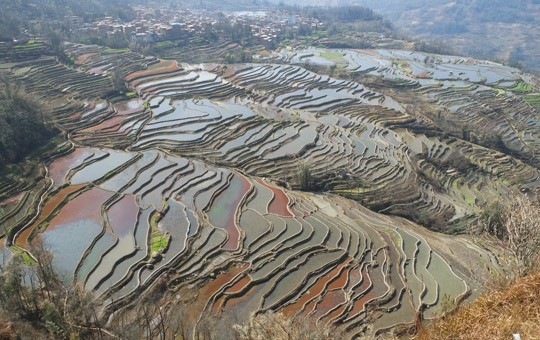 The Cultural Landscape of Honghe Hani Rice Terraces, covers 16,603-hectares in Southern Yunnan, features spectacular terraces that spread down the slopes of the Ailao Mountains to the banks of the Hong River. The terraces' history spans around 1,200 years. While the distribution has four counties: Yuanyang, Honghe, Jinpin and Lüchun, the core area of the terraces is located in Yuanyang County which has the three largest terraced areas of Bada, Laohuzui and Duoyishu, thus is the best place for viewing Hani terraces.
Hilights and Travel Tips
The Laohuzui Terraces are the most steep and magnificent terrace in the mountains, and is the best spot to view sunsets. Duoyishu Terraces are the best scenic spot for viewing and photographing terraces with cloud sea, sunrises and cottages. The Bada terraces are spectacular, beautiful in appearance and show apparent vertical levels. From the Mali river at an altitude of 800 meters, thousands of terraces are continuously stretched to the top of the mountain at an altitude of 2000 meters. At sunset, the Bada terraces are golden and silvery. It is the best scenic spot for watching and shooting terraces in cloud sea, sunsets and cottages. The Laoyingzui Rice Terraces, part of the Bada Rice Terraces, allow you to take in breathtaking views of these vast rice terraces that extend out beneath a cliff.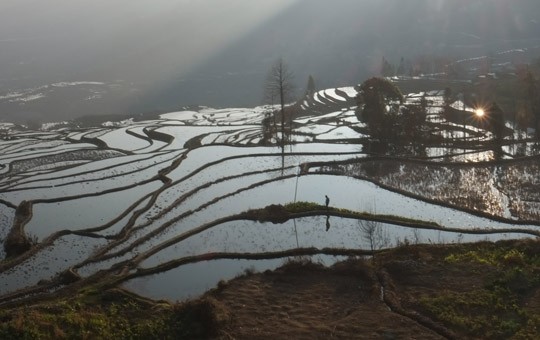 Among the rice terraces, dotted many Hani villages. Qingkou, a traditional Hani village, maintains the Hani folk customs and features thatched "mushroom" houses, and thus deserve a visit inbetween visiting the rice terraces.
Best time to visit
Terraces have different views in different seasons, but the best time to watch terraces is from November of each year to April of the following year when terraces are filled with water after the autumn harvest. During this time, the terraces show apparent cascaded views and are extremely beautiful when the water sparkles in the sun or reflects the sky and cloud.
Popular Tours