Chinese New Year
Chinese New Year, more commonly known as Spring Festival (chūnjié 春节) in mainland China, is an important festival celebrated at the turn of the traditional Chinese lunisolar calendar. In Gregorian calendar terms, the first day of Chinese New Year falls on the new between January 21 and February 20. Celebrations usually run from the night before the first day of the new year (chúxì 除夕) to Lantern Festival (yuánxiāo jié 元宵节) on the 15th day of the first lunar month.
Chinese New Year traditions and practices vary widely throughout China and the many countries around the world with a significant Chinese population. However, for most people this is an occasion to honor deities and ancestors, get together with family, and start the new year off on a positive note.
Traditional practices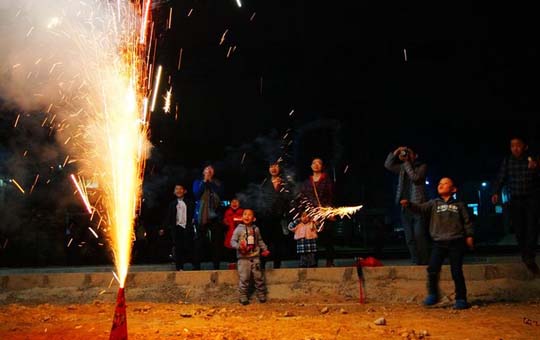 Cleaning and shopping
In the run up to Chinese New Year, most people will give their house a thorough clean, representing a wish to clean away the old and make space for the new. It is considered unlucky to sweep or clean in the first few days of the New Year, as you may "sweep away" your luck. Just like Christmas, people will also take this time to shop for gifts, stock up on festive foods, and buy new clothes.
Reunion dinner
To date, gathering with family and close friends to eat and drink is the most important part of the Chinese New year festival. It is traditional for the extended family to get together on Chinese New Year's Eve and enjoy a huge meal of traditional dishes such as dumplings and fish. After dinner, many families will watch the annual spring Festival Gala on CCTV-1, which is widely mocked for being cheesy but still garners hundreds of millions of viewers.
Red envelopes
Red envelopes or packets (known as hóngbāo 红包 in Mandarin or laisee in Cantonese) containing "lucky money" are passed out to unmarried family members and children during the Chinese New Year celebrations. It is common to give money in auspicious amounts, particularly amounts containing the lucky number eight. Nowadays, you can even give lucky money via apps such as Wechat.
Fireworks
Probably the most memorable aspect of Chinese New Year for people who have spent the festival in China is the cacophony of fireworks and firecrackers that go off at midnight on Chinese New Year's Eve (and quite a few nights after that). The practice of setting off fireworks can be traced back thousands of years to the legend of the Nian monster (niánshòu 年兽), which appeared around the New Year to terrorize villages until a crafty old man figured out how to scare it away by burning crackling bamboo (an early precursor to fireworks). Be sure to keep an eye out for stray fireworks if you are wandering the streets at this time of year!
Festival Food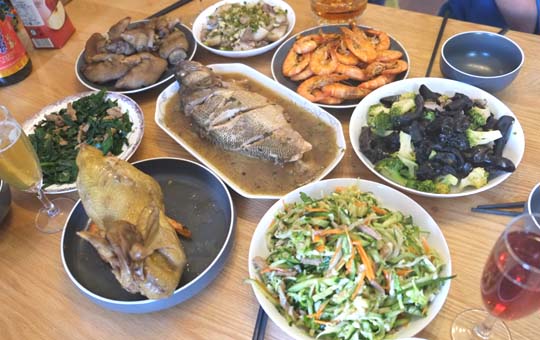 Fish
Like most foods associated with Chinese New Year, fish is popular because its name in Chinese sounds lucky. The Chinese character for fish, yú 鱼, sounds like the word for surplus, yú 余, signifying abundance in the year ahead. The fish must be cooked whole (yes, with the head still on) and is usually the last dish to be served.
Niangao
The sweet and sticky glutinous rice cake is popular at this time of year because its name, niángāo 年糕, sounds like it means "getting higher every year" (niángāo 年高). The cake is often flavored with dried fruits and nuts, such as jujubes, chestnuts, or coconut.
Oranges
Citrus fruits such as oranges, tangerines, and pomelo are popular at Chinese New Year, since their bright golden color and round shape symbolize wealth and fullness (not to mention that they are in season at this time of year).
Dumplings
Dumplings (jiăozi 饺子) are one of the most common and most popular New Year foods, particularly in northern China. Eating dumplings is said to bring fortune in the year to come, since their shape resembles the gold or silver ingots used as currency in imperial China.
Traveling in China during Chinese New Year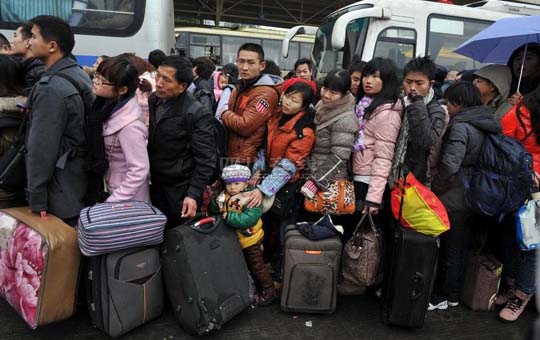 As the most important date in the Chinese festival calendar, hundreds of millions of Chinese people take advantage of the Chinese New Year holiday to return to their hometowns and visit their families. As a result, airports, train stations, and even roads will be snarled with travelers for weeks before and after the official holiday (according to some estimates transport systems in China cater to nearly 3 billion trips over the 40-day holiday period), which, usually called as the China Spring Festival Travel Rush, can make traveling stressful.
On the other hand, this is a great time to experience Chinese culture first hand, especially if you have the opportunity to celebrate with a local family. You may also find that larger cities such as Beijing and Guangzhou will be much quieter than normal, giving you plenty of space to stretch out and enjoy the sights.
In order to avoid the worst of the crowds, we recommend that you travel by air during this period. As long as you have your tickets booked in advance you shouldn't run into any problems although be aware that there may be long queues for check-in and security at airports, so leave extra time for your journey.
Tourist attractions may be closed for the first few days of the Chinese New Year public holiday and many smaller shops and restaurants may be closed for much longer. Make sure to call or check in advance before you set off anywhere.