Famous for its natural scenery and rich history, Hangzhou and its West Lake have been immortalized by countless poets and artists. Marco Polo is said to have passed through Hangzhou, calling it "beyond dispute the finest and the noblest [city] in the world."
Today, the city boasts a population of over 9 million and recently gained global fame as the 2016 host of the G-20 summit. Hangzhou is known the world over for its historical foundations and picturesque settings, making it a worthwhile stop on any China tour.
Things to Do and Travel Advice
Hangzhou has been a strategically important location throughout much of China's history and is famously known as the endpoint of the Grand Canal, which was completed in the year 609. The city later served as the capital of the Southern Song Dynasty from 1132 until 1279. Because of its long history, Hangzhou features a number of ancient structures and sites of immense cultural importance, making it a popular destination for visitors both within and outside of China.
Of its many attractions, West Lake is Hangzhou's most famous. The image of this UNESCO World Heritage Site has been depicted by numerous artists throughout its history and has become so iconic that it is even featured on the back of the 1 RMB banknote.
West Lake, as its name suggests, is located in the western part of Hangzhou, which was formerly the center of the ancient capital. The lake is surrounded by rolling green hills and scenic pagodas, making it a beautiful setting for a lakeside stroll or bike ride. Visitors can also take a cruise around the lake on a traditional-style boat for an even more immersive experience. Two of the best-known sites on West Lake are the Su Causeway, an ancient walkway traversing part of the lake, and Three Pools Mirroring the Moon, the lake's largest island.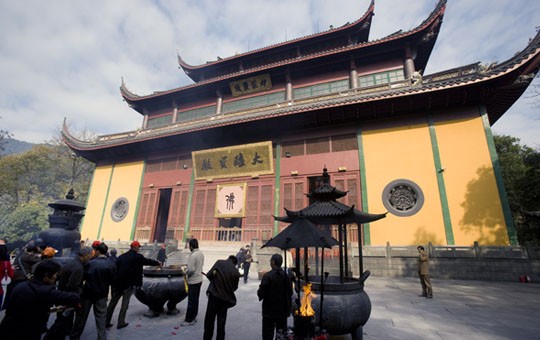 Not far from West Lake is another of Hangzhou's most loved attractions, Lingyin Temple. The name of this Buddhist monastery, which translates as "Temple of the Soul's Retreat," couldn't be more accurate. The surrounding scenery of tree-covered hills, combined with the smell of burning incense, lend a particularly peaceful atmosphere to this temple. The temple grounds also feature ancient grottoes with numerous Buddhist rock carvings.
This historic area of Hangzhou is full of ancient structures, another of which is Six Harmonies Pagoda. Dating back to the Southern Song Dynasty, this impressive tower is an iconic feature of Hangzhou's ancient skyline and offers excellent views of Qiantang River and its amazing tidal waves.
For those looking to escape the crowds of Hangzhou's more popular attractions and experience some of the area's abundant natural landscapes, we highly recommend the Jiuxi Scenic Trail. While walking along this 4-kilometer trail, you will get a taste of the Hangzhou countryside without having to venture out too far, including scenic ponds and streams, verdant forest, and lush tea fields.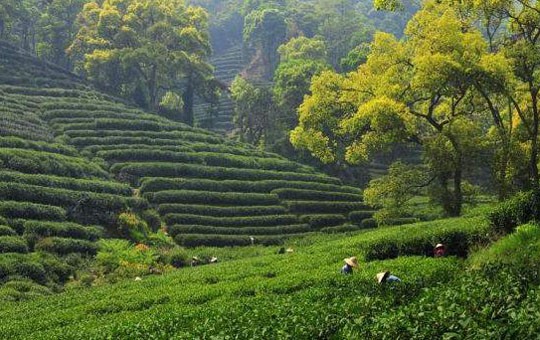 Hangzhou is famously home to one of China's most popular varieties of tea, Lingjing green tea, and there are numerous tea fields and villages surrounding the city. One of the most beautiful and interesting is Meijiawu Tea Village, where you can walk among the idyllic hillside tea fields, try a variety of local teas, and even pick your own tea.
This area of China is also blessed with a number of ancient canal towns, and one of the most peaceful and best preserved is within just a couple hours of Hangzhou. Wuzhen Water Town boasts scenic waterways, beautiful ancient architecture, and exquisite arching bridges, and is well worth a visit during your stay in Hangzhou.
Eating in Hangzhou
Hangzhou's past as a center for wealthy, cultured elites helped create its famously refined cuisine. Hangzhou cuisine is characterized by freshness, light sweetness, and complicated technique, and often incorporates ingredients from West Lake and the many other bodies of water surrounding the city. West Lake fish in sweet and sour sauce is a popular local delicacy, as are provincial specialties like Beggar's Chicken. Many local dishes also incorporate Hangzhou's most famous export: tea. Fried shrimp in Longjing tea is one you must try.
Nightlife in Hangzhou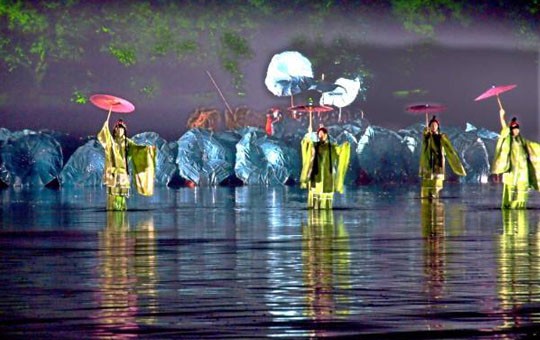 The lakefront streets lining West Lake's northern and eastern coast are full of bars and teahouses that are all abuzz at night. If you'd like a more leisurely evening activity, you can take a night cruise on a traditional boat around the lake and enjoy the sight of the surrounding causeways and pagoda all lit up.
One of Hangzhou's most renowned nighttime attractions is the Impression West Lake show, an intricately choreographed performance featuring amazing lights and hundreds of performers with the lake itself as a stage.
Best Time to Travel to Hangzhou
Like much of China, spring and autumn are the best times to visit Hangzhou, as temperatures are mild and pleasant. Summer in Hangzhou can be very hot and very humid, especially in July in August. Hangzhou also sees a lot of rainfall in the summer, and typhoons on the coast can cause heavy winds and rain.
If you don't mind the cold, winter can be a good time to visit, as there are likely to be fewer tourists. Winters in Hangzhou are cool, but temperatures rarely dip below freezing. Keep in mind, however, that some tourist attractions may have shortened hours in the winter months.
Spring is a great time to go to Hangzhou, as many flowers and trees will be in blossom. Be prepared for variable weather, however, as it can be rainy and cold.
The weather in Hangzhou is dry and sunny throughout most of autumn, making this an ideal period to visit. Be sure to avoid traveling to Hangzhou during the national holiday (first week in October), or any other public holiday, as tourist sites will be packed.
Transportation
In close proximity to Shanghai, Hangzhou can be reached in about 2-3 hours by road or 1 hour by high-speed train, with dozens of trains per day running between the two cities. Hangzhou's East Railway Station is one of the busiest transport hubs in China and operates high-speed trains to locations throughout the country, including Beijing (4-6 hours).
Hangzhou is also home to a well-connected airport that offers regular flights to a number of nearby cities.
While a trip to Hangzhou can be done as a daytrip from Shanghai, at least one night is recommended in order to relax and take in all the sights.
Popular Tours in Hangzhou