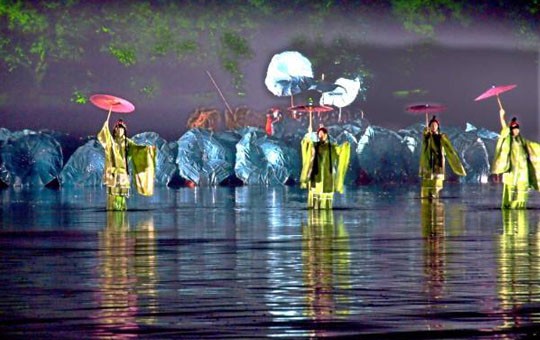 If you are looking for an evening activity after a day of sightseeing in Hangzhou, there is no better option than the Impression West Lake (recently renamed Enduring Memories of Hangzhou) show. Using West Lake as its stage, this show comprised of dazzling lights and hundreds of intricately choreographed actors makes for an impressive and fascinating spectacle.
Highlights and Travel Tips
Likes its counterparts in Yangshuo and Lijiang, Hangzhou's Impression West Lake was directed and produced by film director Zhang Yimou, who developed the opening and closing ceremonies of the 2008 Summer Olympics in Beijing.
Staged entirely upon the lake itself (an unseen stage is built 3 centimeters below the water's surface), Impression West Lake is a performance of light, music, dance, and theater that viewers won't soon forget. Drawing on classical myths and legends of West Lake, the show is both visually stunning and culturally informative.
First staged in 2016 for world leaders present for the G-20 summit hosted in Hangzhou, the Impression West Lake Show has gone on to become one of the city's best-known attractions.
A special auditorium and state-of-the-art sound system make the performance easy to see and hear from any seat. There are various seating zones in the auditorium, the cheapest being normal seats, followed by VIP seats. The auditorium is outdoors, and only VIP seats are covered. Those seated in standard seating zones will be given a disposable poncho if it rains. You can also pay extra to watch the show from aboard a traditional wooden boat. Please note that if the show is canceled in case of inclement weather, tickets will be refunded.
The show tends to sell out, particularly during peak tourist times, so we suggest purchasing your tickets in advance. If you are on a tour with us, we can book your tickets for you.
How to Get There
The Impression West Lake Ticket Office, where you will purchase or pick up your tickets, is located on the northern side of West Lake, near the north end of the Su causeway. It can easily be reached by car, bus, or bike, and you may even be able to walk there depending on the location of your hotel.
Showtime and Ticket Prices
Showtime: 7:45pm - 8:45pm
Ticket Prices: 360 RMB (standard); 400 RMB (VIP); 680 RMB (VIP boat seats)
Popular Hangzhou Tours: