Thanks to its memerizingly beautiful karst scenery, Guilin has long drawn Chinese artists and travelers alike. Apart from the picture-perfect scenery, Guilin is also home to more than 28 ethnic minorities, including the Zhuang, Hui, Miao, and Dong. As a result of this cultural melting pot, Guilin is the perfect destination for those looking to combine beautiful topography with cultural exploration.
Things to Do and Travel Advice
Guilin is famed for its beautiful mountainous scenery. While you can find some karst peaks dotted among the buildings in downtown Guilin, the best place to appreciate them is cruising down the Li River from Guilin to Yangshuo. This 60km or 5-hour cruise takes in some truly stunning scenery, including the scene on the 20 RMB bank note.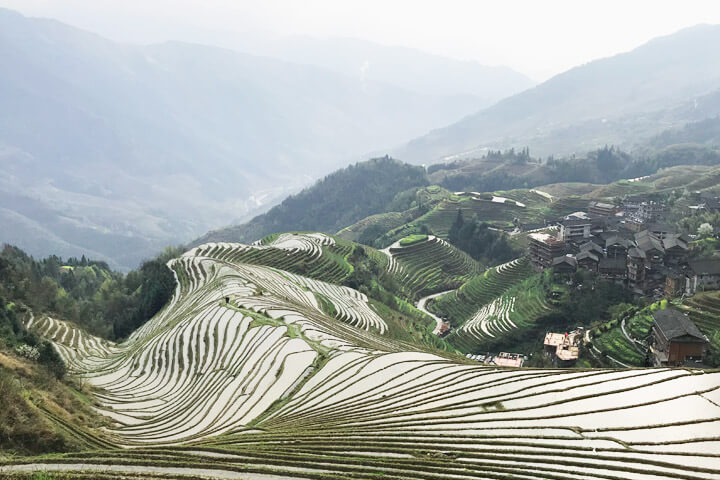 Longji Rice Terraces, famous for its intricate terraces and traditional Zhuang and Yao minority villages, is around 100km or a 2-hour drive north of Guilin. Among the villages, Ping'an Zhuang village and Dazhai Red Yao village are considered to have the best scenery. You can visit ping'an or Dazhai village and then go back to Guilin downtown in a day. However, if you have more time, we suggest staying the night in a guesthouse and either soaking up the relaxed atmosphere in the minority villages or hiking up into the hills to photograph the villages in the afternoon or morning light.
Located just outside downtown Guilin, Reed Flute Cave features stalactites, stalagmites, and rock formations in beautiful and unique shapes, all decorated with colorful lighting. This is also a must-see in Guilin if you haven't been to many caves.
Guilin's most famous attraction is Elephant Trunk hill, the symbol of the city. Although it has a unique shape, there isn't much special about it and if you want to climb the karst peaks, we recommend going to Diecai Hill instead. Once you hike to the top, you will be rewarded with spectacular panoramic views of the city, the Li River, and the surrounding of the karst hills.
Near the Elephant Trunk hill, the Two Rivers and Four Lakes scenic area is home to the Sun and Moon Pagodas. The rivers, parks, and pagodas are beautifully illuminated at night.
For most travelers, a typical itinerary might be to combine the Longji Rice terraces and the attractions within the city of Guilin into a one-and-a-half or two-day tour. After this, you can leave for Yangshuo in the morning on a cruise down the Li River. If you want to spend more time in Guilin, check out more places here.
Tourist Map of Guilin
Eat in Guilin
At night, Zhengyang Pedestrian Street offers the hungry a number of good options. There are numerous restaurants and bars, in addition to the shops and markets in the area. Alternatively, at the center of Zhongshan Road, merchants set up for the Guilin night market. This is a great place to try Guilin specialties. Guilin cuisine is noted for its delicate sweetness and moderate use of spice; a combination of the Cantonese and Hunan cooking styles. Look out for these Guilin dishes: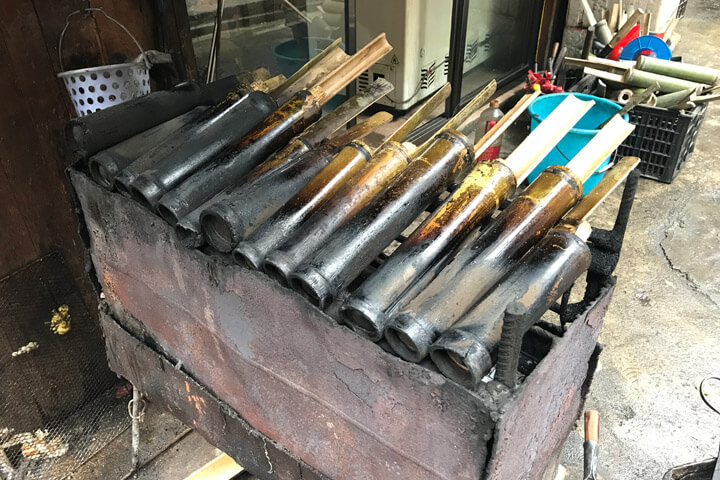 Guilin rice noodle: The city's signature noodle dish is famous throughout China but where better to try it than its birthplace! The dish features thick rice noodles in a fragrant broth, topped with braised meat and pickled vegetables.
Steamed pork wrapped in a lotus leaf: Tender pork, fermented bean curd, and several tasty condiments are wrapped in a single lotus leaf and steamed, creating a delicious dish where the meat absorbs the fragrance of the lotus.
Stuffed river snails: A traditional Guilin dish and favorite among the local people. The thick snail meat is removed from the shell and mixed with pork and spring onion, before returning the mixture to the shell to cook, allowing all the flavors to infuse. A unique delicacy for the more adventurous foodie!
Rice or chicken cooked in bamboo tubes: If you are going to the Longji Rice Terraces, you will see local people roasting bamboo tubes with rice or chicken inside. You shouldn't miss this local delicacy.
Nightlife
Night Market: Open from 7pm, the night market on Zhongshan Zhonglu is a great way to spend an evening. Hundreds of small shops in red tents sell all kinds of clothing, local goods, leather products, jewelry, and much more. Don't forget to bargain hard!
Bars: You will find many different watering holes dotted along Guilin's pretty streets. Zhenghong Lu, with its strip of al fresco bars, is one of the best places to go for an evening drink. If live music is your thing, head to the popular Le Feitz, a lively Irish Bar with nightly live performances.
Best Time to Visit
Springtime (around April/May) is when the karst topography is at its most green and picturesque. With the Summer comes the rains, so be prepared with waterproof clothing and shoes if you're visiting between June and September.
If you plan to visit the Longji Rice Terraces, try to avoid December to February, when there is usually a lot of fog that will block your view. From March onwards, the rice terraces will be filled with water but late September is the most beautiful season since the rice terraces turn yellow (although it will also be very crowded at this time of year).
Average Temperature in Guilin/Yangshuo
Location and Transportation
Guilin is located in the northern part of the Chinese province of Guangxi. With the Li River running through the center of the city and the jaw-dropping karst peaks surrounding it, Guilin is a nice city in itself but also the ideal gateway to the rest of this breathtaking region.
Guilin Liangjiang International Airport is situated 30km west of the city. The airport has flights to/from several international destinations (such as Kuala Lumpur, Bangkok, and Seoul), as well as direct flights to Beijing, Chengdu, Guangzhou, Hong Kong, and Shanghai.
The city's main railway stations are Guilin, Guilin West, and Guilin North (located 9km outside the city). There are high-speed trains to/from Beijing, Shanghai, Xi'an and Guangzhou, however, it still takes more than nine hours to travel to/from Shanghai and more than ten hours to/from Beijing or Xi'an.
Guilin's main bus station offers frequent services to popular destinations in Guangxi province such as Longsheng and Yangshuo, as well as long distance buses to Guangzhou and Shenzhen.
Flights and Trains between Guilin and Other Popular Travel Destinations
Popular Guilin Tours: