The Ten-Mile Gallery Scenic Area covers a large area of countryside near Yangshuo, which boasts stunning karst peaks, peaceful rural villages, and the scenic Yulong River.
Highlights and Travel Tips
Within the Ten-Mile Gallery Scenic Area, the highlight is undoubtedly the Yulong River, which passes by amazing karst peaks and small villages. Drifting along the Yulong River on a non-motorized bamboo raft is the most relaxed and tranquil way to appreciate Yangshuo's countryside and take in the otherworldly views of the surrounding karst peaks, making this a must-do activity for visitors to Yangshuo.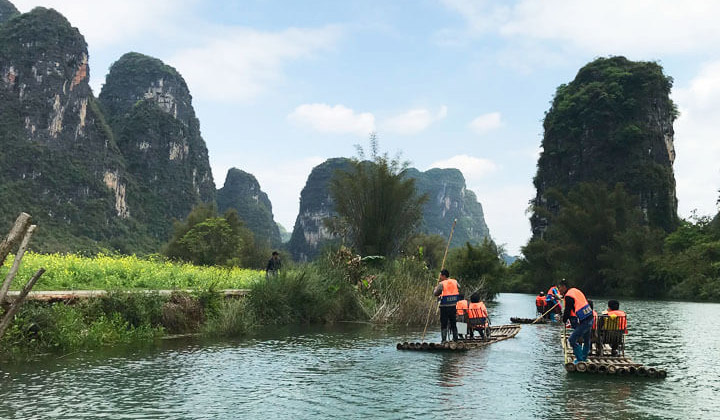 Rafting along the Yulong River
There are several sections of the Yulong River you can raft, but we suggest traveling from Shuiedi Wharf down to Gongnong Bridge, which is about 3 km and takes around 50 minutes. If you want to spend more time rafting, you can also raft from Jima Wharf down to Gongnong Bridge, which is about 6 km and takes around 90 minutes. Both sections afford stunning views of the dazzling nature and picturesque villages along the Yulong River.
Be aware that the bamboo rafts are quite small and you have to remain seated throughout the trip. The rafts have no roof, so a hat, sunscreen, and sunglasses are recommended in sunny weather. In addition, there are small waterfalls along the river, which the rafts will go near or under; this is not dangerous, but it may wet your shoes a bit.
Depending on the day you are visiting, there might be long lines for rafting and a great number of rafts on the river. We recommend going early if you are visiting during peak season or on a weekend.
There are also paved paths on the banks of the Yulong River. These paths are ideal for hiking and biking, as well as taking in the breathtaking views along the Yulong River. If your hotel is close to the river, these paths are perfect for a morning jog or evening stroll.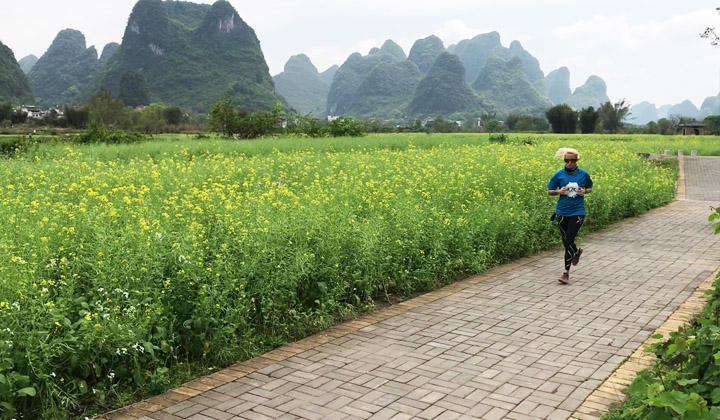 Jogging around Yangshuo's Countryside
The vertical karst peaks near Yangshuo offer some of Asia's best climbing. Within the scenic area, you can find several climbing outfits that provide a range of different climbing experiences, whether you are a beginner or an expert. This is a great way to explore the region's topography from a different perspective.
Accessibility Information
Traveling along the river on a bamboo raft is difficult and unsafe for wheelchair users. Visitors in wheelchairs can use parts of the walking path on the banks of the river, but please be aware that there are arched bridges at places along the walkway.
Opening Hours and Ticket Prices
Opening hours: all day
Entrance fee: free
Internal shuttle bus fee: 20 CNY per person per day
Bamboo rafting fee (per raft): 160 CNY (Shuiedi Wharf ) / 320 CNY (Jima Wharf)
Cliff climbing fee: starts from around 300 RMB for a half-day experience
Average time for this activity: 1/2 to 1 day
How to Get There
Cars are not allowed to enter the Ten-Mile Gallery Scenic Area from 8:00am to 6:00pm. Since the scenic area is only a couple of kilometers outside downtown Yangshuo, It is convenient to get there by bike. Bikes and electric scooters are available for rent at many places in Yangshuo. Since the scenic area is large, biking is also considered the best and most convenient way to explore this area at your leisure.
Popular Tours