Located in Shaanxi province, in an area once known as the "Kingdom of Heaven," Xi'an is home to one of the most important archaeological discoveries of our time, as well as numerous other reminders of China's ancient past. One of the oldest cities in China, Xi'an boasts a fantastically rich culture and history, and a cuisine to match! A magnificent and extensive wall still encircles the city center, echoing times past, and the streets are bustling with activity.
Things to Do and Travel Advice
Shaanxi province was the domain of the Qin dynasty (221-206 BC), the first that sought to unite China, and the Qin made Xi'an their capital. The city remained the center of the imperial government throughout the Tang Dynasty until 904 AD.
Once the location of the beginning and end of the Silk Road, the first imperial capital of China found fame long before the establishment of Beijing. It is this rich past that makes Xi'an a historically significant location, boasting a unique combination of religion and culture that is reflected in its many sites and landmarks.
The main attraction of Xi'an is undoubtedly the Terracotta Army. Largely considered the greatest archaeological find of the 20th century, Emperor Qin Shi Huang's mausoleum is home to around 8,000 clay warriors who have been guarding his final resting place for over 2,000 years. Discovered by fortunate accident in 1974, the incredible preparation that China's first emperor undertook for the afterlife is awe-inspiring, resulting in an extensive and fascinating army in which no two warriors are the same.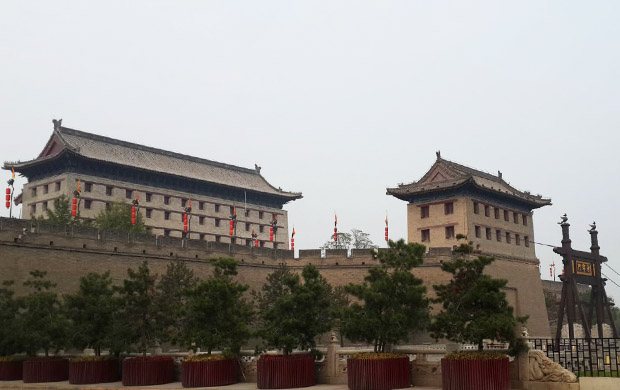 Among the city's many other historic sites is the Big Wild Goose Pagoda (Dayanta), a structure of great religious importance that was originally built to house Buddhist relics. Arguably Xi'an's most noticeable landmark, this seven-tiered pagoda dominates the skyline in juxtaposition with its more modern surroundings. The tower dates back to the Tang Dynasty (618-907), who also made Xi'an their capital, and is a must-see for visitors to Xi'an.
Although no longer the capital of China, Xi'an remained a point of strategic and commercial importance throughout the Ming Dynasty (1368-1644). Xi'an's city wall that encircles the city center is an unmissable sight from that period. Dating back to the 14th century, when the first Ming emperor constructed it as a military defense, the wall stands 12m high and is 14 km in length. The old city wall is one of the best preserved of its kind in the Middle Kingdom and, as a result of extensive restoration efforts, you can traverse its entirety by foot or bicycle.
The city center is also home to Xi'an's famous Bell Tower and Drum Tower. Once used to signal dawn and nightfall, respectively, the two towers date back to the 14th century and make for an impressive sight at night, when they are illuminated with colorful lights.
Xi'an is also home to one of China's most vibrant Muslim communities and within the city walls, you will find the Muslim Quarter. The buzzing streets of the Muslim neighborhood are alive with the scent of delicious local food and street snacks. The Great Mosque that lies in this area is one of the largest in China and boasts a unique blend of traditional Chinese and Islamic architectural traits.
For visitors who want to experience the best Xi'an has to offer, the sites mentioned above should be at the top of your list and usually take around one and a half to two days to see in their entirety. If you just have a day or two, we recommend our Warriors and City Sights tour or The Ancient Capitals tour, both of which will give you the opportunity to take in all of Xi'an's best sights.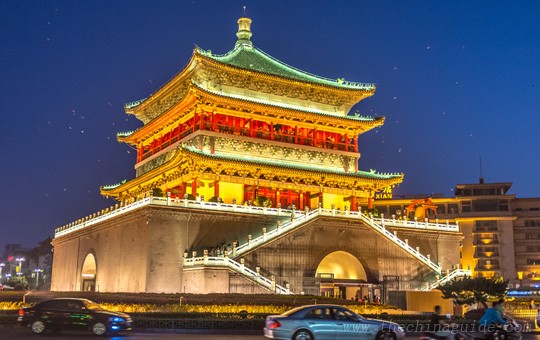 If you have longer to spend in the city, don't miss the opportunity to visit the fascinating Tomb of Emperor Jingdi (Hanyangling), which contains numerous historical relics, including thousands of miniature soldier statues, but does not see hoards of tourists. The Shaanxi History Museum tends to be more crowded, but is home to a notable collection of ancient artifacts from China's many dynasties, including some Terracotta Warrior figures.
The Tangbo Art Museum is a great place to learn more about Chinese folk art; you can even try your hand at some Chinese calligraphy. You can read more about Xi'an's many attractions here.
Eating in Xi'an
While the sites around Xi'an are breathtaking, Shaanxi cuisine is an attraction in and of itself. Many cultures have contributed to the shaping of the cuisine you will find in Xi'an, and top on the list for any foodie visiting the city should be a trip to the Muslim Quarter—especially those fond of spices and succulent lamb. All of the local dishes you'll find in Xi'an are delicious, but you should keep an eye out for those listed below in particular:
Suantang shuijiao: Trying these hot and sour soup dumplings is a must while you are in Shaanxi. The dumplings are made with mutton, diced leek, and sesame, as opposed to the pork that is common throughout the rest of China.
Roujiamo: Xi'an's version of the burger, this dish of braised meat and leavened bread dates back even further than its Western counterpart and is just as delicious. Find the best lamb and beef roujiamo in the Muslim Quarter (they are a great portable snack to enjoy while you're walking around too!).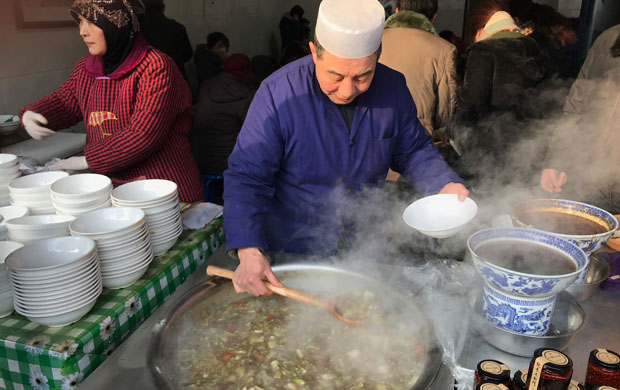 Paomo: The quintessential Xi'an dish, paomo is unleavened flatbread soaked in rich mutton soup. A tear-it-yourself approach to the bread means paomo is a unique, hands-on, and delectable experience.
Biangbiang Noodles: As well as their unforgettable flavor, biangbiang noodles are famous for having the most complex character in Chinese (made up of 53 strokes) in their name. Biangbiang noodles are thick and long, with just one giant noodle sometimes being served in each bowl! This dish can also be found in the Muslim Quarter at Loubeilou Fanzhuang.
Outside of the Muslim Quarter, Dongmutou Shi, a neighborhood to the east of the city center, has a good selection of restaurants where you can try any or all of these quintessential Shaanxi dishes.
If food is what you're after, we encourage you to try out our Xi'an Food Culture tour, which will take you on a veritable food adventure in between visits to Xi'an's most popular attractions.

Nightlife in Xi'an
Evenings in Xi'an offer many diversions, whether it's wandering the lively streets, taking in an evening show, or relaxing at one of the city's many watering holes.
The Tang Dynasty or Shaanxi Grand Opera House dinner shows are great options. Both boast traditional music and dance with tickets available including or excluding dinner. Shaanxi is the cheaper alternative, while Tang Dynasty is definitely the more extravagant.
Xi'an boasts fantastic nighttime scenery, with many of the major sights, including the City Wall, the Bell Tower, and Big Wild Goose Pagoda, beautifully illuminated. You can also watch the daily fountain and music show located at Big Wild Goose Pagoda Square (times vary seasonally between 8-9pm).
Most of the city's bars are located on Defu Xiang (close to the South Gate). If you want to listen to live music, look for Moonkey Music Bar. For true night owls, various clubs can be found on or around Nandajie, one of the most popular being 1+1.
Transportation
As a major tourist destination, Xi'an boasts one of China's most connected airports, with daily flights to several international and most domestic destinations. Xi'an Xianyang International Airport is located around 41 kilometers from the city center, near the city of Xianyang. Alternatively, there are frequent high-speed trains to most major domestic destinations (including Beijing and Shanghai) from Xi'an Railway Station and Xi'an North Station (high-speed trains only).
Within the city, Xi'an has a three-line metro system that can be used to navigate between most tourist attractions. In addition, there are a large number of public bus routes, with the most convenient being the 610 departing from Xi'an Railway Station and passing several of the major sites. The Terracotta Army Museum is about 40 km outside the city, but can be easily reached by car or bus.
Trains and flights between Xi'an and other Popular Travel Destinations
(Please click the lines to find out the latest transportation information between Xi'an and Beijing, Shanghai, Guangzhou, Chengdu, Tibet, and more popular travel destinations in China.)
Best Time to Travel to Xi'an
Pleasantly warm temperatures make April and May an ideal time of year to visit Xi'an, although the city may be crowded. To avoid the rain but still enjoy some warmth, try to plan your visit around September or October. October is also the time of Kurban Bairam, a four-day festival of sacrifice that takes place in all of China's Muslim communities. December to February are the winter months and along with being cold, the air is usually more polluted at this time of year.
Average Temperature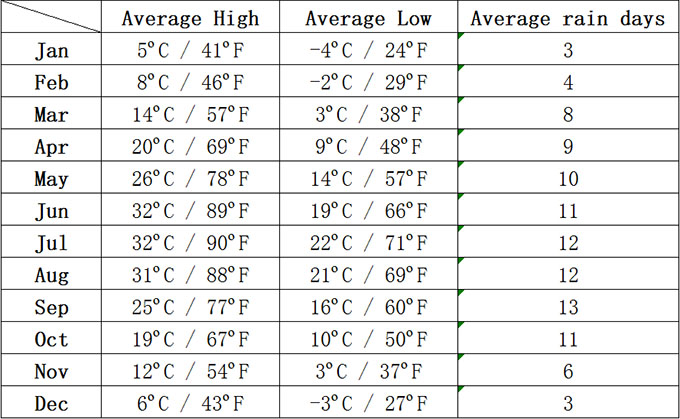 Popular Xi'an Tours