Beijing is an enormous municipality abundant in history, culture, beautiful landscapes, and fine cuisine. One of the oldest and largest cities in the world, Beijing boasts a fascinating mixture of old and new, from ancient imperial palaces to modern skyscrapers, providing one-of-a-kind insight into Chinese culture and daily life that you can't get anywhere else.
As the cultural and political capital of the country, Beijing is an essential part of all China tour itineraries. In fact, in 2019, more than 80% of our clients made Beijing either their only stop or one of their stops when traveling in China (read the full report here).

Beijing Highlights Virtual Tour
Things to Do and Travel Advice
The Great Wall is often the first thing that comes to mind when many people think of a China tour, and no stay in Beijing is complete without a visit to this amazing wonder of the world. Beijing is considered the main gateway to the Great Wall, due to its close proximity to several world-famous sections including Badaling, Mutianyu, Jinshanling, Gubeikou, Simatai, and Jiankou.
If you only have half a day for the Great Wall, then Mutianyu would be the perfect choice - expect beautiful scenery and fewer tourists than Badaling. If you can allow for one full day at the wall, then we highly recommend Jinshanling for its unbeatable scenery. If you want to go for something a little more adventurous and walk on the Wall's wild, unrestored side, you may even want to venture out to the Gubeikou or Simatai sections.
Two of Beijing's other most popular attractions lie in the heart of the city: Tiananmen Square, a symbolic and historically significant public space, and the Forbidden City, the 600-year-old magnificent imperial complex that was once home to China's emperors. Opposite the north gate of the Forbidden City is Jingshan Park (also known as Coal Hill), where you can take in bird's-eye views of the whole Forbidden City.
For those who want a more intimate glimpse into Beijing's history and culture, the city's low-rise, narrow alleyways, known as hutongs, are the perfect destination. Strolling down one of the many grey-walled hutongs that surround the Houhai Lake and Bell and Drum Tower areas, you disappear into the Beijing of old. The noisy city melts away and is replaced by sleepy seniors sitting and watching the world go by, people going about their daily business, and the curious and delicious smells of truly authentic restaurants.
The Temple of Heaven, an ancient religious complex where the emperor once held an annual ceremony to ensure a good harvest, is also located in downtown Beijing. This temple complex is known for its unique and dazzling architecture, as well as the peaceful park grounds that surround it. Not far from the city center is another of Beijing's most impressive sites, the Summer Palace, which is the best-known classical imperial garden in China.
There are certainly more historical attractions and cultural activities to put on your Beijing bucket list (check out more here). However, if you have three or less days in Beijing, we suggest you stick to the must-see attractions mentioned above. If you have time, there are many ways you can slow down your sightseeing schedule and dip into local life and culture, like sipping Chinese tea in a tranquil tea house, joining the locals for some morning tai chi in the Temple of Heaven park, enjoying a thrilling acrobatic show, and more!

Eating in Beijing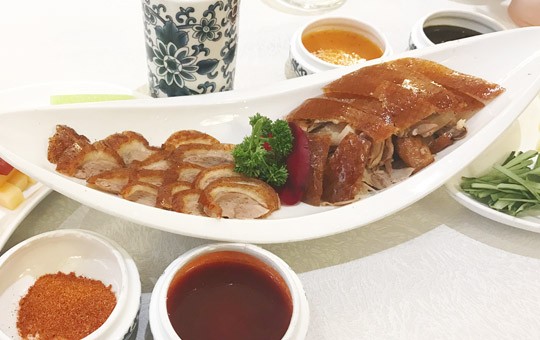 As the capital of China, Beijing is home to authentic restaurants serving cuisines from all around the country. Although we usually take our visitors to restaurants that serve local Beijing dishes, you can always ask your travel specialist or guide if you want to taste some other cuisines.
Speaking of local dishes, Peking duck is the one famed dish that you absolutely shouldn't miss, and we can give you plenty of suggestions for the best places to eat this Beijing delicacy. If you are a keen foodie, we can also arrange for you to try your hand at cooking some Chinese dishes or wrapping your own dumplings.
Thanks in part to Beijing's large and diverse expat population, you can also find plenty of quality restaurants that serve Western food or cater to vegetarians and vegans. In fact, some of our travel specialists are expats who have been living in Beijing for years, so they can give you their honest opinion on any restaurant!
Popular Nighttime Activities in Beijing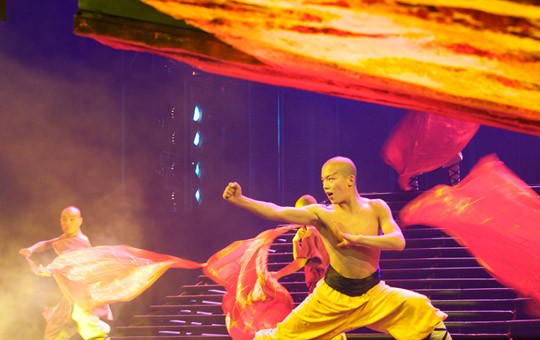 Ancient and modern collide in Beijing's nightlife scene. You will never be short of choice on a night out in Beijing!
We usually book hotels for our guests that are located in the center of Beijing, so that you won't lack choices when looking for some authentic food or shopping opportunities in the evening.
If you want to venture farther away from your hotel, the area around Nanluoguxiang, Houhai Lake, and the Drum and Bell Towers has plenty of bars serving everything from craft beer to complex cocktails, while Sanlitun and the area around the Worker's Stadium is the best choice for slick cocktail bars and nightclubs.
If you prefer something more culturally oriented, there are a variety of popular evening shows you can attend, like the Chaoyang Acrobatic Show, the "Legend of Kung Fu" show, or a Peking Opera performance.

Best Time to Visit Beijing
Beijing has a climate similar to Washington, DC. The weather is cold in winter with occasional snow, and hot and humid in summer. April, May, and June are particularly pleasant months to visit; in late April you can enjoy picturesque flowering trees in the city's many parks. July and August, while still good, can be very hot. The fall weather, particularly in September and October, is pleasant, making this period another popular time to visit Beijing. November is still nice with a fall feel in the air. December through March are winter months, when there are usually fewer tourists at all the attractions.
If possible, you should avoid planning your visit around National Day (the first week in October) and Spring Festival, when many Chinese people are traveling and most tourist destinations are packed. In addition, Beijing also see more travelers in August, when students are on summer vacation and many families travel to Beijing with their kids before the new school year starts. Learn more about how to avoid the crowds when traveling in China here.
Average Temperatures in Beijing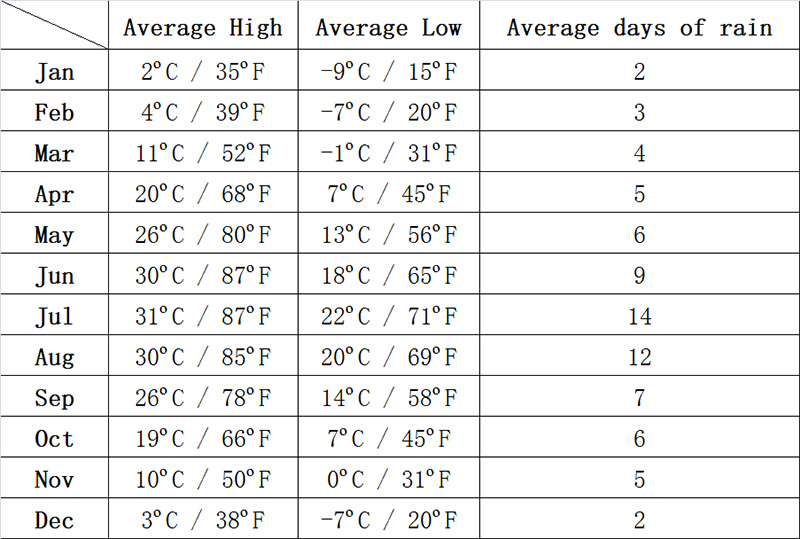 Transportation
As the capital of China, Beijing has the busiest airport and railway stations in China. Most Chinese tourist destinations are easily accessible from Beijing via flight or bullet train (for example, both Shanghai and Xi'an are around five hours by bullet train and 90 minutes by air from Beijing). All of this makes Beijing an ideal first or last stop for visitors to China.
Find flights in Beijing for your stay
Beijing Private Tours