Literally translated as "Arrow Nock", Jiankou is one of the best sections of the Great Wall for photography lovers. Built during the Ming Dynasty in 1368, the Great Wall at Jiankou has never been restored and has been reclaimed by nature in many areas. In addition to photographers, this is the best place for adventurous hikers.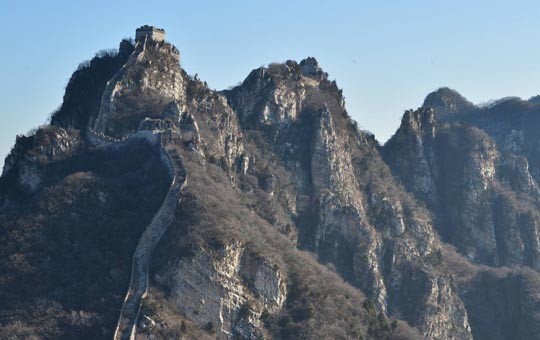 Location and Transportation
This section of the Great Wall is located 73km north of Beijing in Huairou District. To get to Jiankou, take bus 936 (6 CNY) from Dongzhimen Transportation Hub by Dongzhimen subway station (Lines 2 and 13). Get off at Yujiayuan Station and transfer to bus H25 (4 CNY) to Xizhazi Station, from where most Jiankou hikes begin. Alternatively, take bus H36 (3 CNY) to Xinying Station and walk north to the village. If you take a taxi, you will need to haggle and the cost may run up to 100 CNY.
Highlights and Travel Tips
The Jiankou Great Wall stretches from Nine Eye Tower in the northwest to North Sharp Tower (also known as Zhengbeillou) in the southeast. There are 22 towers along the route. Since Jiankou was built on a mountain ridge with steep cliffs, it is usually recommended for experienced with a moderate fitness level.
Right on the highest point of the Jiankou section of the Great Wall sits one of its most famous yet treacherous sights, a watchtower named "Eagle Flies Facing Upward" or Yingfei Daoyang. It takes it name from the fact that it is so high up that eagles can only reach it by flying straight upwards.
Another highlight is the Sky Stairs, which are extremely narrow and are at an angle of 70 to 80 degrees. Many adventurous travelers like to challenge themselves to climb the Sky Stairs.
Arguably one of the most breathtaking parts of the Jiankou section of the Great Wall is the Nine Eye Tower, which was built in 1543. The Nine Eye Tower has three layers and nine holes which look like nine eyes on each side.
Zhengbeilou, or North Sharp Tower, is the place to be for anyone who would like to spend the night on the Great Wall and is also a fantastic place to see the sun rise and set.
Lastly, the Beijing Knot is another place sure to woo visitors. This is the point where the Great Wall meets another section called Huanghuacheng.
Hiking from Jiankou to the better preserved and fully restored Mutianyu section is an experience of a lifetime! This 8km hike will take you through Ox Horn Edge, a steep, 180-degree turn that connects the two sections.
Most hikes to Jiankou begin in Xizhazi village (Jiankou village), from which you can reach Zhengeilou in approximately one hour. It is a tiring hike, so be well prepared. Bring well worn-in hiking shoes, as well as weather-appropriate clothing. Don't attempt to climb the wall if it is raining or it has recently rained.
The most experienced hikers can choose to climb up and down Ox Horn Edge, which would take about 1 hour to 1 hour 30 minutes. Since there are steep slopes and loose bricks, non-seasoned climbers would do better to simply avoid this part.
Average time needed for Jiankou to Mutianyu hike: 4 to 5 hours
Entry ticket: CNY 20