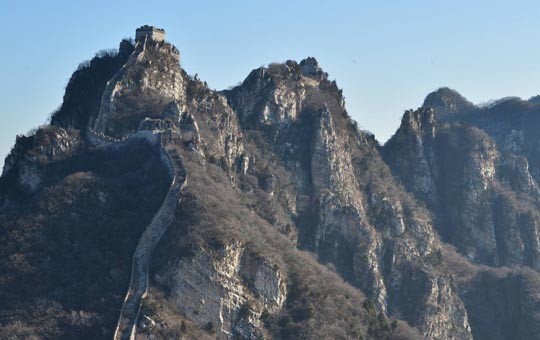 Located 73 km north of Beijing in Huairou District, Jiankou Great Wall is not a maintained and ticketed tourist attraction. This section has never been restored and has been reclaimed by nature in many areas. The challenging climbs and stunning sceneries of the Jiankou section make it one of the best off-the-beaten-path parts of the Great Wall near Beijing, one that is widely liked among adventurous hikers and photography lovers.

Highlights and Travel Tips
The Great Wall at Jiankou was constructed in 1368 during the Ming Dynasty. This section stretches around 22 km from the Nine-Eye Tower in the northwest to the Ox Horn Edge Wall in the southeast. Since Jiankou was built on a mountain ridge with steep cliffs, it features unique uphill climbs and amazing Great Wall scenery.
There are many scenic spots along the Jiankou Great Wall. The watchtower "Eagle Flies Facing Upward" or Yingfei Daoyang is so-named because it is said that the tower is so tall that eagles must fly straight upwards in order to reach it. The extremely narrow Sky Stair rises at an angle of 70 to 80 degrees. Jiankou Spot, the lowest point of this section, earns the name Jiankou (or Arrow Nock) because of its resemblance to the notched end of an arrow. Right on the highest point of the Jiankou section sits its best-preserved watchtower, Zhengbei Tower, which offers great photo opportunities of the Great Wall and surrounding mountains, particularly at sunset and sunrise.
Other scenic spots include: the Beijing Knot (the meeting point of three walls coming from different directions); the Nine-Eye Tower, also known as Wangjing Tower (which sits at the northernmost point of the Jiankou section and allows you to gaze across the country all the way to Beijing in clear weather), the Cloud Stairs (part of the Wall that rises like a staircase into the white clouds), and many other watchtowers.
The Great Wall at Jiankou is not a tourist attraction, and you may see signs on the way to the Wall that say climbing this section is officially banned. But the charm of the wild Jiankou Great Wall leads many hikers and photography buffs to ignore the ban and take on the challenge of the Jiankou section anyway.
Visitors to the Jiankou Great Wall should be prepared for some challenging climbing, and this section is not recommended for casual travelers, young children, people with mobility issues, or those who are afraid of heights. The most dangerous part is the middle segment, from Beijing Knot to Jiankou Spot, including the Eagle Flies Facing Upward and Sky Stair. Inexperienced hikers would do best to simply avoid this part.
Because of its connection with Mutianyu to the east, along with its relative sparseness in visitors, the Jiankou-Mutianyu trail is one of the most famous Great Wall hikes. Please be aware that hiking the whole Jiankou Great Wall in one day is usually not possible.
If you want to do the hike from Jiankou to Mutianyu in one day, we suggest you start from Zhengbeilou Tower and hike east to Mutianyu Great Wall. Following this route, you can appreciate the best scenery of the Jiankou section from Zhengbeilou Tower, and then hike the relatively less dangerous part from Zhengbeilou Tower to the Mutianyu section.
Most hikes to Jiankou begin in Xizhazi village (Jiankou village), from which you can reach several famous spots, including Zhengbeilou Tower. Wofo Mountain Villa is another base for hiking Jiankou Great Wall, but the hike from Wofo Mountain Villa to the Wall is much more difficult than that from Xizhazi village.
The hike through the forest from Xizhazi village up to Zhengbeilou Tower takes about 1 hour and can be tiring. The challenging walk is worth the views you will get when you find yourself on Zhengbeilou Tower, the highest point of Jiankou section with some amazing views, especially on a clear day. You can take time to relax and enjoy the stunning scenery on the Zhengbeilou Tower, and then head east to Mutianyu Great Wall.
The whole hike from Zhengbeilou Tower of Jiankou to the Mutianyu section, including hiking up Zhengbeilou Tower from Xizhazi village and descending from Mutianyu Great Wall to the parking lot, takes 4 to 6 hours depending on how fast you go. After the hike, you can conveniently find transportation to downtown Beijing since Mutianyu is more accessible than Jiankou Great Wall.
For those who have two or three days, you can hike the whole Jiankou Section and through to Mutianyu Great Wall. You can choose to stay overnight in Xizhazi village, but be aware that the village farmhouses are very basic. Alternatively, you can also pack your gear and camp on the Great Wall.
Good hiking shoes are a must, as some places are very steep, unstable, and slippery. Do not attempt the hike in the rain or strong winds, or you may find yourself in a very difficult and dangerous situation. Make sure you bring plenty of water and snacks. Water is essential if it's a hot day, as there is very little shade along the route. You may find one or two local villagers along the way selling water at escalated prices. There are no bathrooms along the wall. Take your garbage with you since there are no trash bins. You may also want to bring insect repellent since you need to hike through bushes in some places.
It is advisable to hike with others since you may need a hand at some of the steeper areas. It is recommended you go with a guide who can help you navigate and give you a hand when needed. Cell service can be unreliable on some parts of the Wall.
Opening Hours and Ticket Prices
Opening hours: all day
Entrance fee: free
Average time for this activity: 1 to 3 days
How to Get There
Public transportation to Xizhazi village from Dongzhimen transportation hub in downtown Beijing is available, but it requires a transfer and some walking, and takes a longer time. Instead, we suggest hiring a private car or joining an organized tour to Jiankou Great Wall.
Popular Tours