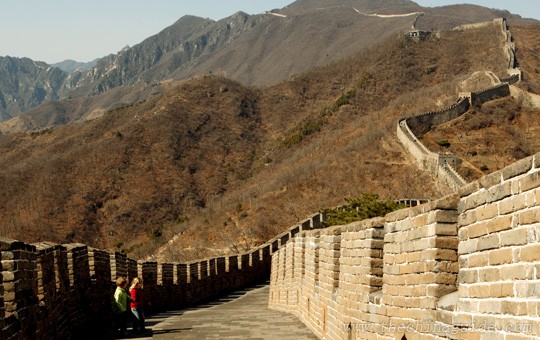 Mutianyu is the top choice for those who want to see a scenic, restored section of the Great Wall that is less touristy than the crowded Badaling but closer to Beijing than Simatai or Jinshanling.
Location and Transportat‭ion
The Great Wall at Mutianyu is about 70 km – one and a half hours' drive in normal traffic – away from downtown Beijing, making it just as close as Badaling.
Highlights and Travel Advice
Thanks to its close proximity to downtown Beijing, it is more than possible to visit Mutianyu in a morning or afternoon – perfect for travelers with a packed schedule. We suggest getting to Mutianyu in the early morning, for three reasons: there will be fewer tourists, in summer the temperature will be more bearable, and you can avoid the rush hour traffic downtown.
Tourist Map of Mutianyu Great Wall
Walking up to the Wall from the base will take around 40-60 minutes. Unless you are super energetic and have a whole day to spend at the Wall, we suggest you save time and energy and take the cable car or chair lift to reach the top. The cable car takes you directly to Tower 14 and the chair lift takes you to Tower 6.
The section between Tower 4 and Tower 19 is relatively flat and is suitable for young kids or people with limited mobility. Climbing the section between Tower 14 and Tower 23 will reward you the most beautiful scenery. Tower 4, also known as the Zheng Guan Terrace, shouldn't be missed either since its structure is rarely seen among all sections of the Great Wall: it has three watchtowers on a terrace, with a large one in the middle and two smaller ones on either side.
If you want to aim higher and challenge yourself to a tougher climb, you can climb to Tower 1 or Tower 23 – the panoramic views certainly make it worth it! Further beyond these towers are unrestored parts of the Great Wall which are not open to tourists but will give you a glimpse of the beauty of the wild Great Wall.
However you choose to structure your visit to Mutianyu, put on your most comfortable shoes and get ready for at least some climbing. If you are visiting, the weather may be very hot and humid, so be sure to drink plenty of water. There are few shady places on the Wall (expect for the watchtowers), so be sensible and apply sunscreen or wear a hat.
There are plenty of places to buy water, snacks, and souvenirs near the parking lot (there is even a branch of Subway!). Bottled water and snacks can also be purchased at elevated prices once you get up onto the Wall. There are several restrooms both in the parking lot and along the Wall.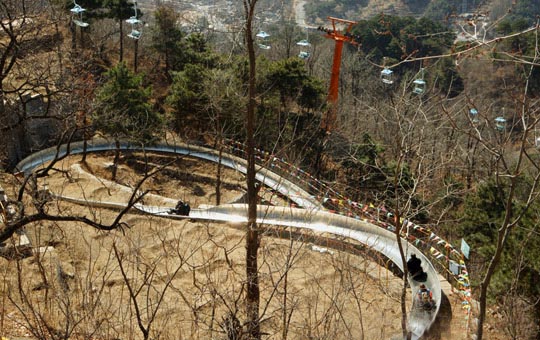 When you're done exploring the Wall, you can choose to take the cable car or chair lift back down but we highly recommend that you take the toboggan down. The toboggan is a pretty long and thrilling ride but don't worry, it's perfectly safe and you control how fast it goes. There are double cars for parents with kids as well as single cars. The toboggan is a particular hit with kids but we find that everyone enjoys it!
Back in Mutianyu Village, there are fish farms and rustic restaurants where you can taste local dishes cooked with fresh trout.
Opening hours: 7.30am - 6pm
Entrance fee: CNY 45 / person
Cable car: CNY 120 (round trip) / CNY 100 (one way)
Chair lift / toboggan: CNY 120 (round trip) / CNY 100 (one way)
Average time for this activity: 2 hrs

Best Time to Visit
March to May, September to November
Popular Tours That Include a Visit to Mutianyu Great Wall