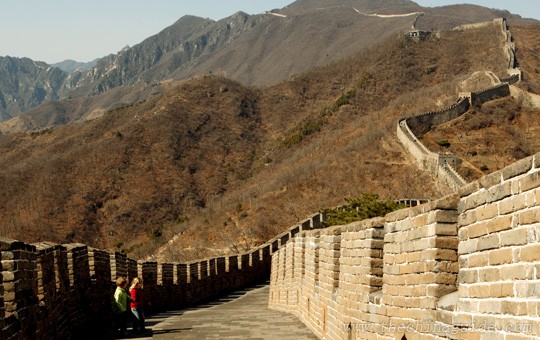 For those who want to see a restored section of the wall which is more fun and less touristy than Badaling and not as far as Simatai or Jinshanling, then Mutianyu is a good choice. Just over an hour from Beijing in normal traffic, it is possible to see in a morning or afternoon and combines well with the Ming Tombs.
Mutianyu has some good options. You can take the cable car up, have a little stroll on the wall then come back down the cable car. Or you can take the cable car up and walk for about 45 minutes on the wall, down hill mostly, to the toboggan sled. Its pretty long run on the toboggan track down the hill from the wall. There are double cars for parents with kids as well as the usual single cars. Fun and safe, everyone seems to enjoy this.

In Mutianyu village there are fish farms and restaurants, so you can fish out your own trout from the pond and have it cooked up for your lunch.

The Great Wall was key to protecting agriculture and resisting cavalry of the Huns and other warrior tribes from the north. The advantages of the enormous barrier diminished with the advancement of gunpowder and other weaponry.

The wall was originally built of stone, wood, grass and earth. In the Ming Dynasty bricks were produced in kilns set up along the wall. The bricks were transported by men carrying them on their backs, donkeys, mules and even goats had a brick tied to their head before being driven up a mountain.

The Great Wall of China was built over more than two thousand years. Construction on the first section began between the 7th and 6th century BC, and the last work on the wall was done between the 14th and 17th centuries.
Average time for this activity : 2 hrs

Opening hours : 8:00am until 5:00pm with last admission at 5:00pm