The Great Wall at Mutianyu is one of the best-preserved sections of the Wall close to Beijing. Being a scenic section but with fewer tourists than Badaling, Mutianyu Great wall is an ideal introduction to this ancient wonder and especially favored by foreign travelers. And thanks to its close proximity to downtown Beijing, just a one-and-a-half-hour drive in normal traffic, it is more than possible to visit Mutianyu Great Wall in a morning or afternoon—perfect for travelers with a tight schedule.
Highlights and Travel Tips
The Mutianyu section of the Great Wall was originally constructed in the mid-6th century and was rebuilt in its current form during the Ming Dynasty in 1569. The Mutianyu section spans over a mile and contains a total of 23 watchtowers, making it one of the longest fully restored portions of the Wall.
Walking up to the Wall from the base will take around 40-60 minutes. Unless you are super energetic and have enough time to spend at the Wall, we suggest you take the cable car up to the Wall and save your time and energy for the Wall itself.
The cable car takes you directly to Tower 14 and the chairlift takes you to Tower 6. While the section between Tower 4 and Tower 19 is relatively flat and suitable for elders or people with limited mobility, the section between Tower 14 and Tower 23 features stunning Great Wall sceneries. Tower 4, also known as Zheng Guan Terrace, shouldn't be missed either, since its structure is rarely seen among all sections of the Great Wall: with three watchtowers on a terrace, a large one in the middle and two smaller ones on either side.
If you want to aim higher and challenge yourself to a tougher climb, you can climb to Tower 1 or Tower 23. The climb is steep but both towers afford great panoramic views of the whole length of Mutianyu Great Wall. Further beyond these towers are unrestored parts which are not open to tourists but you can still enter and have a glimpse of the beauty of the wild Great Wall.
However you choose to structure your visit to Mutianyu, be sure to wear comfortable shoes and get ready for some walking and climbing. If you are visiting in the summer, the weather may be very hot and humid, so make sure to drink plenty of water. Except inside the watchtowers, there is no shade once you are on the Wall, so be sure to apply sunscreen and/or wear a hat.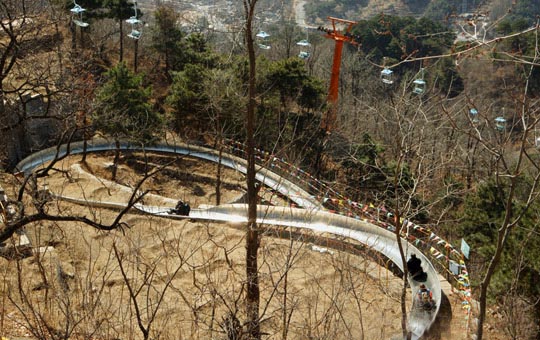 There are plenty of places to buy water, snacks, and souvenirs near the parking lot (there is even a Subway branch!). Bottled water and snacks can also be purchased at elevated prices once you get onto the Wall. There are restrooms both at the parking lot and along the Wall.
When you're done exploring the Wall, you can choose to take the cable car or chairlift back down, but for the more adventurous, we highly recommend that you take the toboggan slide down. The toboggan is a pretty long and thrilling ride but don't worry, it's perfectly safe and you can control how fast it goes. There are double cars for parents with kids as well as single cars. The toboggan is a particular hit with kids, but we find that everyone enjoys it!
Back in nearby Mutianyu Village, there are rustic restaurants where you can enjoy the popular local specialty made with fresh trout, the perfect end to your Great Wall trip.
Please be aware that although Mutianyu Great Wall has far less visitors than Badaling, it is still common for visitors to wait an hour to get on the cable car during peak season. We suggest getting to Mutianyu in the early morning to avoid crowds during peak season. If you are on one of our tours, your guide will suggest when to depart for the Wall from your hotel based on your visiting time.
Tourist Map
Accessibility Information
While the cable car can take visitors directly to the base of the Great Wall, you need to be able to get into the cable car on your own and climb some stairs after you get off the cable car before you can get onto the Wall. That said, Mutianyu Great Wall is not suitable for wheelchair users.
Opening Hours and Ticket Prices
Opening hours: 7:30am - 6:00pm (April to October) / 8:00am-5:00pm (November to March)
Entrance fee: CNY 45 / person
Cable car: CNY 120 (round trip) / CNY 100 (one way)
Chair lift / toboggan: CNY 120 (round trip) / CNY 100 (one way)
Average time for this activity: 1/2 day
How to Get There
Considering the distance from downtown Beijing, it is advisable to hire a private car or join an organized tour to Mutianyu Great Wall. Public transportation is available, but it requires a few transfers and takes much longer than a private car ride.
How to Reserve a Ticket Online
Visitors can purchase tickets at the ticket office once they arrive at Mutianyu Great Wall. However, reserving a ticket beforehand may help to save some time, especially during the busy season. You can reserve a ticket online on the official booking page here.
Please note that this page is in Chinese. If you cannot read Chinese, you may want to use Google Translate. Here's the translated form: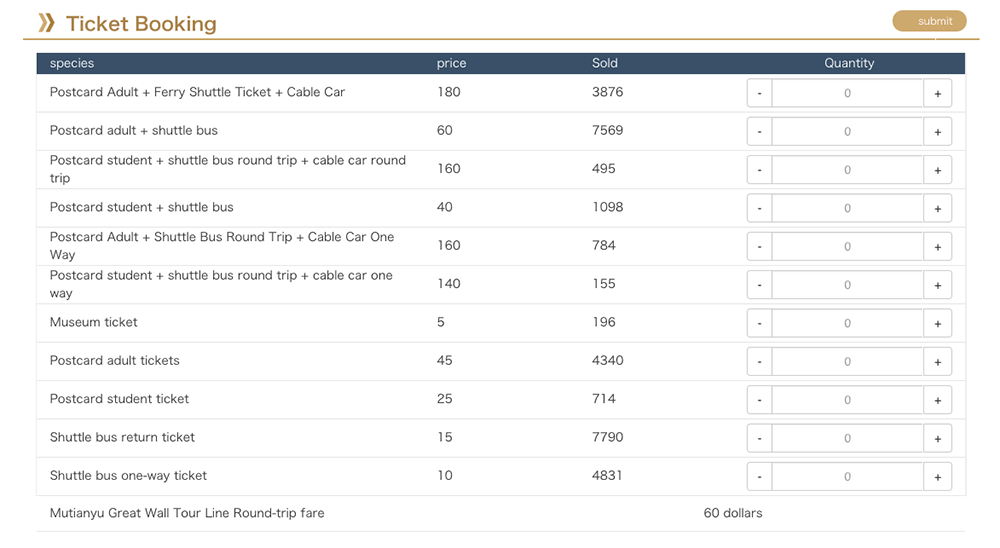 After selecting your tickets and submitting the order, you will need to input the time of your visit, your name, and a Chinese mobile phone number to verify. Then select either WeChat, AliPay, or a Chinese bank card to pay.
You don't need to input each visitor's name and passport information since the tickets are not bundled to a specific person. All booked tickets must be used together.
Popular Tours