Located in the heart of Sichuan province, Chengdu is home to one of China's—and the world's—best-loved mammals: the giant panda. This city is not only the best place in China to see and interact with pandas, it is also a cultural melting pot with a fantastic food scene that holds a UNESCO seal of approval. The infusion of Tibetan and Mongolian influences means that Chengdu cuisine is a uniquely satisfying experience, with its lip-numbing spice and famous flavor combinations.
Chengdu is known for its laid-back pace and is home to numerous peaceful parks and traditional teahouses. The gateway to the far west and south, Chengdu is the perfect destination for onward travel, but be sure to budget some time to explore and relax in this charming city.
Things to Do and Travel Advice
Founded in 316 BC, Chengdu holds a key role in China's history. Influenced throughout its long history by Tibetan and Mongolian cultures, the city's intriguing past has left its mark on the food and local dialect, and is evidenced in its many museums, temples, and fascinating archaeological sites. Most important of all, one cannot forget Chengdu's most famous resident: the giant panda!
Chengdu's furry inhabitants can be visited just 20 km north of the city center at the Chengdu Research Base of Giant Panda Breeding. The highlight of any trip to the city and the main reason many visit, the sanctuary offers visitors the opportunity to see pandas playing, eating, and lazing about in what's close to their natural habitat. Covering an area of more than 90 acres, the Chengdu Panda Base houses dozens of pandas of all ages and its world-class research and breeding program has been key to the panda's resurgence in the past decade.
Those with longer to spend in the area—and who are interested in spending more time with the lovable pandas—can venture further out to Bifengxia or Dujiangyan Panda Base to see more pandas with fewer crowds. At Dujiangyan, you can have a truly hands-on experience by volunteering as a panda caretaker for a day; as a volunteer keeper, you'll feed and care for the pandas, and you'll even have the chance to take a picture with an adorable cub.
Pandas aren't the only giant resident of Sichuan. Another top attraction of enormous scale just outside of Chengdu is the world-famous Leshan Giant Buddha, the largest stone Buddha statue on the planet. At a height of over 70 meters, this 1,000-year-old stone statue makes for an imposing figure and is a must-see for any visitor to Chengdu. This impressive attraction is just two hours from the city center and can be reached by car or train.
Top of the Chengdu sightseeing list for any history buff has to be the Jinsha Site Museum. Discovered by accident in 2001, the Jinsha site was found to hold priceless artifacts of an ancient Bronze Age culture that existed outside of the Shang Dynasty. Dating back over 3,000 years, the beautifully intricate and unique bronze, ivory, and jade artifacts housed in the Jinsha Site Museum are a feast for the eyes and offer unique insight into the development of human civilization in China.
Chengdu is also home to several beautiful temples, including the excellently preserved Wenshu Temple. This temple is the city's largest Buddhist monastery and dates back more than a millenium to the Tang Dynasty. Green Ram Temple, also called Qingyang Temple, is a Taoist temple housing a statue of a lucky bronze goat, as well as a spectacular eight-sided pagoda. Wuhou Temple is another temple of exceptional beauty that features exquisite gardens. After your visit, be sure to head to the nearby Jinli Cultural Street to enjoy some delicious street snacks and shop for souvenirs.
Parks are central to Chengdu's unique culture and way of life. While visiting People's Park, the city's main park, you will often catch sight of locals practicing the serene martial art of Tai Chi. While exploring Chengdu's parks, you will also find a number of relaxing teahouses, a cultural mainstay of the region. The city's many Qing-era alleyways, like Kuanzhai Alley, are a great place to pause for a quick stop in a charming teahouse, a must on any trip to Chengdu.
For nature lovers, a visit to Mount Emei should be at the top of your list. Mount Emei is one of China's four sacred Buddhist mountains and the stunning scenery, coupled with the potential of sleeping in one of several beautiful monasteries in the area, make it a worthwhile trip for anyone, especially those inclined toward outdoor activities. Mount Emei is a bus ride from Baoguo (the gateway village to the mountain), which you can reach in around 2 ½ hours from Chengdu by both bus and train.
The Jiuzhaigou region north of Chengdu is one of the most spectacular natural wonders in China, home to awe-inspiring scenery and fascinating Tibetan culture. A short flight from Chengdu, Jiuzhaigou National Park features beautiful waterfalls, breathtaking mountain scenes, and vivid alpine lakes, while the slightly closer Huanglong National Park is famous for its spectacular blue mineral pools. You can explore both of these stunning national parks in full via our 2-day Jiuzhai Valley National Parks tour.
Whether you're sipping tea with locals in one of the city's 10,000 teahouses, enjoying a dazzling Sichuan Opera show, or spending time with cuddly pandas, Chengdu has something for everyone! To enjoy all of Chengdu's top highlights, along with China's other top destinations, we suggest our Chengdu and Golden Triangle Tour or our comprehensive and popular China Highlights tour.
Tourist Map of Chengdu/Sichuan
Eating in Chengdu
In 2011, UNESCO declared Chengdu a "City of Gastronomy". With Sichuan being one of the eight main cuisines of China, food should play a major role in any visit to the city. In Chengdu cuisine, spice is the name of the game, which is derived from the numbing Sichuan pepper. Here are some key dishes to look for:
Chengdu Hot Pot: The equally spicy rival of Chongqing hot pot, Chengdu hot pot is a local favorite and should not be missed! Fantastically spicy and fully customizable, Chengdu hot pot consists of a large bowl of simmering broth that you add your own ingredients to. For those who aren't so keen on spicy food, most restaurants serve hot pot in a two-sided bowl, with a plain broth on one side.
Hongyou chaoshou: Sichuan's take on the dumpling is usually filled with pork and ginger and served in an intensely fragrant sauce made with garlic, soy, and the province's famously fiery famous chili oil.
Mapo doufu: This dish of tofu served in a spicy sauce containing pork, broad bean and chili paste (douban), and Sichuan peppercorns, though served all over the world, must be had in its birthplace in order to experience it at its best.
Huiguorou: For those who can't quite handle the heat of traditional Sichuan cooking, this may be the dish for you! Pork belly is first sliced and boiled in salt water, then stir-fried until beautifully crispy and served with leek and just a touch of chili.
The teahouses of Chengdu are also not to be missed. A historical meeting place, the teahouse is an integral part of Chinese culture and nowhere is the tea culture of the Middle Kingdom better represented than in Sichuan.
For those who want to sample all the best dishes Chengdu has to offer, we strongly recommend our Chengdu Highlights and Food Tour.
Nightlife in Chengdu
From traditional performances of Sichuan opera to live music and bars, Chengdu's nightlife offers something for everyone. For an up-to-date calendar of all Chengdu's evening happenings visit the website of local magazine gochengdoo.
Teahouses are a great place to watch a Sichuan opera performance, where you'll enjoy elaborate costumes, intricate choreography, and the famous "face-changing" technique. Shufeng Yayun Teahouse hosts nightly performances of a 250-year-old traditional show, beginning at 8pm.
You will find most of Chengdu's bars and clubs located around Blue Caribbean Plaza, Lan Kwai Fong, and the Poly Center. If you want to listen to some live music, head to New Little Bar.
Best Time to Travel to Chengdu
Weather in Chengdu is mild, humid, and cloudy; the city sees 250-300 overcast days a year! Visit Chengdu in spring or autumn to enjoy pleasant temperatures and clear weather. Avoid traveling to Chengdu in the summer, as it gets very hot and steamy and sees a lot of rainfall during this time.
Average Temperatures in Chengdu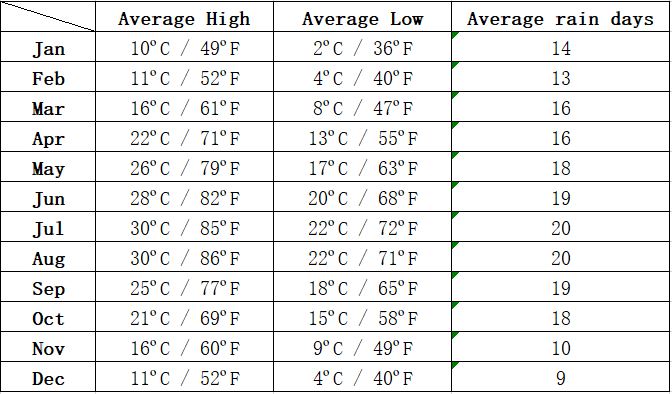 Transportation
Within Chengdu, it is easy to get around by bus, subway, or car. Chengdu's tourist bus hub is Xinnanmen (a.k.a. The Tourism Transport Centre). Buses are easy to navigate; the stops are listed in both Chinese and English. There is also a six-line subway system with stops near most points of interest that is easy to use.
For onward travel, Chengdu can be reached from most destinations throughout China by plane or train.
Flights: Chengdu is home to the region's largest airport, with internal flights to all major cities in China as well as many international destinations. You can reach Chengdu from Beijing, Guangzhou, and Shanghai by direct flight in around 3 hours. You can also travel from Chengdu to the Tibetan capital of Lhasa in roughly 2 hours 30 minutes. Chengdu Shuangliu Airport is located 16 km southwest of downtown.
Trains: Chengdu's railway stations are the best connected in the southwest, with both high-speed rail and overnight sleeper trains available to multiple destinations. The city has three main railway stations: Chengdu Railway Station, Chengdu East Station, and Chengdu South Station. Located about 5km from the city center, Chengdu Railway Station is the city's main station and is a hub for ordinary (including overnight sleeper) trains to Beijing, Shanghai, Wuhan, Hangzhou, Kunming, and Guilin. The station is also served by high-speed trains to Shanghai and Chongqing. The East station, around 10 km from the city center, is the hub for high-speed trains to Shanghai, Hangzhou, Wuhan, Nanjing, Nanchang, and Zhengzhou.
Chengdu's transport links make it the perfect gateway for further explorations of Sichuan province and the rest of southern China, from Guangzhou to Guilin.
Explore Further
Chengdu's transport links mean it is the perfect gateway for further explorations of Sichuan province. Travel onwards to Langzhong to catch a glimpse of "old China", visit the Giant Buddha of Leshan or head north into the captivatingly beautiful Jiuzhaigou national park, now a site of ecotourism.
Popular Chengdu Tours