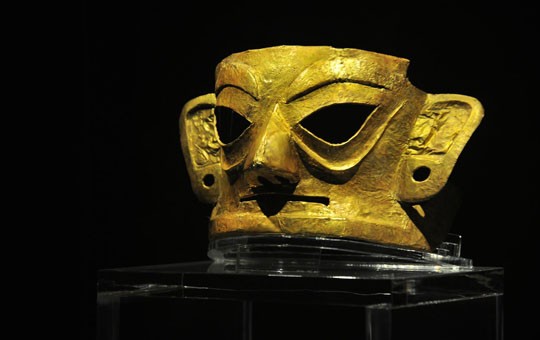 Located just outside of Chengdu, Jinsha Site Museum is an archaeological site and museum that showcases excavated artifacts from China's ancient past, largely dating to the Shu Kingdom, which existed from 1200 to 650 BCE.
Highlights and Travel Tips
The Jinsha Site Museum has two main parts, the archeological site and the exhibition hall. Visitors typically walk through the archeological site first, and then visit the museum.
A variety of artifacts have so far been found at the site, including ivory, jade, bronze, gold, and carved stone objects, with excavation still underway. Some ancient elephant tusks and deer antlers have been left in place inside the pits to give visitors an idea of how the pits looked before the artifacts were removed.
The exhibition hall features a variety of impressive art pieces that were excavated from the pits. Among them, the most famous ones are the Gold Sun and Immortal Bird, which has become a symbol of Chengdu, and the Gold Mask. The artistic styles of the excavated objects are remarkably different from that of the Han culture that later came to dominate China, offering an interesting look into the exotic culture of the ancient Shu Civilization.
Despite being a site of rich history, the Jinsha Site Museum doesn't see many visitors. English explanations and descriptions are provided in the museum. Jinsha Site Museum may be more interesting to history or archeology buffs, and we recommend doing some research beforehand or hiring a guide in order to get the most out of your visit.
Opening Hours and Ticket Prices
Opening hours : 8:00am - 6:30pm (May to October) / 8:00am - 8:00pm (November to April), closed on Mondays (except in Jan, Feb, Jul, Aug, and on public holidays)
Entrance fee: 70 RMB
Average time for this activity: 2 hours
How to Get There
Jinsha Site Museum can be reached by subway line 7 at Jinsha Site Museum station, Exit C or via a short taxi ride from downtown Chengdu.
Popular Chengdu Tours