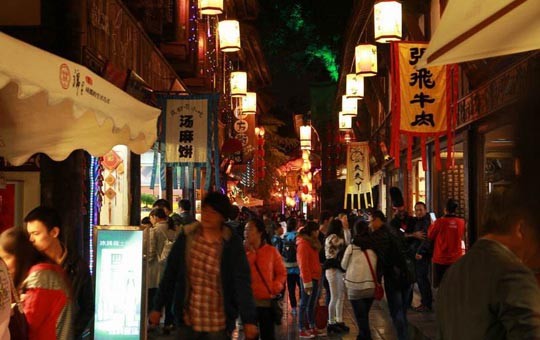 Situated beside Wuhou Temple in the center of Chengdu, Jinli is a branching network of narrow alleys offering a good place to sample local food, shop for souvenirs, and people watch.
Highlights and Travel Tips
Jinli Pedestrian Street is lined with traditional Chinese buildings that house numerous food stalls, shops, cafes, and restaurants. Although much of the architecture is newly built, the buildings still have an authentic, traditional feel. The street is particularly beautiful in the evening, when the hanging lanterns along the road are lit up.
Here, the wide array of local food offers an exotic and eye-opening experience, and the surrounding shops are a good place to pick up some souvenirs. You can also stop by one of the many teahouses to have tea and watch a famous local "face-changing" opera show.
Jinli Cultural Street is a major tourist attraction, so expect crowds most days. It is better to avoid going on weekends or any Chinese holidays, when the street is even more packed than usual.
Opening Hours and Ticket Prices
Opening hour: all day
Entrance fee: free
Average time for this activity: 2 hrs
Popular Chengdu Tours