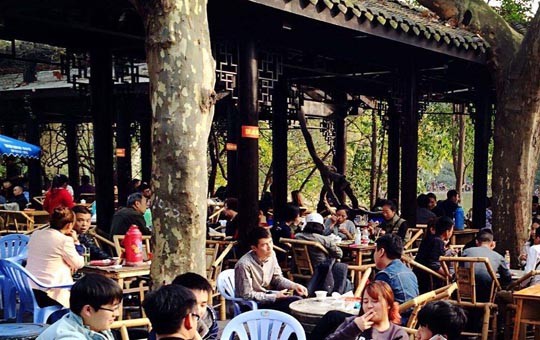 There are more teahouses in Chengdu than anywhere else in the world. With an estimated 10,000 teahouses, it is easy to think that there might be a teahouse on just about every corner. Some of the common characteristics of tea culture in Chengdu include bamboo chairs, small wooden tables, jasmine tea, and gàiwăn tea, which is a tea served in a covered bowl.
People's Park
Relaxing with a pot of tea and playing mahjong is one of the most popular pastimes in Chengdu and no more so than in People's Park.
Opening hours: 15:00 to 21:30 (evening shows start at 20:00)
Average time for this activity: 1 hrs
Opening hours: 6:00am until 10:00pm
Heming Teahouse
Arguably one of the most famous teahouses in Chengdu, Heming Teahouse is located in the heart of People's Park. It has over one hundred years of history. Visit the teahouse on a Saturday from 14:00-15:00 to watch a nice tea pouring ceremony. Visitors can also get their ears cleaned (a traditional Beijing pastime) as well as enjoying some snacks.
Opening hours: 06:00 to 21:00; tea starts from 18 CNY per cup.
Kai Lu Lao Zhaiyuan
This humble-looking teahouse is 200 years old and has a markedly nostalgic feel. The teahouse is located in a quiet courtyard behind bustling Kuan Alley.
Opening hours: 10:00 to 23:00, tea starts from 35 CNY per cup
Shufeng Yayun Teahouse
Shufeng Yayun Teahouse is also a century-old theatre offering a range of shows including Sichuan opera, shadow puppets, fire breathing, and the famous face changing, as well as music and puppetry. Avoid the newer venue nearby that offers shows for very large tour groups.
Tickets: 140-320 CNY (try your hand at one of the art forms or have an artist paint your face from 50 to 100 CNY)
Popular Chengdu Tours: