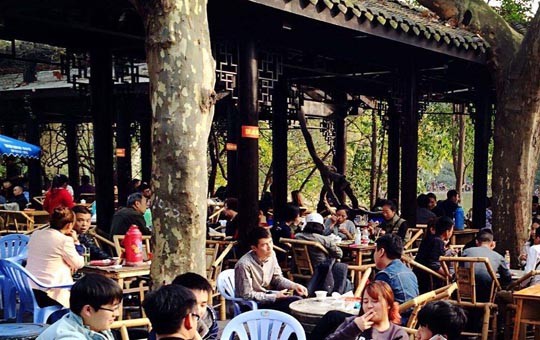 Chengdu is well-known for its slow-paced way of life and there is no better way to experience this than by strolling through Renmin Park and relaxing in one of its teahouses.
Highlights and Travel Tips
Chengdu Renmin Park, literally People's Park, is a green oasis located in the center of Chengdu and a popular gathering place for locals. Strolling in the park, you will see local people drinking tea, playing mahjong or cards, dancing, singing, and playing music. There is even an interesting matchmaking area where people advertise their sons' and daughters' profiles to attract partners.
Relaxing with a cup of jasmine tea and playing mahjong is one of the most popular pastimes in Chengdu. With an estimated 10,000 teahouses, there is a teahouse on just about every corner. Some of the common characteristics of tea culture in Chengdu include bamboo chairs, small wooden tables, jasmine tea, and gaiwan tea, which is served in a covered bowl.
With many teahouses that serve locals, Renmin Park is a great place to experience Chengdu's tea culture firsthand. Heming Teahouse, arguably one of the most famous teahouses in Chengdu, is located in the heart of People's Park and has a history that spans over a hundred years. Sitting alongside the locals and watching a tea pouring ceremony, as well as all other kinds of fascinating activities, is a great way to learn about and experience local culture.
Opening Hours and Ticket Prices
Opening hours: 6:00 am to 10:00 pm
Entrance fee: free
Tea: starts from 18 CNY per cup
Average time for this activity: 1 to 2 hours

How to Get There
Located in the center of Chengdu, Renmin Park can be easily reached by subway line 2 via Renmin Park Station.
Popular Chengdu Tours