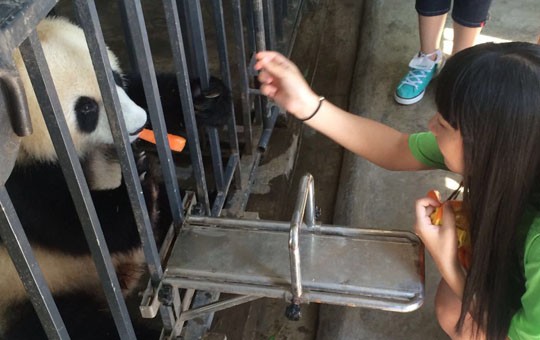 Located about an hour and a half from downtown Chengdu by car, Dujiangyan Panda Base is close to the UNESCO World Heritage-certified Giant Panda Sanctuaries and offers a relatively less crowded option for observing giant pandas, as well as a panda keeper program that allows visitors to get up close to the adorable creatures.
Highlights and Travel Tips
Unlike Chengdu Panda Base, which is mainly for panda breeding, Dujiangyan Panda Base is dedicated to giant panda wild rescue, disease control, and international cooperation. Compared to Chengdu Panda Base, Dujiangyan Panda Base is smaller in both area and the number of panda residents, and doesn't have many young pandas. But what makes Dujiangyan Panda Base special is its interactive panda keeper program, which allows visitors to volunteer as a panda caretaker for a day.
Volunteers assist staff in activities such as cleaning and maintaining the enclosures, breaking up and putting fresh bamboo into enclosures, and hand-feeding the pandas. Simple lunch is provided for volunteers at the staff canteen.
Please note that the keeper program only accepts about 20 volunteers per day, so be sure to reserve in advance. In addition, the program requires participants to provide a health certificate and pay a required donation in order to participate in the program. The volunteer program does not accept people under the age of 12 or above 65.
This base also allows visitors to spend a small amount of time cuddling and taking photos with a panda, albeit after making a large mandatory donation.
Due to the long drive from downtown Chengdu, Dujiangyan Panda Base is less crowded than Chengdu Panda Base. If you want to just visit the panda base without volunteering, 2-3 hours is usually enough. Be sure to wear comfortable shoes, as the panda base is quite hilly. A shuttle bus is available for visitors who don't want to walk. We recommend visiting in the early morning to catch the pandas at their most active.
Opening Hours and Ticket Prices
Opening hours: 8:30am - 5:00pm
Entrance fee: 58 RMB
Shuttle bus: 15 RMB
Average time for this activity: 1/2 - 1 day
How to Get There
High-speed trains are available from Chengdu Railway Station to Mt. Qingcheng Railway Station, where visitors can then take a bus or taxi to Dujiangyan Panda Base. Considering the distance, hiring a private car or participating in an organized tour would be ideal for visitors with limited time.
Popular Chengdu Tours