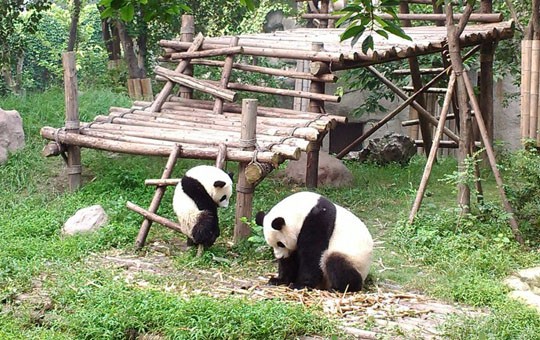 Located about 10 km northeast of the city center, the Chengdu Research Base of Giant Panda Breeding (also known as the Chengdu Panda Base) is the closest giant panda facility to downtown Chengdu and is a popular place to see lots of pandas of different ages in what's close to their natural habitat.
Highlights and Travel Tips
The Chengdu Panda Base is a nonprofit research and breeding facility for giant pandas that was originally founded in 1987 and opened to the public in 1993. The center began with a population of just six giant pandas and has since grown to more than 100 pandas.
The aim when building the Chengdu Panda Base was to construct an ecosystem that closely resembled the pandas' natural habitat in order to better understand their behavior. The result of these efforts is a large, 92-acre semi-natural habitat with more than 96% plant coverage. For visitors, it is more like a nice park than a traditional zoo.
The base houses several enclosures for giant pandas of different ages, a research and breeding center, panda cub nurseries, a giant panda museum, and more, making for a fun and educational experience for visitors of all ages. In addition to its giant pandas, the base also features a number of other rare species that are worth seeing, including red pandas, black-necked cranes, and more.
One of the main attractions at Chengdu Panda Base is the large, outdoor activity space where the giant pandas play and eat snacks. You can also sometimes view mother pandas interacting with their young in the panda nursery. The outdoor enclosures are large natural environments with low fences and ditches between the visitors and the pandas to allow for easy viewing of the animals.
The pandas are fed in the morning and are most active at that time of day. After around 10:00 am, the pandas tend to get sleepy and the park will also become crowded. In addition, it's worth noting that the pandas tend to be more active when the temperature is cool. All that being said, we suggest you visit the base as early as possible in the morning.
The base is large and nice to walk around, since much of it is in a bamboo forest. If you don't feel like walking, however, you can ride the shuttle bus within the base. Be aware that you may need to wait in line for the shuttle bus during busy times.
Make sure to bring your passport, as it may be needed when buying tickets. A camera with a zoom lens is recommended if you want to capture close-up shots of the pandas. We suggest getting a map or taking a photo of the map at the entrance, as the base is large and may be difficult to navigate.
There are also shops selling panda-related souvenirs, but the prices are usually more elevated than markets or shops outside the base.
Accessibility Information
While the main road is paved and flat, the base is large, so it is better for visitors with mobility issues to ride the shuttle bus. The walkways are mostly flat but there may be small steps in some places, so visitors who completely rely on wheelchairs may need help from others to navigate. Most restrooms within the base are wheelchair accessible.
Opening Hours and Ticket Prices
Opening hours: 7:30am - 6:00pm
Entrance fee: 55 CNY
Shuttle bus fee: 10 CNY
Average time for this activity: 2-3 hours
How to Get There
It takes about a half hour and costs around 30 CNY to get to Chengdu Panda Base from the city center via taxi. You can also get there via public bus or subway, although these routes require a few transfers.
Popular Tours