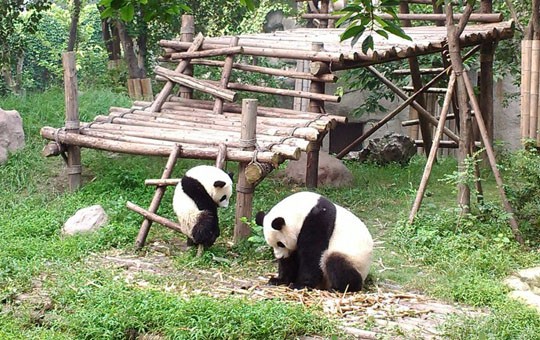 Chengdu is considered the panda capital of the world, and over the last couple of decades, the Chinese government has dedicated enormous resources to studying and preserving this precious species. Chengdu's state-of-the-art giant panda research and breeding facility is a testament to their success, and a great place to visit if you'd like to see lots of giant pandas in what's close to their natural habitat without trekking into the countryside.
Highlights and Travel Tips
As the closest giant panda facility to Chengdu, located just 30 minutes from the city center, the Chengdu Research Base of Giant Panda Breeding is a convenient and popular place to view pandas.
The Chengdu Panda Base is a nonprofit research a breeding facility for giant pandas that was originally founded in 1987 and opened to the public in 1993. The center began with a population of just six giant pandas, and has since grown to more than 100 pandas.
The aim when building the Chengdu Panda Base was to construct an ecosystem that closely resembled the pandas' natural habitat in order to better understand their behavior. The result of these efforts is a large, 92-acre habitat with more than 96% plant coverage. The base also houses a research facility, animal hospital, giant panda museum, panda cub nursery, and more, making for a fun and educational experience for visitors of all ages.
The main attractions at Chengdu Panda Base are the large, outdoor activity space where the giant pandas play and eat snacks. You can also sometimes view mother pandas interacting with their young in the panda nursery. In addition to its giant pandas, the base features a number of other rare species that are worth seeing, including red pandas, black-necked cranes, and more.
There are several other giant panda research bases in the Chengdu area, most of which are located within Bifengxia Panda Reserve, but these are much farther from the city and require a drive of at least an hour to reach. If you do wish to venture out farther to be able to interact more closely with giant pandas with fewer crowds, we recommend Dujiangyan Panda Base or Bifengxia Panda Base. The Chengdu Panda Base is the best option if your time in Chengdu is limited and is still a great place to observe this beloved animal.
The pandas are fed in the morning and are most active at that time of day, so that is when most people visit. The bears will relax and sleep during the afternoon. If you want to see baby pandas, we recommend visiting in the late summer or early fall, as most panda cubs are born between July and September.
Please note that the Chengdu Panda Base does not allow visitors to hold or take pictures with the pandas. You can access more information about visiting the panda base at their website here.
Average time for this activity: 3 hrs
Opening hours: 7:30am until 6:00pm
Entrance fee: 58 RMB
Popular Chengdu Tours