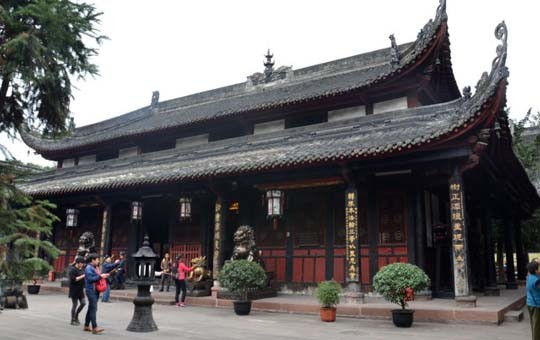 With its last reconstruction finished in 1706 during the Qing Dynasty, Wenshu Temple (or Wenshu Monastery) is the best-preserved Buddhist temple in Chengdu and makes for a serene place to stroll and get a glimpse of local Buddhist culture.
Highlights and Travel Tips
Wenshu Temple houses 300 Buddha statues made of various materials, including iron, bronze, stone, wood, and jade; some are beautifully painted as well. In the Sutra-Preservation Pavilion, there are over 500 famous paintings and pieces of calligraphy on display. In addition to the beautiful architecture and precious cultural relics, Wenshu Temple is an active buddhist monastery where you can see monks and locals worshiping.
The temple also features a peaceful garden and a nice teahouse where local people gather and hang out. For visitors, the teahouse is a lovely place to relax and sip a few cups of tea while observing local culture. The restaurant inside the monastery offers a tasty vegetarian buffet or hotpot at reasonable prices, and is a great place to eat if your visit coincides with lunch time.
Opening Hours and Ticket Prices
Opening hours: 9:00am - 5:00pm
Entrance fee: free
Average time for this activity: 2 hours
Popular Chengdu Tours