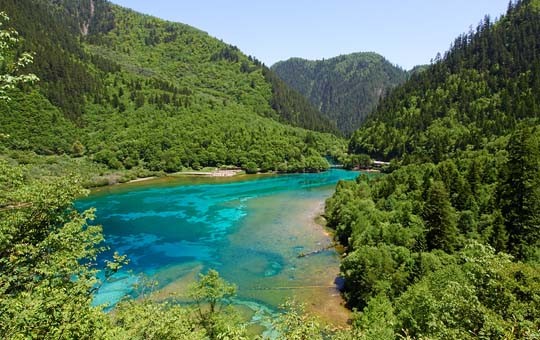 About an 8-hour drive or 400 km to the north of Chengdu, Jiuzhai Valley is an area of superb natural beauty known for its colorful lakes and multi-level waterfalls. The park is made up of a series of valleys on the edge of the Tibetan plateau, with mountain peaks ranging from 2,000 to 4,500 meters (6,600 to 14,800 ft) in height. Jiuzhaigou became a UNESCO World Heritage Site in 1992 and a Biosphere Reserve in 1997.
Highlights and Travel Tips
Jiuzhai Valley has three main valleys, namely Shuzheng Valley, Rize Valley, and Zechawa Valley, all of which contain stunning scenery, including alpine forests, snow-capped mountain peaks, bright turquoise lakes, waterfalls, and more.
Rize Valley is home to the famous Pearl Shoal Waterfall, a curtain of water that extends over 300 meters across and drops down 28 meters, as well as a number of beautiful lakes that are known for their clear, vivid blue waters, such as Panda Lake and Five Flower Lake. Shuzheng Valley houses equally stunning sights, including the 320-meter wide Nuorilang Falls and the 1375-meter long Reed Lake. Zechawa Valley's Long Lake is the park's largest and deepest body of water, and offers superb views of the surrounding mountains.
The park is very big and visiting Jiuzhaigou is at least a full-day outing. There are buses running every few minutes to take you to different parts of the park, where you can get off and walk around as you like. If you only have one day for the visit and want to see as much as possible, we recommend riding the bus most or all the way. If you have more time and want to explore outside of the shuttle bus, there are well-maintained walkways between the valleys that have less people and are ideal for visitors who want to enjoy the scenery while strolling. Be aware, however, that given the high altitude it might be not suitable for everyone to climb or walk the whole path.
Jiuzhai Valley is a very popular sight for tourists, so expect lots of people, especially on public holidays, and go to the park as early as you can to beat the crowds. (Learn more about how to avoid the crowds when traveling in China here.) There are usually lots of visitors and long queues at the bus stop areas. Private cars are also available at extra cost, which allow you to skip the queue for the shuttle buses and can drive you around to visit the attractions in any order you like.
Due to the high altitude, the temperatures in Jiuzhai Valley can be quite cold, especially at night, so be sure to bring warm enough clothes depending on the season you are visiting. Also be sure to wear appropriate footwear, as the walkway surfaces can be slippery. If the weather is poor, be sure to bring an umbrella.
The park only has one restaurant, where most buses will stop for lunch. You can also pack your own snacks. However, some instant foods are not allowed to be brought into the park.
Opening Hours & Ticket Prices
Opening hours: 8:30am - 5:00pm
Entrance fee: 169 RMB (April 1 - November 15) / 80 RMB (November 16 - March 31)
Shuttle Bus fee: 90 RMB (April 1 - November 15) / 80 RMB (November 16 - March 31)
Average time for this activity: 1 day
Best Time to Visit
Jiuzhaigou's scenery is breathtaking in any season, but it is particularly stunning in fall, especially from mid October to early November, when the tree-covered mountains are blanketed in beautiful fall colors. This also means worse crowds at this time of year, however.
How to Get There
It takes about 8 hours to reach Jiuzhaigou National Park from Chengdu by car. Although the scenery along the route is nice, we generally recommend flying due to the length of the drive. The Jiuzhaigou airport offers several direct flights everyday to and from Chengdu, as well as other major cities throughout China during peak season, including Beijing, Shanghai, and Xi'an.
Latest News from Our Guides
November 28, 2019
On November 28, the Jiuzhaigou Scenic Area Administration announced that the scenic area will be open to all independent travelers. This means travelers no longer have to visit the park through a travel agency, and instead can do it by themselves. The daily limit of visitors was also raised from 8,000 to 20,000. The areas open to tourists include Zharu Valley & Zharu Temple, Shuzheng Valley (except for the Spark Lake), Rizegou (from Nuorilang to Wuhuahai), and Zhacha Valley.
Also, all travelers to Jiuzhai Valley must now pre-book their tickets on the Aba Tourism website, since tickets will no longer be sold at the park. Learn more about how to book the tickets to Jiuzhai Valley online.
Map of Jiuzhaigou National Park (Opening Zone)
Explore Further
About 110 km or a 2-hour drive from Jiuzhaigou Valley, Huanglong Scenic Area is another stunning natural site that is famous for its vibrant blue mineral pools. It can be visited before or after your visit to Jiuzhaigou Valley.
Popular Tours