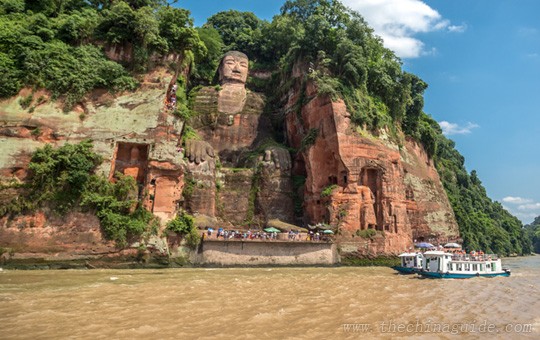 Around a 2-hour drive from downtown Chengdu lies one of the most marvelous ancient wonders of China, the Leshan Giant Buddha, also known as Lingyun Giant Buddha. Carved into a cliff-face along a peaceful river, this imposing figure, at 71 meters (over 200 feet) in height, dates back over a thousand years and is the largest and tallest stone Buddha statue in the world.
Highlights and Travel Tips
A UNESCO World Heritage Site, the Leshan Giant Buddha is an amazing and immense religious relic that was built over a period of 90 years from 713 to 803 AD. The statue was constructed at the confluence of three rivers notorious for their turbulent waters; it was hoped that the Buddha's presence would help calm the rivers' waters.
There are two ways for visitors to see the Giant Buddha. One is to walk down from the top near the head and end at its feet. This involves some waiting in line, sometimes for hours on particularly busy days, and larger crowds, as well as many narrow and steep stairs, but offers you a more intimate perspective of the Buddha. This up-close view will allow you to appreciate the statue's enormity; its shoulders spread over a width of 28 meters (as long as a basketball court!) and its pinky toe is large enough for a person to sit on.
The other option is to view the statue from a boat on the river immediately in front of it. The boat trip allows you to get the best and fullest front-facing view of the Buddha from a distance and is ideal for those who prefer not to wait in line and climb the stairs. The cruise takes around 30 minutes there and back, stopping for several minutes in front of the Buddha for visitors to appreciate the statue and take pictures. It's best to sit on the right side of the boat, as the Buddha will end up being on that side once you arrive.
If you choose to visit by boat, we also recommend you explore the statue by foot if your schedule allows, as the Buddha is equally impressive up close and is worth seeing from both angles.
Opening Hours and Ticket Prices
Opening hours: 7:30am-6:30pm (April-October) / 8:00am-5:30pm (October-March)
Entrance fee: 80 CNY
Boat fee: 70 CNY
Average time for this activity: 4 hours
How to Get There
Located about 2 hours from Chengdu, a visit to Leshan Giant Buddha is usually done as a day trip. Leshan City, where the statue is located, can easily be reached by car, bus, and train, although driving is the most efficient way to get there.
By train, you can take the high-speed railway from Chengdu East or South station to Leshan, which takes about an hour. Once at Leshan Railway Station, you will transfer to bus 3 to get to the Leshan Giant Buddha Scenic Area, a ride of about 45 minutes. It's also possible to take a long-distance bus to Leshan and then transfer to a local sightseeing bus, but this could be a little more difficult without a guide.
Popular Tours