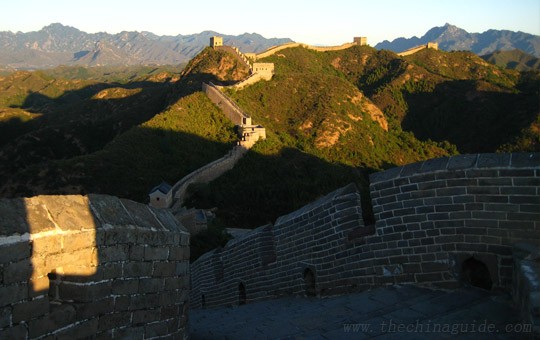 The Great Wall at Jinshanling not only offers some of the best scenery among both restored and unrestored sections of the Great Wall; thanks to the longer drive from Beijing, it also sees far fewer tourists than closer sections like Badaling. If your itinerary allows for one full day seeing the Great Wall, then we highly recommend Jinshanling.
For the outdoorsy, Jinshanling is also the perfect place for hiking, making it a great option for those who want a more active Great Wall adventure.
Location and Transportation
Located in a mountainous area of Luanping County, Hebei Province, Jinshanling Great Wall is 125 km northeast of Beijing. It takes around 2.5 hours to drive there from downtown Beijing in normal traffic.
There are tourist buses and coaches departing from close to Wangjing West Subway Station that take you either directly to the entrance of Jinshanling Great Wall or the Jinshanling Service Area, from where you can take a free shuttle bus or hire a car to the entrance of the scenic area. If you have enough time in China and have the flexibility to accommodate potential delays, then the public bus is a cheap, convenient option. Otherwise, we suggest you hire a taxi or take a private tour to Jinshanling Great Wall.
Map of Jinshanling Great Wall
Highlights and Travel Tips
Jinshanling Great Wall was first constructed during the Ming Dynasty in 1368 and then renovated under the supervision of the great general Qi Jiguang in 1567. This section of the Great Wall is around 10.5 km long, including five passes, 67 towers, and three beacon towers. Much of the wall has been restored but some of it remains unrestored, offering you the opportunity to appreciate both the original appearance and the wild side of the Great Wall.
The Jinshanling scenic area has two gates: the Front Gate (West Gate) and the East Gate. Since it is closer to famous watchtowers such as the General Tower, Small Jinshan Tower, and Big Jinshan Tower, the Front Gate is the most popular entrance to Jinshanling Great Wall. Note that visitors are not able to enter through the East Gate during low season from November 16 to March 15 but visitors can still exit from the East Gate before 15:00.
Once you have entered through the Front Gate, you can take a cable car up to the wall. Note that the cable car doesn't take you all the way up; you still need to walk about 200m and then climb up to Small Jinshan Tower.
If you don't want to take the cable car, there are several ways to climb up to the wall. The easiest one is the one that leads to Zhuanduoguan Pass. This 1km-long path is all paved without steps. It takes about 15 minutes to reach the Great Wall from the Front Gate.
For casual visitors, we recommend taking the cable car up and saving your energy for climbing the wall. Once you disembark the cable car and climb up Small Jinshan Tower, turn left and climb towards Big Jinshan Tower. As you ascend in this direction, you will be rewarded with stunning views.
After passing Big Jinshan Tower and two more watchtowers, you will reach Houchuan Pass. From this point onward, you will enter the unrestored section of the wall. Try climbing at least a couple more towers in order to appreciate the wild beauty of the unrestored Great Wall.
When you want to conclude your visit, you can climb off the wall at Houchuan Pass and walk back to the Front Gate. The path is 1.5 km long and takes about 30 minutes. You can also walk back to Small Jinshan Tower and take the cable car back down.
If you have more time and want to do some more hiking, you can also visit the section that starts at Small Jinshan Tower and goes to Zhuanduoguan Pass. If you go this way you will see the famous General Tower (Storehouse Tower). This climb takes about another hour.
When you arrive at Zhuanduoguan Pass, you can climb off the wall and walk about 15 minutes back to the Front Gate.
Hiking at Jinshanling Great Wall
The Jinshanling section of Great Wall has some of the most epic Great Wall hiking routes. Unlike Simatai and Jiankou, hiking at Jinshanling is of medium difficult and is appropriate for children aged eight years or above, thus making it an ideal choice for most visitors, including families.
For those who want to hike the Jinshanling Great Wall, we recommend taking the Jinshanling to Jinshanling East route, an epic 5 km hike that takes in the famous Small and Big Jinshan Towers, Houchuankou Pass, Eastern Five-window Tower, and Kylin Screen Wall. The hike goes along restored and unrestored sections of the Great Wall, allowing you to get a complete picture of what it looks like.
Past Kylin Tower you enter Simatai Great Wall scenic area, where keen hikers can continue their hike. However, remember that you need to buy tickets for the Simatai Great Wall since Jinshanling and Simatai are two independent scenic areas.
There are many ups and downs as well as some loose rock, so wear comfortable shoes and be prepared for a hike of medium difficulty. Bring along some snacks, sunscreen, and sunglasses.
The Gubeikou to Jinshanling hiking route (approximately 5-6 hours) takes you along the wild Gubeikou Great Wall, a scenic section that has retained its original look since its construction several hundred years ago.
Virtual Tour: Jinshanling to Simatai Great Wall
Camping at Jinshanling Great Wall
If you are not in a rush, we recommend spending the night at Jinshanling Great Wall. If you do, you can see the sunrise and sunset (weather permitting) at the Western Five-window Tower. Seeing sunrise and sunset is one of the most popular things to do at Jinshanling Great Wall. If the sky is clear, you can also take some beautiful nighttime panoramas.
You can either choose to sleep in a farmhouse in nearby Jinshanling village or there is a campsite at the foot of the mountain inside the scenic area. It costs CNY 150 for camping and admission or CNY 200 for camping, admission, and tent rental. Camping on the Great Wall itself is not permitted at Jinshanling. If you do want to sleep on the Great Wall and experience the life of an ancient soldier, we will take you to another watchtower nearby to camp and then drive you back to Jinshanling for sunrise in the early morning.
If you are interested in hiking or camping on the Great Wall, please refer our Great Wall hiking and camping tours.
Best Time to Visit
The best time to visit Jinshanling Great Wall is April to May or September to October, when the temperature is moderate and the sky is mostly clear. The air may be dry and the sun can be strong during these months, so please bring enough water and wear a hat or apply sunscreen (there are usually vendors selling water up on the wall, which you can use to top up if you run out of water). The wall may be busier at this time of year, although the number of visitors is far fewer than Badaling or Mutianyu.
If you go to Jinshanling Great Wall during winter you will see few other tourists. If you go right after a snow fall, you will also see some beautiful scenery, although you should be careful as the path may be slippery.

In addition, the cable car is not operational during the low season.
Opening Hours: 6:00am - 9:00pm (April - October) / 6:30am - 8:00pm (November - March)
Admission Fee: CNY 65
Recommended Duration of Visit: One day
Cable car: CNY 60 (round trip) / CNY 40 (one way)

How to Reserve a Ticket Online
Due to the long distance from downtown Beijing relative to other sections of the Wall, there are usually fewer people visiting Jinshanling Great Wall. For that reason, the online ticket booking website for Jinshanling Great Wall is difficult to use and has no English version. Instead, we suggest you buy your tickets upon arrival at Jinshanling Great Wall.
Latest News from Our Guides
As of November 2017, Jinshanling Great Wall has reopened after around five months of renovation. According to our guides, the main result of the renovations is a newly constructed parking lot 1.5 km away from the front gate of the scenic area. All visitors must now set off from this parking lot and take the free shuttle bus to the front gate of Jinshanling Great Wall scenic area. Other facilities that have been newly constructed or repaired include toilets and paths. The Great Wall itself has not been renovated.
Popular Great Wall Tours