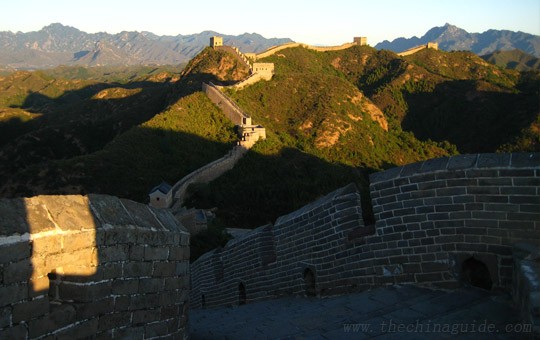 The Great Wall at Jinshanling not only offers probably the best scenery among both restored and unrestored sections of the Great Wall; thanks to the longer drive from Beijing it also sees far fewer tourists. If your itinerary allows for one full day seeing the Great Wall then we highly recommend Jinshanling.
Hiking at Jinshanling Great Wall
The Jinshanling section of Great Wall has some of the most epic Great Wall hiking routes. Unlike Simatai and Jiankou, hiking at Jinshanling is medium difficult and appropriate for children above eight years old, thus making it an ideal choice for most visitors, including for families. For those who want to hike the Jinshanling Great Wall, we recommend taking the Jinshanling to Jinshanling East route, an epic 6km hike that takes in the famous Small and Big Jinshan Towers, Houchuankou Pass, Eastern Five-window Tower, and Kylin Screen Wall. Keen hikers can take the Gubeikou to Jinshanling hiking route which takes about 6 hours and takes you along the wild Gubeikou Great Wall, a scenic section that has retained its original look since its construction several hundred years ago.
For those who don't want to climb too much, the Jinshanling cable cars can take you up to the Small Jinshan Tower and you can start exploring the Great Wall from there.

Great Wall Virtual Tour: Jinshanling to Simatai
Camping at Jinshanling Great Wall
If you are not in a rush, we recommend spending a night at the Jinshanling Great Wall. We will take you to the best spot on the Wall to see the sunrise and sunset (weather permitting). You can choose to camp in the campsite at the base of the Wall or sleep in a farmhouse in nearby Jinshanling village. Unfortunately, camping on the Wall itself is banned at this time, so if you do want to sleep on the Great Wall and experience the life of an ancient soldier, we will take you to a watchtower at nearby Gubeikou Great Wall to camp and then drive you back to Jinshanling for sunrise in the early morning.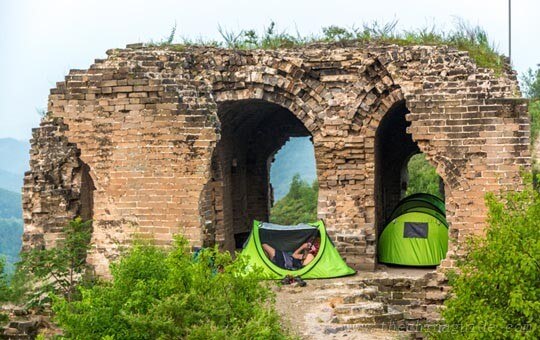 Camping on the Great Wall of China
If you are interested in Great Wall hiking or camping, please refer our Great Wall hiking and camping tours.
Admission Fee : CNY 65
Opening Hours : 6:00am to 19:00pm
Average time for this activity : 1 day