The Great Wall at Badaling is around 70km away from downtown Beijing. Thanks to its accessibility and close proximity to Beijing, Badaling is the most visited section of the Great Wall.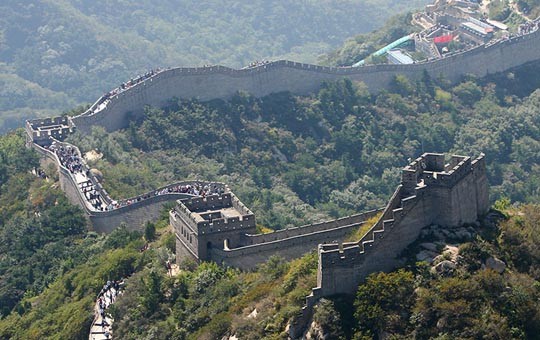 Location and How to Get to Badaling
There are a number of easy ways to reach Badaling Great Wall.
To get to Badaling by bus, leave Jishuitan Subway Station (Line 2) via exit B2 and take bus 877. The bus route is called Deshengmen to Badaling and costs CNY 12. The last bus departs at 12:30am.
You can also get to Badaling by train. Take the train from Huangtudian Railway Station near Huoying Subway Station (Lines 8 and 13) and get off at Badaling Railway Station. The entrance to the Great Wall is about 20 minutes walk away, but it is easy to find; simply follow the crowds of people!
Highlights and Travel Advice
While Badaling Great Wall was built in 1504 during the Ming dynasty, it wasn't until 1957 that it became the first part of the wall to be opened to tourists. In 1972, US president Richard Nixon visited the Badaling Great Wall along with his wife. Other prominent figures to climb Badaling include former UK Prime Minister Margaret Thatcher and former leader of the Soviet Union Mikhail Gorbachev.
Badaling Great Wall was completely renovated in the eighties, somewhat depriving it of the ancient feeling you can experience at other sections of the Great Wall. It is also a relatively easy walk, although it is still steep enough to reward you with wonderful photo opportunities.
Badaling is visited by millions of travelers each year, which make it a very tourist-friendly destination but not the best spot for those seeking a quiet hike away from the masses.
Hiking up the Badaling section of the Great Wall is relatively easy in comparison to other sections of the Great Wall. The stairs at Badaling are not very steep and they are also equipped with handrails. Furthermore, you can visit the north section of the area using the provided cable car or the more daring pulley. The pulley is not available for visiting the south section and is not recommended for young children and seniors as it offers a little more challenging ride compared to the cable car.
We would definitely recommend that you take some water with you for the duration of the hike as there are no restaurants inside the scenic area. Some restaurants can be found around the entrance but you can avoid touristy prices by preparing your own snacks for the hike.
Opening hours: 06:30 to 19:00 (April 1st to October 31st) / 07:00 to 18:00 (November 1st to March 31st)
Entrance fee: CNY 45 (April 1st to October 31st) / CNY 40 (November 1st to March 31st)
Cable car: CNY 100 (one way) / CNY 140 (round trip)
Pulley: CNY 100 (One way) / CNY 140 (round trip)
Recommended duration of visit: 2 hours

Best time to visit
March to May, September to November.