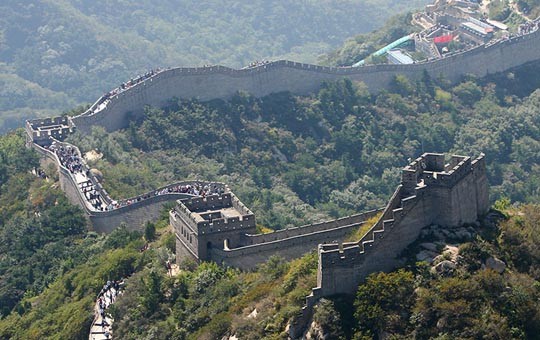 As the first section to be restored and turned into a tourist attraction, Badaling Great Wall is the most famous section of the Great Wall. Unfortunately, this also means heavy crowds, as most Chinese tourist groups choose Badaling simply for its reputation, which is why we usually recommend our guests go to Mutianyu instead.
The Badaling Section of the Great Wall can be visited within a half day due to its proximity to downtown Beijing (around 70 km, or a one-and-a-half-hour drive in normal traffic).
Highlights and Travel Tips
While Badaling Great Wall was built in 1504 during the Ming dynasty, it wasn't until 1957 that it became the first part of the wall to be opened to tourists. In 1972, US President Richard Nixon visited the Badaling Great Wall along with his wife. Other prominent figures to climb Badaling include former UK Prime Minister Margaret Thatcher and former leader of the Soviet Union Mikhail Gorbachev, just a few of the more than 370 world leaders that have visited this section of the Great Wall.
Badaling Great Wall was completely renovated in the 1980s, somewhat depriving it of the ancient feeling you can experience at other sections of the Great Wall. Although it's more touristy and less challenging than other portions of the Wall, you can still enjoy scenic views at Badaling. The fully restored Badaling section also stretches over more than 7 kilometers, offering some space for you to escape the crowds if you're willing to venture out a little farther from the more congested spots.
Hiking up the Badaling section of the Great Wall is relatively easy in comparison to other sections of the Great Wall. The stairs at Badaling are not very steep and they are also equipped with handrails at some parts. Furthermore, you can visit the north section of the area using the provided cable car or the more daring pulley. The pulley is not recommended for young children and seniors as it is a little more challenging compared to the cable car.
Remember to take some water with you for the hike, as there are no restaurants inside the scenic area. Some restaurants can be found around the entrance but you can avoid touristy prices by preparing your own snacks for the trip.
Accessibility Information
Badaling Great Wall is the most accessible section of the Great Wall. Ramps and elevators are provided so that visitors in wheelchairs can access the Wall, although wheelchair users would not be able to go far before encountering stairs on the Wall. Accessible restrooms are also available within the scenic area.
Opening Hours and Ticket Prices
Opening hours: 06:30 - 19:00 (April - October) / 07:00 - 18:00 (November - March)
Entrance fee: 45 CNY (April - October) / 40 CNY (November - March)
Cable car: 100 CNY (one way) / 140 CNY (round trip)
Pulley: 100 CNY (One way) / 140 CNY (round trip)
Average time for this activity: 1/2 day
Best Time to Visit
When going to Badaling Great Wall, crowds would be the first thing to consider. We advise against visiting Badaling during any public holidays, weekends, or students' summer vacation (August), when this part of the Wall is even more packed with people than usual. (Read our tips for avoiding the crowds when traveling in China here.)
How to Get There
Badaling Great Wall is accessible by bus line 919, which departs from Deshengmen bus station, or Suburb Train line S2, which departs from Huangtudian Railway Station. It takes around two and a half hours one way by public transportation. For visitors with a tight schedule, we suggest hiring a private car or joining an organized tour to save time. Please be aware that heavy traffic is very common on the highway from downtown Beijing to Badaling Great Wall.
How to Book a Ticket Online
As of June 1, 2019, all visitors to the Badaling Great Wall need to book tickets online using their real ID card or passport information, and there will be a daily quota of 65,000 visitors. Visitors can book tickets up to 7 days ahead of their visit date.
The official ticket booking website is http://ticket.badaling.cn/. This booking website has no English version. If you cannot read Chinese, you may want to use Google Translate (below is the translated booking entrance page). If you have WeChat, you can also book the ticket from Badaling Great Wall's official WeChat account.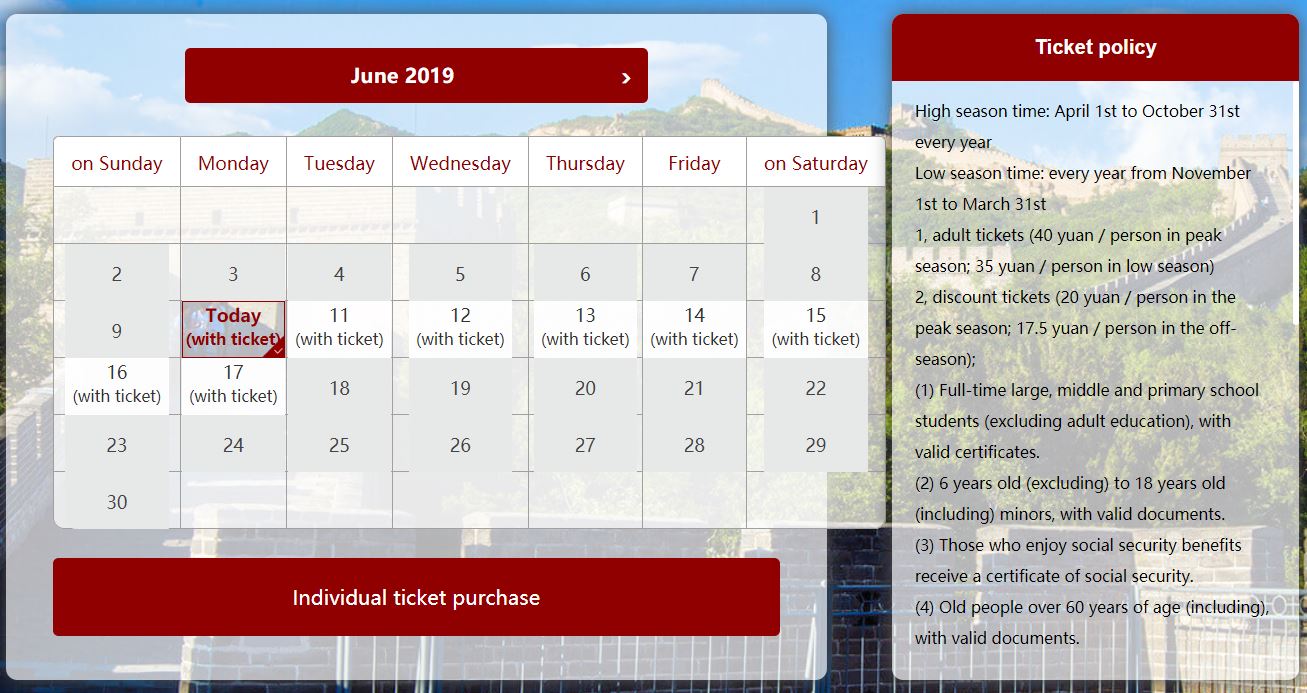 To book a ticket, you must first register and log in to the booking system with a Chinese mobile phone number. Then, you need to select or input the date of visit, ticket type and number, passport information (Please note: spaces and non-English letters are not allowed), the check-in entrance you will use (there are several entrances for Badaling Great Wall), as well as the mobile phone number for receiving the booking info. Finally, you need to choose mobile payment (either AliPay or WeChat) or UnionPay (Chinese bank card) to pay online and complete the booking process.
After booking tickets online, visitors holding Hong Kong, Macao, and Taiwan identity cards or foreign passports must use their original identity cards or passports to acquire a printed electronic ticket at the service window (near the entrance of Badaling Great Wall), and then use the printed ticket to check in.
If you are visiting more attractions or destinations, you may opt for one of our guided, hassle-free tours. Below you can find some of our popular Great Wall tours.
Popular Tours