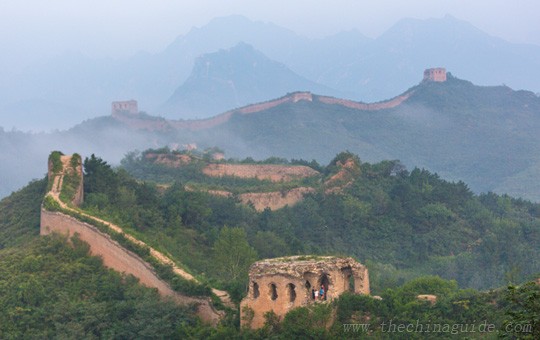 Panlongshan Great Wallt
The Great Wall at Gubeikou (Chinese: 古北口; pinyin: Gǔběikǒu), located about 130 kilometers northeast of downtown Beijing, is divided into two parts: Wohushan Great Wall and Panlongshan Great Wall. The two parts are separated by the Chaohe River, with Wohushan on the west bank and Panlongshan on the east. Neither section has been restored since it was first built in the Ming Dynasty, making Gubeikou a great choice for those who enjoy hiking and want to experience the wild Great Wall.
Wohushan Great Wall climbs the steep Wohushan mountain and features the rare "Sister Towers", two watchtowers that are very close to each other and are said to look like two sisters standing hand in hand. Panlongshan Great Wall features the General watchtower and the unique three-storey watchtower, which is already partly collapsed.
Site of Many Ancient Battles
Gubeikou functioned as the north gate of Beijing and thus has important military significance, being the site of many battles throughout history. The most recent one was the Defense of the Great Wall, a campaign between the armies of the Republic of China and Empire of Japan in 1933. Today, when you stroll along the Gubeikou Great Wall, you can still see the marks of war on the Great Wall.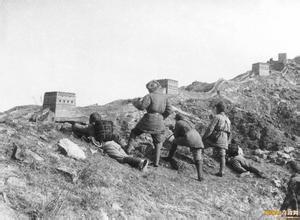 Defense of the Great Wall
Gubeikou Great Wall Hiking
This hiking route starts from the west end of Panlongshan Great Wall and ends at the famous 24-eye Watchtower, at the east end of Panlongshan section. This route is about 5 kilometers long and takes about 2.5 hours.
Following this hiking route up and down low hills, you will pass through many watchtowers, including the famous General Watchtower and 24-eye Watchtower. This hike is a moderate difficulty and suitable for most visitors including children. However, since this section is unrepaired and there are many loose bricks and unprotected drops, you will still need to be very careful.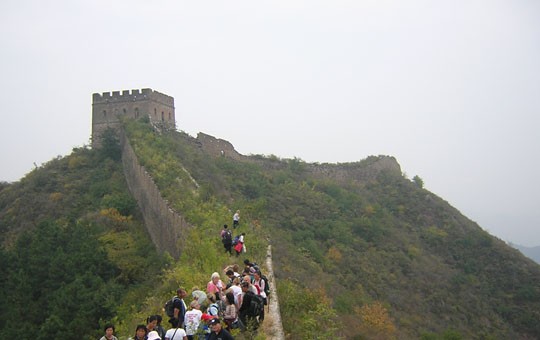 Hike Gubeikou Great Wall
Hiking from Gubeikou to Jinshanling
This hiking route also starts from the west end of the Panlongshan Great Wall. However, after the 24-eye Watchtower you will have to make a detour away from the Great Wall to bypass a prohibited military zone and then get back on the Great Wall and continue hiking to Jinshanling. If you cannot speak Chinese and are unable to ask for directions along the way, we highly recommend you go with a guide since the detour winds through vast corn fields and villages.
This route is about 14 kilometers long and takes about 7 hours. This route is not difficult but the long distance makes it more suitable for keen hikers.
Camping on Gubeikou Great Wall
If you want to spend a night atop the Great Wall (weather permitting), we can take you to a well-preserved watchtower at Gubeikou Great Wall. You will wake up, enjoy the sunrise, and have breakfast on the Great Wall, making for an unforgettable experience.
If you are interested in Great Wall hiking or camping, please refer our Great Wall hiking and camping tours.
Sunset at Wohushan Great Wall
Wohushan Great Wall sits atop the steep ridges of the Wohushan mountain making it an ideal place to enjoy the sunset. You'll need to be prepared for a pretty steep climb but the reward is worth it!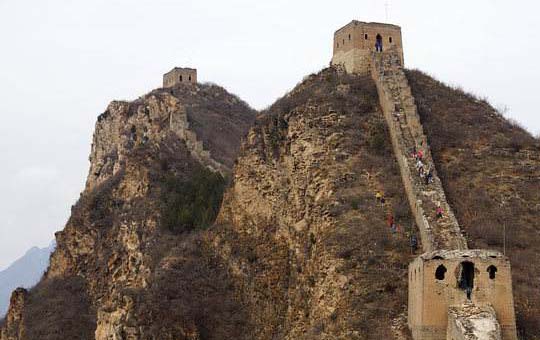 Wohushan Great Wall
Admission Fee : CNY 45
Average time for this activity : 1 day