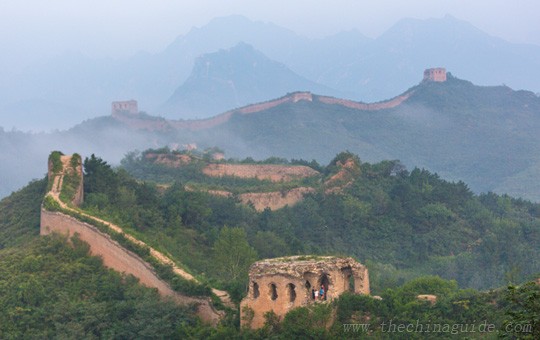 Panlongshan Great Wall
The Gubeikou section of the Great Wall is a bit over two hours outside Beijing and connects to the Jinshanling section. Unlike Jinshanling, Mutianyu, and Badaling, where the Great Wall has been restored to a picture-perfect and safe state, Gubeikou is in its original condition.
The Great Wall at Gubeikou is crumbling, much of it has no safety ledges, and it has a lot of loose rock. That said, Gubeikou offers unique insight into the history of the Wall and outstanding views of its original, unrestored state, making it great for those who are accustomed to hiking in wild areas.
Highlights and Travel Advice
Gubeikou, which means "ancient northern pass" in Chinese, functioned as the north gate of Beijing and thus has important military significance, being the site of more than 100 battles throughout history. The most recent one was the Defense of the Great Wall, a campaign between the armies of the Republic of China and Empire of Japan in 1933. Today, when you stroll along the Gubeikou Great Wall, you can still see the marks of war on the Great Wall.
Like much of the Great Wall near Beijing, the Gubeikou section was originally constructed in the 6th century and then rebuilt in its current state during the Ming Dynasty (around 1567). No rebuilding or renovation has been done to this part of the wall since then, so what you see at Gubeikou are real remnants of the Ming Dynasty.
The Gubeikou section of the Wall is long, almost 10 km long, and is split roughly in half into two segments: the western end is known as Wohushan, and the eastern part is called Panlongshan. We generally suggest walking along the Panlongshan side for better views and hiking, and this is the side that leads to Jinshanling, if you're looking for a longer hike.
Because of its state, Gubeikou draws far fewer visitors than restored sections of the Wall closer to Beijing. It also boasts numerous hiking routes, as well as the only place where it's possible to camp overnight on the Wall.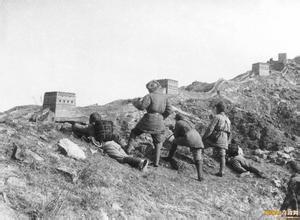 Defense of the Great Wall
Gubeikou Great Wall Hiking
The Gubeikou hiking route starts from the west end of Panlongshan Great Wall and ends at the famous 24-eye Watchtower, at the east end of Panlongshan section. This route is about 5 kilometers long and takes about 2.5 hours.
Following this hiking route up and down low hills, you will pass through many watchtowers, including the famous General Watchtower and 24-eye Watchtower. This hike is of moderate difficulty and suitable for most visitors, including children. However, since this section is unrepaired and there are many loose bricks and unprotected drops, you will still need to be very careful.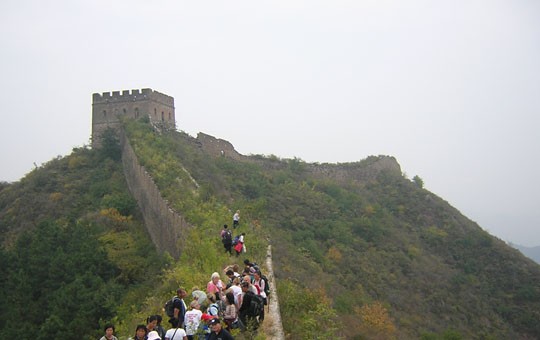 Hike Gubeikou Great Wall
Hiking from Gubeikou to Jinshanling
This hiking route also starts from the west end of the Panlongshan Great Wall. However, after the 24-eye Watchtower you will have to make a detour away from the Great Wall to bypass a prohibited military zone and then get back on the Great Wall and continue hiking to Jinshanling. If you cannot speak Chinese and are unable to ask for directions along the way, we highly recommend you go with a guide, since the detour winds through vast corn fields and villages.
This route is about 14 kilometers long and takes about 5-6 hours. This route is not difficult but the long distance makes it more suitable for keen hikers.
Camping on Gubeikou Great Wall
If you want to spend a night atop the Great Wall (weather permitting), we can take you to a well-preserved watchtower at Gubeikou Great Wall. You will wake up, enjoy the sunrise, and have breakfast on the Great Wall, making for an unforgettable experience. Camping costs include the Great Wall entry ticket, dinner, tents, sleeping bags, mats, and a simple breakfast.
If you are interested in Great Wall hiking or camping, please refer to our Great Wall hiking and camping tours.
Location and Transportation
There is no direct transportation from Beijing to Gubeikou Village (the closest town to this section of the Wall). While it's possible to get there via a variety of bus routes, we recommend taking a car.
Best Time to Visit
Gubeikou Great Wall is best enjoyed in the spring and autumn, when the weather is sunny and comfortable. Summers can be very hot and rainy, and winter is quite cold with occasional snow.
Admission Fee: CNY 45
Average time for this activity: 1 day
Popular Great Wall Tours: