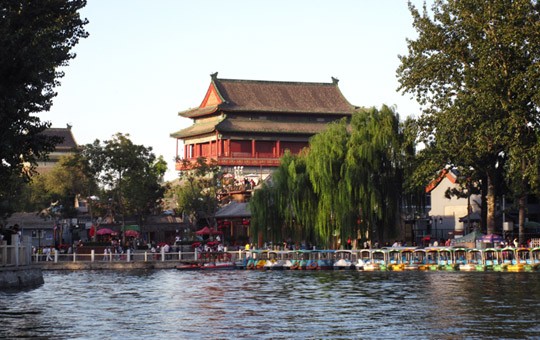 Houhai Lake, which translates as "Back Sea," is a large lake close to the Forbidden City. Houhai Lake was originally constructed during the Yuan Dynasty (1271-1368) and has since developed into a thriving commercial area with an array of interesting shops, bars, and restaurants. Its unique combination of history and modern amenities, like much of Beijing, makes the Houhai Lake area a popular place to stroll and hang out among tourists and locals alike.
Highlights and Travel Tips
A scenic lake surrounded by willow trees, Houhai lake is a good place to enjoy some leisure time by strolling around or taking a boat ride on the lake. The Houhai Lake area is particularly well-known for its active and exciting nightlife and has many bars, cafes, and restaurants to enjoy, particularly around the famous Houhai Bar Street. Because of the many food and drink options available, Houhai Lake has become a trendy hangout spot in recent years and is popular among both foreigners and locals.
The Houhai lake area becomes especially busy at night, when the bars open for business and people come for dinner or drinks after work. Most bars feature live music. Being a popular area, bars charge higher prices for food and drinks than in other parts of the city. Despite the higher prices, the Houhai lake area is a great place to enjoy a lakeside dinner or drinks and soak up the local atmosphere after a busy day walking around the Forbidden City and other sights.
The Houhai Lake area is also home to many traditional Chinese alleyways, called hutongs, where you can walk around and get a glimpse of local life. In the hutong neighborhoods around Houhai Lake, you can find the former homes of several famous Chinese officials and celebrities, such as Prince Gong, Prince Chun, the famous poet Guo Moruo, and Sun Yat-sen's wife, Soong Ching-ling. If you are on one of our tours, we can also arrange a family visit and/or a homemade lunch in a local hutong home. You might also stumble upon a charming teahouse, restaurant, or souvenir shop while exploring the hutongs; they are full of hidden gems!
There are commercial rickshaws available throughout the Houhai Lake area. If you don't want to walk, you can hire one of these rickshaws for a tour of the lake and the nearby hutongs.
In December and January, when the water is frozen, Houhai Lake becomes a wintry playground with a variety of skating activities available, the most popular of which is chair-skating.
Opening Hours & Ticket Prices
Opening hours: all day long
Entrance fee: free
Boat prices: 120 to 280 CNY/hour, 400 to 800 CNY for deposit
Explore Further
The Bell and Drum Towers are very close to Houhai Lake and can be visited at the same time.
Popular Tours