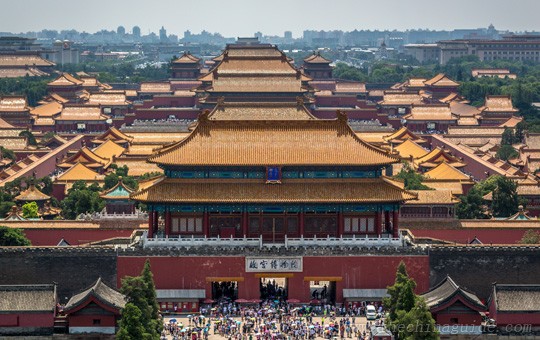 The Forbidden City was the former imperial palace which was the home to twenty-four Chinese emperors over 491 years between 1420 and 1911. The Forbidden City is now known as the Palace Museum and is open to Beijing's visitors.
Highlights and Travel Tips
The Forbidden City has 9,999 rooms - a room being the space between four pillars. The well guarded palace is surrounded by a moat 3,800 metres long and 52 metres wide. Intruders were discouraged by guards in watchtowers with bow and arrows.
There are five entrances to the gate - the central one reserved for the emperor. The empress was allowed through it only once - on her wedding day. As well as walking through the wide open courtyards along its central axis, the sides offer some museum exhibits and small courtyards worth exploring.
An excellent view of the Forbidden City from the north is seen atop Coal Hill in Jingshan Park. The hill is made from the dirt excavated from the moat surrounding the Forbidden City, and according to Feng Shui, keeps the evil spirits from the north from entering.
Wear comfortable walking shoes as the Palace is 960 metres long and 750 metres wide.
Please note:
Starting from October 2, 2017, all visitors to the Forbidden City must book their tickets online. Find out how to book Forbidden City tickets online >>
Average Time for Visit: 1.5 hrs
Opening hours: 8:30am until 5:00pm with last admission at 4:00pm
Virtual Tour of The Forbidden City
Guided Tours of the Forbidden City