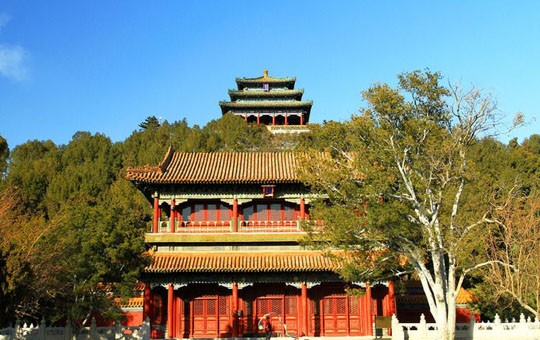 Jingshan Park was a part of the Forbidden City until the early 1900's when the walls were pulled down and a road cut through it destroying several gates and buildings between the park and the rear entrance of the palace.
History and Legend
Just north of the Imperial Palace, the site occupied by Prospect Hill was a private park reserved for the use of the emperor in the Yuan dynasty (1279-1368). During the Ming (1368-1644), an artificial hill with five peaks was made, utilizing earth excavated when the moat of the Imperial Palace was dug.
A pavilion was erected on each peak, and five bronze Buddhas given pride of place in them. Four of the statues were removed by the troops of the Allied Expeditionary Force when they came to Beijing to relieve the Siege of the Legations in 1900. Prospect Hill was opened to the public in 1928.
There is an old but fallacious story that an emperor kept supplies of coal hidden under the hill, hence its other name, Coal Hill (Meishan).
Highlights and Travel Tips
The hill in Jingshan Park used to be the highest point in the city. It is well worth the climb on a clear day for spectacular views of the Forbidden City and Beijing.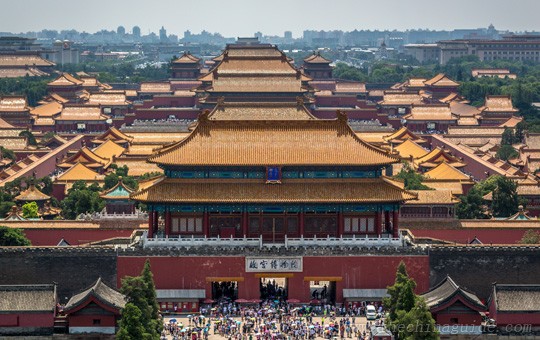 The best view of Beijing is from the Pavilion of Everlasting Spring (Wanchun-ting) perched on top of the Coal Hill. Northwards, one can see the Drum and Bell Towers, a traditional feature of old Chinese cities. To the northwest, the two slabs of water of the Shichahai and Beihai Lake are intersected by Dianmen Dajie. To the south, the golden roofs of the Imperial Palace can be seen stretching into the distance.
Average time for this activity : 0.5 hrs

Opening hours : 6:30am until 8:00pm with last admission at 7:30pm
Jingshan Park Tours