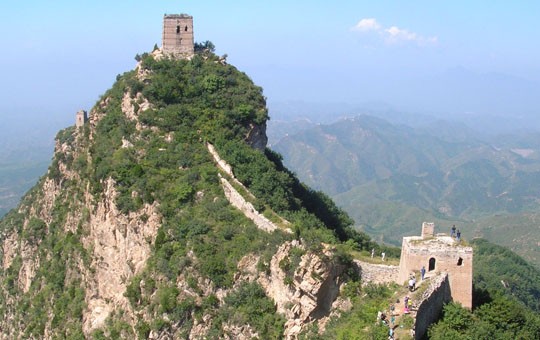 The partially restored Simatai Great Wall has retained much of its original appearance, making it a great choice for people who want to escape the crowds and see the wall as it once was. Simatai was once known for its steep and dangerous climbs, although the most dangerous parts are no longer open to visitors.
Location and Transportation
The Great Wall at Simatai is located 120 km northeast of Beijing. It takes around 2 hours to drive from downtown Beijing to Gubei Water Town, from which you can take a free 10-minute shuttle bus to the entrance to the Simatai Great Wall Scenic Area. Buses also travel to Gubei Water Town from Dongzhimen Transportation Hub.
Due to the long drive, it is best to schedule a whole day for a visit to Simatai Great Wall from downtown Beijing.
Map of Simatai Great Wall
Highlights and Travel Advice
The Simatai Section of Great Wall is 5.4 kilometers long and separated into eastern and western parts by a small reservoir. The western part, which is connected to Jinshanling Great Wall, is gently sloped and has 20 well-preserved watchtowers. The eastern part is much steeper and demands a higher level of fitness to climb. The section from Tower 1 to Tower 10 of the eastern part is partially restored and officially open to visitors.
All visitors must arrive at Gubei Water Town and then either take the free shuttle bus or walk through the water town to the entrance to the Simatai Great Wall scenic area.
Gubei Water Town is a replica of Wuzhen water town in Hangzhou built in 2014. It is a commercial resort and while it is certainly beautiful it does lack a sense of history. If you plan to walk around Gubei Water Town, you can buy a combined ticket that includes the Great Wall and the water town at the ticket office.
If you want to skip Gubei Water Town and only visit Simatai Great Wall, you need to reserve your tickets online at least one day prior to your visit, otherwise, you may not be able to get a ticket at the ticket office since only a limited number of people are allowed to visit the Simatai Great Wall each day.
Once you enter the Simatai Great Wall scenic area (remember to keep your ticket as you will be asked to show it at the exit when you leave), follow the signs up onto the wall at Tower 2, which should take around 40 minutes. Once on the wall, turn right and climb towards Tower 10.
Alternatively, you can take the cable car. After getting off the cable car, it takes around 15 minutes to walk onto the Great Wall at Tower 8 or Tower 6. Note that this walk, while only 300 meters long, is not easy either and there are many uneven and quite steep steps.
We suggest taking the cable car up and getting onto the Wall at Tower 8. After that, you can either take the easier route by turning left and descending to Tower 5 or challenge yourself by turning right and hiking to Tower 10 and then heading back to Tower 5. From Tower 5, you can walk to the cable car station and take the cable car down, or descend to Tower 2 and then walk back to the entrance. On this route you will spend one to two hours on the wall.
Beyond Tower 10, the wall is not officially open to visitors but you still can climb to Tower 12. Beyond tower 12, there is a guard to stop visitors going any further due to the steep, risky terrain.
Simatai also offers unique experiences such as a night tour between Tower 5 and Tower 6. The wall is also lit up at night and you can see the bright lights from Gubei Water Town.
Since Simatai Great Wall is quite steep in places and most parts have no sidewalls or handrails, it is not very suitable for small children or people with health concerns. In addition, remember to wear comfortable, sturdy shoes (preferably boots with ankle support) and bring weather-appropriate clothing.
Note that there is no restroom along the wall; the nearest toilet is near the cable car station or near the check-in entrance.
Opening hours: 8:00am-5:30pm
Tickets available from: 9:30-10:00am, 11:30am-12:00pm, 13:30-14:00pm
Entrance fee: CNY 40
Entrance fee + Cable car (one way): CNY 110
Entrance fee + Cable car (round trip): CNY 180
Recommended duration of visit: One day

Notice regarding closed sections of Simatai Great Wall
Since the section after Tower 12 is closed to visitors, you will not be able to challenge yourself to climb the Heavenly Ladder and the Sky Bridge, the two most dangerous parts of Simatai Great Wall.
The Heavenly Ladder refers to the 100-meter-long section that leads to Tower 15 i.e. the Fairy Tower (Xian Nu Lou). With an 80-degree slope, this part is almost vertical and only half a meter wide at its narrowest point. The Sky Bridge is the 0.4-meter wide walkway between the Fairy Tower and the Wangjing Tower i.e. Tower 16, the summit of Simatai Great Wall. This narrow walkway has a sidewall on one side and a steep cliff on the other side.
How to reserve a ticket online
You need to go to the official website of Simatai Great Wall to reserve your ticket. Tickets can only be reserved at least one day and a maximum of ten days in advance. This is the reservation URL: http://www.wtown.com/index.php/Yuyue/index
In order to reserve a ticket, you need a Chinese mobile phone number to receive the confirmation text. The visiting times offered are 10am, 12pm, and 2pm. After you have successfully reserved a ticket and have arrived at the ticket office, you need to show the confirmation text and the passport you used to reserve the ticket to the staff at the ticket office.
We recommend arriving at the Great Wall an hour before your reserved visiting time slot to queue and pick up your tickets.
Best time to visit
The best time to visit Simatai Great Wall is April to May or September to October when the temperature is moderate and the sky is mostly clear. The air may be dry and the sun can be strong during these months, so please wear a hat and apply sunscreen, and remember to bring enough water, as there is none for sale along the wall.
You should avoid visiting Simatai Great Wall after a snow shower or during the rain as the steep inclines may be slippery and dangerous. In addition, the cable car and the Great Wall itself may be closed in the event of heavy rain or strong winds.