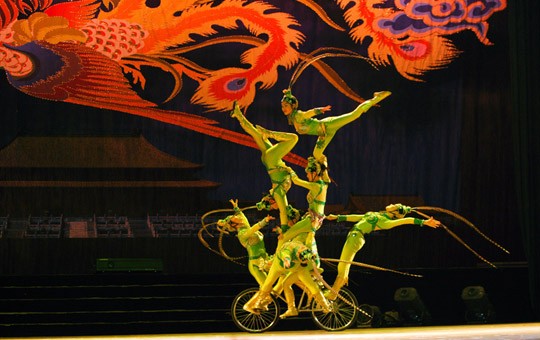 The acrobatic show at Chaoyang Theatre is a thrilling hour-long show performed by talented Chinese acrobats and circus performers. The show is a good evening activity for those who want to see something exciting and different after a day of sightseeing in Beijing.
Highlights and Travel Tips
The Chaoyang Acrobatic Show is one of the best shows to see while you are in China. It appeals to all ages, from young children to adults. It is very visual and the show's performers demonstrate extraordinary feats of skill and fitness in a variety of breathtaking (and sometimes frightening!) acrobatic acts. It is comparable to many international circus shows but at a much lower price.
The price for tickets depends on the position of the seats you choose. The front rows and the back rows are cheaper, while the center rows are more expensive. That said, the auditorium is quite small and the stage is perfectly visible from practically any seat, so it is not necessary to purchase the more expensive tickets. If you don't mind sitting close to the stage, rows 1 to 4 are both economical and ideal for experiencing the thrilling show up close. You can check the showtimes and ticket prices for different rows here.
After the show, there are performers selling video copies of the show in the lobby, and you can take a photo with them.
The show is well-known among foreign travelers and is also widely visited by Chinese people. It is popular among larger Chinese tourist groups, which can sometimes make the theatre a little noisy.
How to Reserve Tickets Online
You can find the official booking website of the Chaoyang Acrobatic Show here (in English). Paypal is accepted for payment. When submitting your information via the online booking form, you need to input your email or a local mobile phone number to receive the booking code (leave a note specifying which method you prefer to receive the code after booking).
On the day of the show, you can go to the Chaoyang Theater and present the booking code at the ticket booth located at the right side of the building, where you will choose seats and get your tickets. The staff speak English, so communication should not be an issue.
If you participate in one of our tours, we will book tickets for you and drop you off at the theater.
How to Get There
Chaoyang Theatre is located on east 3rd Ring road, nearby the Hujialou subway station. Considering traffic conditions in Beijing, it is usually easiest to get there by subway, via line 10 or 6 (Hujialou stop, exit C or C1).
Popular Beijing Tours