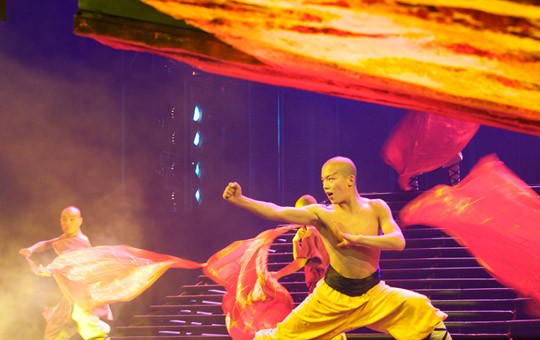 The "Legend of Kung Fu" Show at Red Theatre is performed by some of the best kung fu practitioners in all of China and makes for a good evening activity for families with kids after a day of sightseeing in Beijing.
The show follows the story of a young boy found wandering outside an ancient temple. Like every boy in China, he dreams of becoming a kung fu master. On the road to enlightenment, the young monk encounters many difficulties and temptations.
The show is made up of a combination of kung fu, acrobatics, and dance. The skills of the performers and the choreography are outstanding. Additionally, the costumes, set design, and special effects are up to international standards, created by some of the best stage directors and designers in China.
The actors do not speak, but the show has English subtitles shown above the stage to keep you informed of the storyline.
You can book tickets at a discounted price in advance online, and then pay for and pick up your tickets at the theater ticket window before the show starts. VIP seats are available and come with a small table and some light snacks, but this might not be worth the extra cost. Any seat on the main floor should be suitable and have a good view, as the theatre is small. Balcony seats should be avoided, as they don't have a good view of the stage. You can check out the seating chart, ticket prices, and showtimes, as well as book your tickets, at Red Theatre's official website here.
If you are on one of our tours, your guide will help you book tickets and arrange transportation to and from the theater.
Popular Beijing Tours