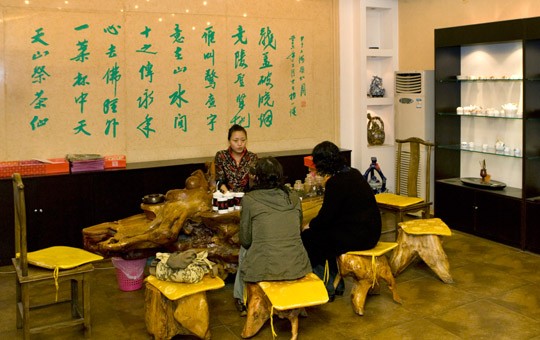 While traveling in China, tasting traditional Chinese tea is a great way to slow down for a couple of hours and refresh your energy while sightseeing, as well as have an authentic cultural experience.
We usually take guests to a tranquil tea house, where you can learn about the history of Chinese tea, as well as the details of the Chinese tea ceremony and tea pouring, in addition to tasting various kinds of tea. You may discover a new favorite type of tea! Some tea houses in China will try to sell you tea, but not the one we take you to; instead, we aim to provide you with an authentic and informative experience of one of China's most famous products.
If you want to buy Chinese tea as a gift or souvenir, we will take you to Maliandao Tea Market, the largest tea market in northern China, where you can step into one of the many stalls and taste various types of tea until you find your favorite. The market also sells tea-related items such as cups and tea sets. Since the market is aimed at wholesalers, prices are usually reasonable, but be sure to bargain to get the best deal.
For those who don't have time to visit the Maliandao Tea Market, we can also take you to Wuyutai Tea Shop, a chain with a long history that has a lot of stores across Beijing.
Popular Tours