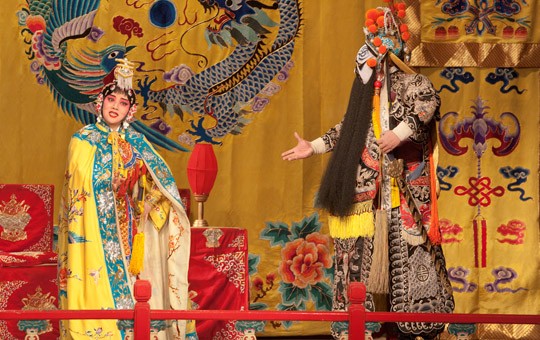 Peking Opera, once a popular entertainment form that few young Chinese people listen to these days, is an experience usually appreciated only by its buffs. If you are interested in Peking Opera and want to spend an evening experiencing traditional Chinese opera culture, then the Huguang Guild Hall opera show is a good choice.
Huguang Guild Hall Opera Show
The Huguang Guild Hall is a historic opera house dating back to 1807. There is a small museum at the entrance showing photos of famous performers as well as robes and costumes.
The show lasts about an hour and contains two or three extracts from classic operas. The show involves traditional singing, dancing, fighting, acrobatic actions, and stunningly vivid costumes and face painting. The music is performed live by a small band using traditional Chinese instruments. Before the opera show starts, you also get a chance to watch a performer applying his face makeup.
The show is in Chinese but with English opening and comments between the acts. The theater is not large and has several levels of seats at different prices; many seats are at tables where you can dine while watching the show.
Seating Chart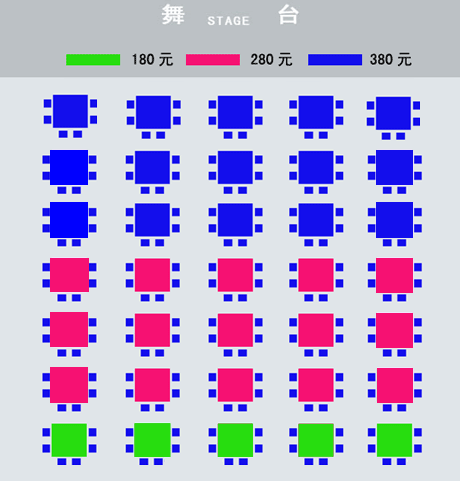 Show Time
6:30PM-7:30PM (not daily, please consult before booking)
Ticket Prices
180 RMB (green zone), 280 RMB (red zone), 380 RMB (blue zone)
Liyuan Theatre Opera Show
Seating Chart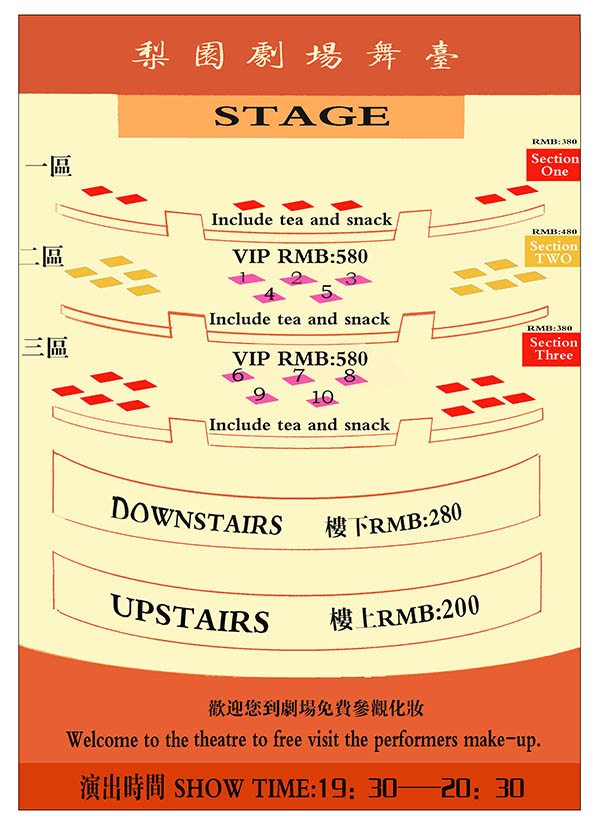 Show Time
7:30PM-8:50PM (daily)
Ticket Prices
380 RMB (Section 1 & 3), 480 RMB (Section 2), 580 RMB (VIP), 280 RMB (downstairs back seats)
Popular Tours