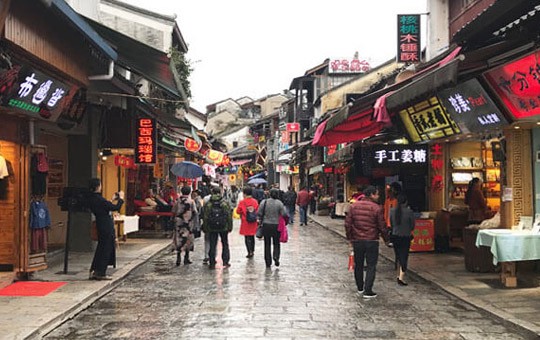 Within the center of Yangshuo, West Street (Xi Jie) is an 800-meter-long popular pedestrian street that is full of shops, restaurants, bars, guesthouses, and more, offering a good place to stroll, try some local cuisine, buy souvenirs, and people watch.
Highlights and Travel Tips
While West Street has a long history and some traditional Chinese architecture, it is mostly a commercialized pedestrian street that offers tons of shopping and dining options. It's easy to find both good Chinese and Western food here.
West Street is most lively and fun at night, when the street is decorated with beautiful lights and tourists and locals alike gather to eat, shop, drink, and more. There are also many street vendors selling small souvenirs and street food. However, do be aware that the street could become very crowded and noisy at night.
In the afternoon, West Street is much quieter and all the shops are open, making this an ideal time for those who just want to browse the shops and wish to avoid the evening crowds.
Accessibility Information
West Street is flat and even and so is accessible to wheelchair user. There are steps at the entrances of some the shops and restaurants, however.
Opening Hours and Ticket Prices
Opening hours: all day
Entrance fee: free

How to Get There
Located at the center of Yangshuo, West Street can be easily accessed via bike, a short taxi ride, or by foot from downtown Yangshuo.
Popular Tours