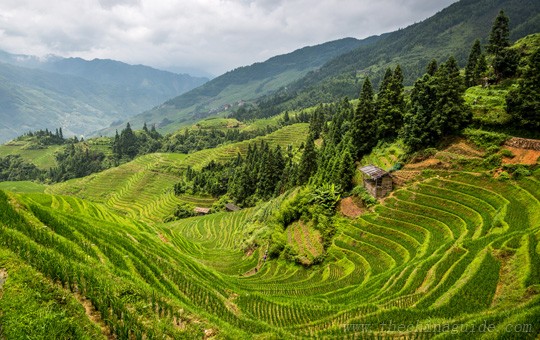 Located about 100 km north of Guilin, the county of Longsheng is home to the famous Longji Rice Terraces, a mind-boggling feat of agricultural engineering. The seemingly endless rows of rice terraces carved into the hillsides are said to resemble the rippling scales on a dragon's backbone when filled with water, giving the terraces their name, which literally means "dragon's spine."
Highlights and Travel Tips
These amazing terraced rice fields were first constructed in the Yuan Dynasty (1271-1368) by the Zhuang and Yao ethnic groups, who still occupy the region today. Among the minority villages dotted among the rice fields, Ping'an Zhuang Village and Jinkeng Dazhai Red Yao Village are two popular gateways for visitors to explore the magnificent terraces. The nearby Longji Old Zhuang village, another popular scenic area, is accessible by a half-hour hike from Ping'an Village.
Ping'an Village is the first area of the rice terraces that was established for tourism purposes and is thus more developed and commercialized than Dazhai. Ping'an Village is equipped with modern dining, accommodation, and transportation facilities, while those in Dazhai are a little basic.
When it comes to the rice terrace scenery, people tend to disagree on which village is better, as both offer spectacular views. Dazhai is less touristy and has a larger area of rice terraces than Ping'an, offering an impressive landscape. While the rice terraces around Ping'an village are smaller in scale, they are still considered very beautiful and offer the undulating and intricate scenery that lives up to the name of "dragon's spine."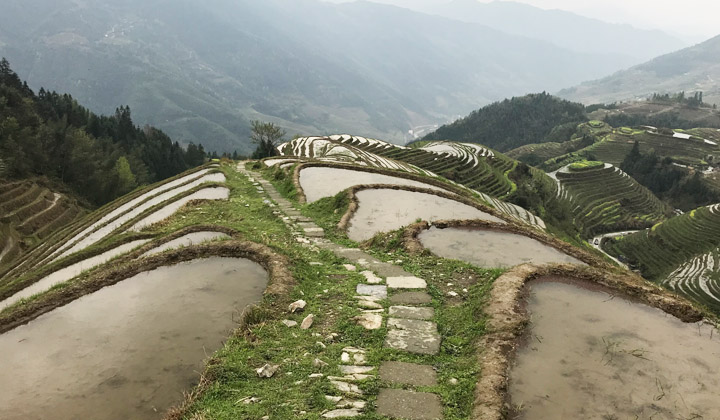 Hiking along the "Drangon's Spine" (Ping'an village)
Time and difficulty level should also be taken into consideration when choosing which village to visit. For those who are not able or willing to hike or have health problems, it may be better to select Dazhai, since there is a cable car that can bring you directly to a viewpoint to appreciate the rice terrace scenery. If you prefer to do some leisurely hiking, then you may want to go to Ping'an Village, where two hours is enough to explore the village and surrounding rice terraces.
If you would like to stay a night, you can do so in either Ping'an, Dazhai, or Tiantou Village (near Dazhai). By staying a night, you will have more time to soak up the relaxed atmosphere in the villages and view the rice terraces in both afternoon and morning light. For keen hikers, you can also do some more strenuous hiking around Dazhai and Tiantou Village, or even brave the four- to five-hour hiking route from Dazhai to Ping'an Village, which will reward you with even more one-of-a-kind scenery.
Hiking among the hillside terraces is the highlight of any tour in this area, and both Ping'an and Dazhai villages offer various viewpoints from which to enjoy the stunning scenery of the rice terraces. There are two viewpoints around Ping'an Village: Nine Dragons and Five Tigers, and Seven Stars Around the Moon. The Jinkeng Dazhai Rice Terraces feature three popular viewpoints: Music from Paradise, Thousand Layers to the Heavens, and Golden Buddha Peak. The cable car brings visitors from the Dazhai parking lot directly to Golden Buddha Peak.
Most of the hiking paths among the rice fields are actually used by locals commuting between their homes and the rice fields; thus, they may not be in great condition and can be slippery on rainy days. Make sure to wear sturdy, comfortable shoes and be careful while hiking and appreciating the beautiful scenery. The hikes are not recommended for those with small children or mobility problems.
Staying overnight in a traditional wooden guesthouse is another great experience. There are many such guesthouses in the villages that overlook the rice terraces, but be aware that their conditions and services are not comparable to hotels in the big cities. In addition, because of the rainy weather in this area, it is not uncommon for some guest rooms to have a musty odor.
Many villagers may ask you to buy something or pay them when you want to take a photo of them, so be sure to ask before taking photos of the villagers. Visiting these minority villages is also a great opportunity to try some local cuisine; some of the best-known dishes include rice or chicken cooked inside fresh bamboo tubes.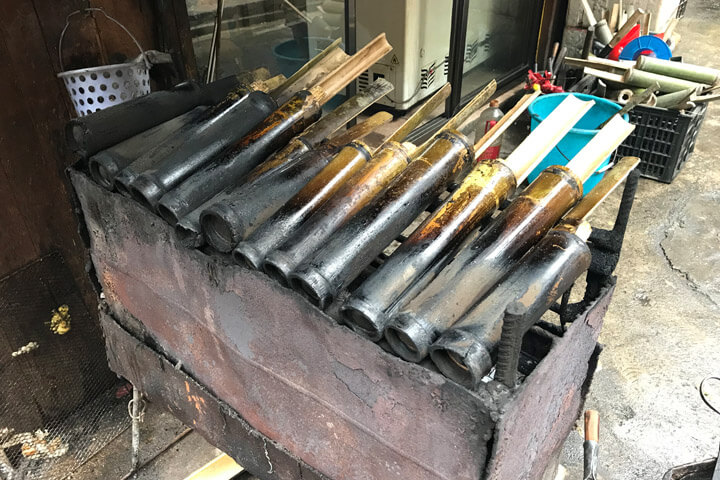 Rice or chicken cooked inside fresh bamboo tubes
Best Time to Visit
Of course, the scenery of the rice terraces varies with the seasons. The rice fields are usually irrigated from mid-April to May, so spring is when you can see the famously beautiful scenery of the water in the terraces mirroring the sky. For the sake of satisfying travellers, some terraces have started irrigation as early as March.
From June to mid-September, the rice fields turn green. From late September to early October, the rice fields turn yellow and are ready for harvest, making for a truly stunning sight. The yellow rice fields tend to attract lots of visitors, which can make them crowded at this time of year.
Although it is possible to see snow on the rice terraces in winter, you would need to be very lucky, as it is rare. In addition, there is often fog in winter and you may not be able to see much of the terraces themselves on foggy days. So, it's best to avoid visiting the Longji Rice Terraces during the winter months from December to February.
How to Get There
Thanks to the highway that opened in 2017, it now takes just 1.5 hours to drive from downtown Guilin to the ticket office of the Longji Rice Terrace scenic area. Once you've reached the ticket office, you can take the shuttle bus or drive to Longji Ancient Zhuang Village, Ping'an Village, or Dazhai Village, the three villages that serve as gateways to the breathtaking hillside rice fields.
A twenty-minute drive from the ticket office, Longji Ancient Zhuang village is the closest. It takes around forty minutes to drive to Ping'an Village and around one hour to Dazhai Village from the ticket office. The mountainous road from the ticket office to the villages is exciting and scenic, although in the rainy season, there is a slight risk of road blockages caused by mudslides.
Parking lots are all outside the villages. You need to walk a length of narrow track with steps into the village and to your hotel, so you should avoid taking large luggage when visiting Longji Rice Terraces. At the entrance of each village, there are porters who can carry your luggage for a fee. In addition, those with limited mobility can hire local farmers to carry them to the village and back in a sedan chair. Jeeps are also available for rent from Dazhai parking lot to Tiantou Village; otherwise, you need to hike about one hour each way.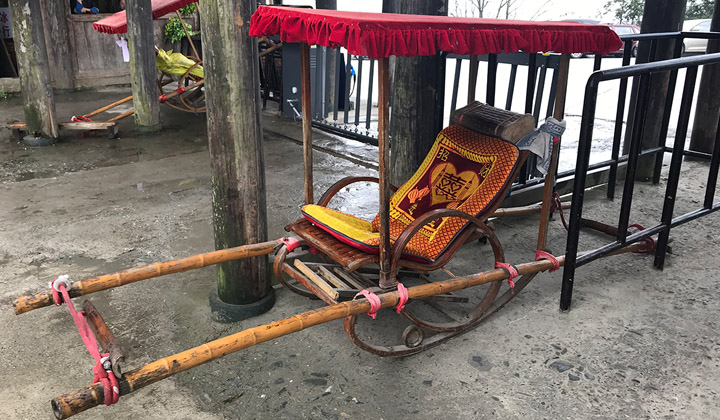 A sedan chair
Popular Tours