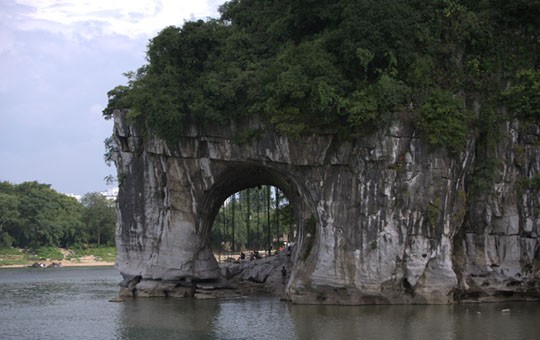 Located in downtown Guilin, the Elephant Trunk Hill earned its name because it resembles an elephant drinking water from the Li River with its long trunk. The hill is a widely recognized as an iconic landmark of Guilin.
Highlights and Travel Tips
As a symbol of Guilin, Elephant Trunk Hill features a unique shape and is a very popular picture-taking backdrop for local tourists. The park can be crowded at times, especially at spots with the best views of the hill.
The Elephant Trunk Hill is a large rock, rather than a hill, that rises 55 meters above the river. Visitors can climb to the top for a view of the Li River and the surrounding city, but be aware that the climb is steep and involves many steps.
The park surrounding the hill is also nice to stroll around in. Near the riverbank, there are souvenir stalls, as well as the area's famous traditional fishermen who use cormorants to help them fish; you can take a photo with them for a fee.
Elephant Trunk Hill is an iconic but touristy place. Although the rock's shape is unique, the views here may seem unimpressive compared to the other stunning scenery the Guilin area has to offer.
Opening Hours and Ticket Prices
Opening hours: 6:00am to 9:30pm (April to October) / 7:00am to 6:30pm (November to March)
Entrance fee: 70 CNY
Average time for this activity: 1 hour

How to Get There
Located near the center of Guilin, Elephant Trunk Hill Park can be conveniently accessed by taxi or bus.
Popular Guilin & Yangshuo Tours