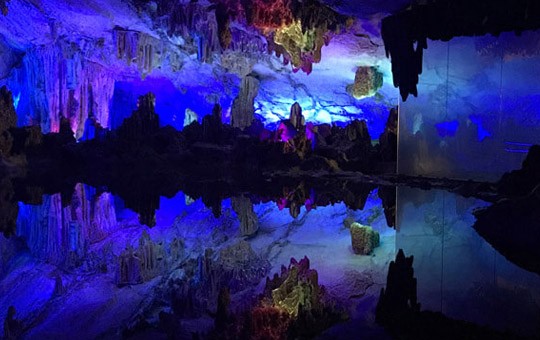 Located 5 km northwest of downtown Guilin, Reed Flute Cave is a natural limestone cave and has been a major tourist attraction in Guilin for over 1200 years. The cave was developed as a tourist site in 1962 and has received many visitors since then due to its impressive rock formations.
Highlights and Travel Tips
Reed Flute Cave is a very large, water-eroded cave with a stunning collection of stalactites and stalagmites of various shapes. Walking into this ancient cave is like stepping into a different time, and its many rock formations make for a magical atmosphere. The cave is illuminated with colorful lighting to provide visitors with a better view of the formations. There are also some ancient inscriptions on the cave walls that date back to the Tang Dynasty (618-907).
Midway through the cave, there is a large open room that offers a periodic video screening projected onto its stone ceiling and a hologram display of a Swan Lake ballet performance. In addition, the rock formations and their reflections in the river in this part of the cave make for some beautiful photo opportunities.
The path inside the cave can be wet and slippery in some places, so be sure to tread carefully. There is also an additional cave inside that can be accessed for an extra fee, which has two old turtles that are said to have been found in the cave, but this isn't as impressive as the main cave itself.
On the way out, you will walk through a commercial area with souvenir sellers. Remember to bargain if you want to buy something.
Accessibility Information
There are many steps and narrow passages along the walkway inside the cave. Therefore, the Reed Flute Cave is not suitable for wheelchair users.
Opening Hours and Ticket Prices
Opening hours: 8:00am to 5:30pm
Entrance fee: 110 RMB
Average time for this activity: 1 hour

How to Get There
Bus line 3 and 213 can take you to the Reed Flute Cave from the center of Guilin. The taxi ride from city center to the cave is also cheap and convenient.
Popular Tours