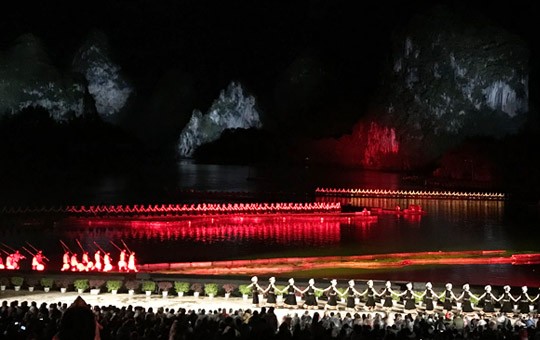 Created by famous Chinese film director Zhang Yimou, who also directed the opening and closing ceremonies of the 2008 Beijing Olympics, the nighttime "Impression Liu Sanjie" show makes for an entertaining spectacle and is considered one of the top things to do in Yangshuo.
Highlights and Travel Tips
The Impression Liu Sanjie show uses the Li River as its stage, with the surrounding karst peaks as the backdrop, forming one of the largest natural theaters in the world. The show combines classical Sanjie Liu folk songs, minority costumes, and cultural themes to depict the traditional life of the minorities that inhabit the Yangshuo area and the harmony between humans and nature. The show features 600 local performers perfectly choreographed alongside a fantastic light show that together make for an impressive sight.
There are five different seating zones: C, B2, B1, A2, and A1. The A1, A2, B1, and B2 zones are situated a bit higher up and thus offer a great view of the whole stage, but they are also a bit far from the stage. In addition, the A1 and A2 zones, i.e., the VIP areas, feature private boxes that are sheltered from the rain. The C zone occupies the largest area, and most seats are a bit lower; this zone thus has a more limited view of the entire stage, but its advantage is that these seats are usually closer to the stage and visitors can enjoy more close-up details while watching the show.
When booking tickets, visitor can only choose different zones. The specific seat is allocated automatically when you get your ticket at the ticket window before the show.
Since most seats are in the open air, visitors will be given one-time-use raincoats if it is raining or likely to rain. Bring a fan if you are visiting from May to August, since the weather is likely to be hot and humid, and also remember to apply insect repellent to keep the mosquitoes away.
The show is popular and frequently attended by large local tourist groups, which can be noisy and distracting during the show. Some songs are not amplified and may be difficult to hear clearly from seats that are farther from the stage.
Showtimes and Ticket Prices
Showtimes: 8:00-9:10pm (all year) / 9:20-10:30pm (peak season)
Ticket prices: 198 to 680 CNY, varies according to different seating zones
How to Get There
The open-air theater is about a 30-minute walk from West Street in Yangshuo. It is also convenient to get there by bike or taxi. However, be aware that it may be difficult to get a taxi after the show, as many people will be seeking taxis to go back downtown.
Popular Tours