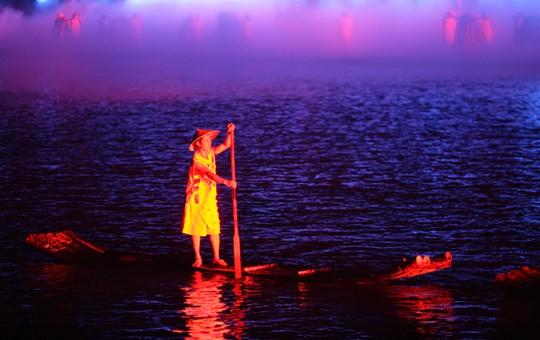 Created by famous film director Zhang Yimou (who also did the Olympic opening and closing ceremonies), Impression Liu Sanjie is a sensational night show performed in the largest natural theater in the world. With the sky and rows of mountain peaks along Li River the stage is pure nature.
Impression Liu Sanjie is a large-scaled show with 600 plus actors and actress involved. The show lasts approximately 70 minutes combining the classical Sanjie Liu's folk songs and traditional fishing culture themes reflecting the harmony between human beings and the nature. The scale and quality of the performance are unique, it is well worth spending the time and money for this evening activity.
As the stage is so spread out we suggest you just buy ordinary tickets, the view is good from everywhere.
The show lasts 1 hour and 15 minutes. There are two shows in the summer and one in the winter. We can reserve your tickets in advance as part of your tour. You need to be driven to and from the theater.
Average time for this activity : 1 hrs

Opening hours : 7:30pm until 8:30pm