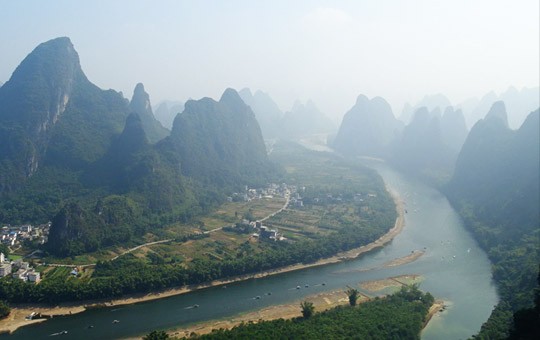 About 28 km, or a 50-minute drive, from downtown Yangshuo, Xianggong Mountain is a small hill that sits along the Li River and offers unparalleled panoramic views of the river and surrounding karst peaks.
Highlights and Travel Tips
When cruising down the Li River from Guilin to Yangshuo, Nine Horses Mural Hill and the Yellow Cloth Shoal near Xingping are definitely the highlights of the journey. While the cruise allows you appreciate these beautiful karst peaks from below, hiking up Xianggong Mountain, a small hill nearby, will reward you with some stunning bird's-eye views of these peaks and the Li River.
The hike to the top of Xianggong Hill is steep but short, with handrails along the path. It takes around 20 minutes to reach the top, and once you do, you will be rewarded with magnificent panoramic views of the most scenic part of the Li River. There are several viewing platforms at different levels to let visitors take in the scenery from various perspectives.
Xianggong Mountain offers particularly good photo opportunities at sunrise, and when low clouds or mist can be seen floating among the hills, making it a well-known destination for photography enthusiasts. That said, the view from the top of the hill is beautiful at any time of day.
It does get crowded on days when the sky is clear, especially when there is likely to be a nice sunrise. If you want to catch the sunrise, be sure to check the sunrise time and go early for a better position. In addition, be careful when hiking up the hill in dim light.
Avoid going to Xianggong Mountain when it's raining or too foggy, because this will obstruct the view and could make the hike unpleasant. If you are visiting in the summer, it's better to go early in the morning or in the evening to avoid the midday heat.
Be aware that Xianggong Mountain is a rather off-the-beaten-path destination, so its facilities are very basic.
Opening Hours and Ticket Prices
Opening hours: 5:00am - 8:00pm
Entrance fee: 60 RMB
Average time for this activity: 1 hour
How to Get There
The most convenient way to get to Xianggong Mountain is by taxi or with an organized a tour. If you are driving from Yangshuo to Guilin or vice versa, it is also convenient to stop for a quick visit at Xianggong Mountain on your way. You can take an electric scooter, but this might be risky, since it takes around two hours one-way between downtown Yangshuo and Xianggong Mountain, and the charge might not be sufficient for you to make it back.
Popular Guilin & Yangshuo Tours