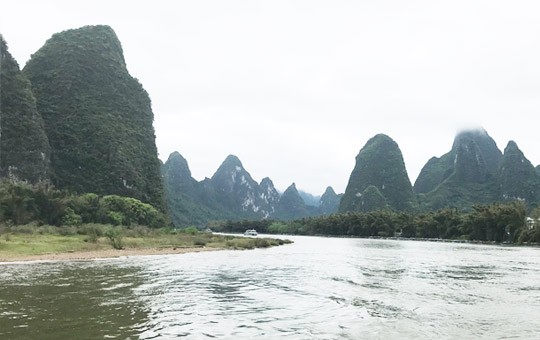 About a one-hour drive north of Yangshuo, Xingping is a small town on the banks of the Li River and is most famous as the setting of the well-known mountain and river scene depicted on the 20 RMB banknote. Xingping also gained fame in 1998, when it was visited by former US President Clinton.
Highlights and Travel Tips
Xingping used to be a smaller and quieter version of Yangshuo, but it has become more developed and commercial in recent years. The village of Xingping itself is quite small, so it does not take a long time to walk around. The village has an "old town" area of streets with souvenirs and a few restaurants. While this street is a good place to look for souvenirs or a snack, it has relatively few old buildings and can get crowded with tourists, and there is not much else to see or do in the town itself.
The Yellow Cloth Shoal, a famous scene that comprises many beautiful karst peaks reflected in the Li River and is depicted on the 20 RMB banknote, can be appreciated and photographed perfectly from Xingping pier, which is just outside Xingping town. Alternatively, visitors can ride a motorized raft from Xingping upstream to Yangdi, which is considered the most picturesque section of the Li River, although the noise from the motor engine of the raft and the big ships passing by on the river may affect your experience to some extent.
Those who have cruised along the Li River from Guilin to Yangshuo will have already traversed the Yangdi to Xingping route and appreciated this famous section of the Li River, along with the Yellow Cloth Shoal scenery. If you have done so, it may be better to skip Xingping in favor of Yangshuo or Guilin's many other attractions.
Just outside Xingping town and next to the pier lies Laozhai Mountain, a small hill that offers amazing panoramic views of the surrounding karst peaks and the Li River from the top, especially around sunset. The hike up to the top of Laozhai Mountain takes around 30 minutes, but it is a challenging climb; the hike involves very steep, uneven steps and can be dangerous in certain spots.
Opening Hours and Ticket Prices
Opening hours: all day
Entrance fee: free
Average time for this activity: 1/2 - 1 day
How to Get There
Xingping is easily accessible from Yangshuo via an hour-long drive or bus ride. In addition, the Yangshuo high-speed train station is only a 15-minute drive outside Xingping. For those who arrive or depart Yangshuo by train, it may be convenient to simply take a detour to Xingping for a short visit.
For those truly wanting to get off the beaten path, you can also bike from Yangshuo to Xingping. This route takes around 3 hours and is quite hilly, making this bike ride a challenging but unforgettable experience.
Popular Guilin & Yangshuo Tours