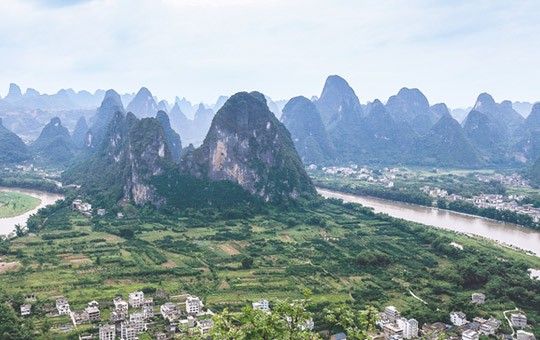 Located beside the pier of Xingping and just above the Li River, Laozhai Mountain offers amazing views of the Li River and surrounding karst peaks that are comparable to those of nearby Xianggong Mountain.
Highlights and Travel Tips
The hike up to the top of Laozhai Mountain takes around 30 minutes and involves very steep, uneven steps, making the climb a little dangerous and challenging. Because of this, we do not suggest this hike for the elderly, young children, or those who have mobility issues or are afraid of heights.
You can access the best views by climbing up the rocks at the very top of the hill to reach the cell tower.
Opening Hours & Ticket Prices
Opening hours: all day
Entrance fee: free
Average time for this activity: 2 hrs
Popular Guilin & Yangshuo Tours