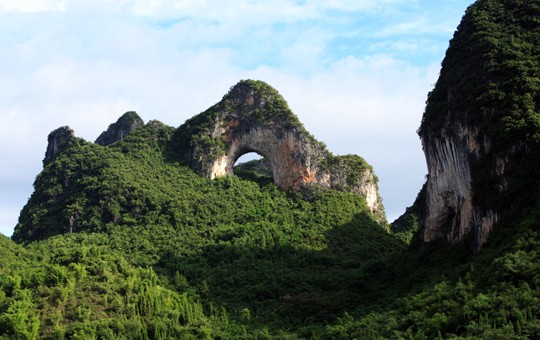 On the outskirts of Yangshuo and within the Ten-Mile Gallery Scenic Area, stands the town's most recognizable landmark, Moon Hill. This limestone peak, with a moon-shaped hole at its base, offers wonderful panoramic views of the surrounding countryside and mountains.
Highlights and Travel Tips
Moon Hill is an impressive sight itself and the parking lot at the foot of the hill is actually one of the best vantage points from which to appreciate its unique shape. However, if you pay a small entrance fee and hike up the hill, you will be rewarded even further with spectacular views of the surrounding karst hills and countryside.
The trail up is all paved and not very steep, but it includes hundreds of steps. The hike takes around 30 to 40 minutes and is a bit strenuous. The path is mostly in the shade, with plenty of areas to pause and catch your breath along the way. In the summer, when it can get very hot, it is better to hike in the morning or evening when temperatures are a bit cooler. Be careful when using the path after rain, as the stairs can become quite slippery. Remember to bring water as well. There are locals selling water and other drinks at escalated prices at the top of the hill.
Opening Hours and Ticket Prices
Opening hours: 8:00am - 5:30pm
Entrance fee: 14 CNY
Average time for this activity: 1-2 hours
How to Get There
Cars cannot enter the Ten-Mile Gallery Scenic Area from 8:00am to 6:00pm. Visitors can reach Moon Hill via a 10 km or 50-minute bike ride from West Street in central Yangshuo village. There is also an internal shuttle service that can take you from the entrance of the Ten-Mile Gallery Scenic Area to Moon Hill.
Popular Guilin & Yangshuo Tours