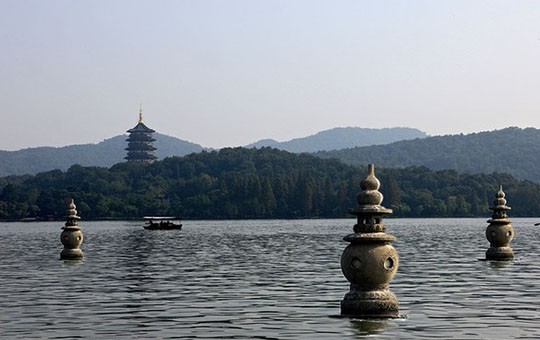 Hangzhou is famous for its scenery, and its most iconic site is West Lake. Situated in the Western suburbs of Hangzhou, once the historic heart of the city, this body of water has served as inspiration for Chinese poets and artists for centuries and remains one of the city's main attractions to this day.
Highlights and Travel Tips
This large, manmade lake covers an area of more than 6 square kilometers and can be enjoyed from many angles. Surrounded by rolling, green mountains, West Lake boasts stunning scenery, particularly if you happen to catch a sunset over the distant hills.
There are a number of traditional bridges and pagodas around the lake, making a stroll around this lovely waterway like taking a step back in time. Su Causeway, a 2.8-kilometer pathway made up of six stone bridges and various land bridges that cut across the western part of the lake, is especially famous. The causeway, which dates back to the Song Dynasty, is a spectacular sight in spring, when numerous peach blossoms are in bloom along the path. The western half of the lake is also home to a scenic lotus pool and fishpond, both popular attractions among visitors to West Lake.
One of the best ways to enjoy West Lake's picturesque views is by walking or cycling around it. The walkway around the perimeter of the lake is free, and bicycles can be rented for a small fee. A few hours spent ambling over bridges and skirting the beautiful lakeside is a great way to spend a morning or afternoon in Hangzhou.
We also highly recommend the Impression West Lake Show, a large-scale interpretation of an ancient legend with impressive lighting, beautiful choreography, and the lovely scenery of West Lake as its backdrop.
Entrance fee: none (although there are fees for the boat cruise and light show)
Opening hours: all day
Recommended duration of this activity: 2 hrs

Cruise on West Lake
Another popular way to navigate West Lake is by boat. A cruise on West Lake is a relaxing, scenic escape from the busy city of Hangzhou that will provide lots of opportunities for photographers to get some classical Chinese scenes in their lenses. Those not taking photos can simply sit back and take in the scene.
The West Lake Cruise takes you to the most scenic spots around the lake via a gorgeous traditional boat. A popular destination for boat cruises on West Lake is Three Pools Mirroring the Moon, the largest island in West Lake, the image of which graces the back of the 1 RMB banknote. It's also common to see Chinese people getting their wedding photographs done at the water's edge. These photos are taken long before the big day and are displayed at the wedding.
Boat cruises depart from various points around the lake, so you should have no problem finding one. Prices vary depending on the type of boat you choose, and there are several kinds available, including traditional painted boats, rowing boats, and self-rowing boats.
Average time for this activity: 1-2 hrs
Fee: 55-150 RMB depending on type of boat
Opening hours: depends on wharf (day and evening cruises available at most)
Average time for this activity : 2 hrs

Popular Hangzhou Tours: