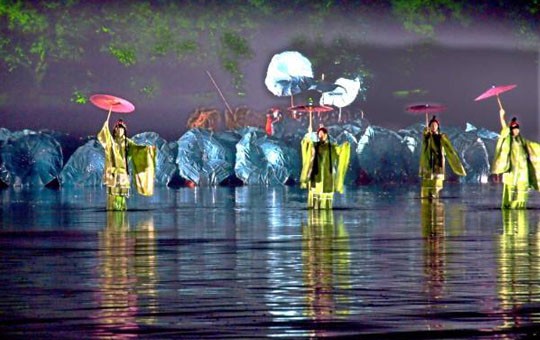 Using the lake and its surroundings as props, lots of lights and hundreds of actors create a dazzling performance. Film director Zhang Yimou, who developed the opening and closing ceremonies of the 2008 Summer Olympics in Beijing has produced Impression West Lake. Similar performances are staged in Yangshuo and Lijiang.
Staged entirely upon the lake itself (a stage has been built 3 centimeters below the surface), Impression West Lake is a performance of light, music, dance and theater. Drawing on classical myths and legends of West Lake, the show follows a thousand-year dream.

A special auditorium and state of the art sound system make the performance easy to see and hear. If you are looking for a special evening activity this is highly recommended.
Average time for this activity : 1 hrs

Opening hours : 7:45pm until 8:55pm with last admission at 9:15pm