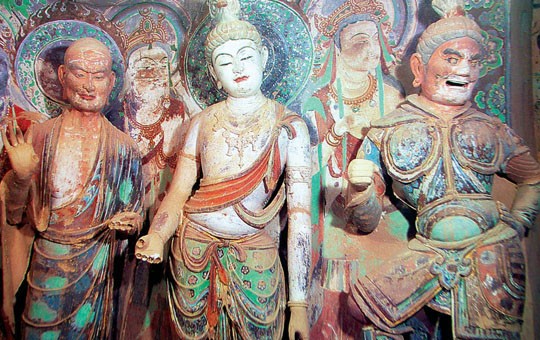 Dunhuang's crown jewel, the Mogao Grottoes should be on every visitor's list of must-sees in China. This is one of the most important examples of Buddhist art anywhere in the world. Luckily, it is also being meticulously preserved by the local & national governments, plus the on the site Dunhuang Research Academy.
Que faire et conseils de voyage
Starting from about AD 350, this area became an enclave for Buddhist monks, artists, and scholars. For over 1000 years, wealthy Silk Road merchants poured money into building temples and caves to ensure them a safe passage along their trading route. The number of different painting styles and cultural influences in the sculpting is truly unlike any other Buddhist cave art, especially compared to the singular styles of Longmen and Yungang.
Visiting Mogao has become extremely well-organized as a result of new policies on limitation of visitors, tours, and especially the new visitor's center. First, all visitors watch two films, one about the contents of the caves and another about the history of their construction in relation to Dunhuang's history. Following the films, everyone is ushered into buses and driven out to the caves. Small groups are formed at the base of the caves and a guide is assigned according to language. Each guide has his/her own set of keys, so every tour is ensured some privacy while exploring the caves. Usually, 5-7 caves will be visited per tour. Guides are very knowledgeable and have excellent language abilities.
Average time for this activity : 2.5 hrs
Popular Gansu Tours: