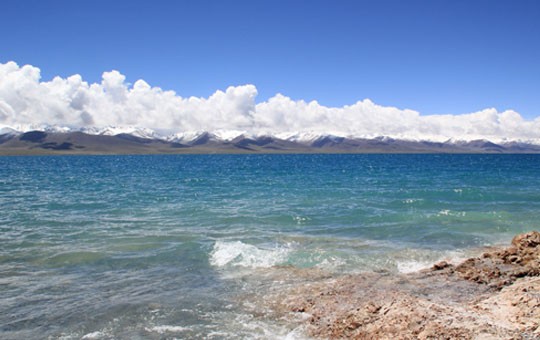 Sitting at an altitude of 4,718 metres, Namtso Lake ("Heavenly Lake") is one of the three holy lakes of Tibet and has a surface area of 1,920 square kilometers. The lake has a striking blue color and stretches out seemingly forever in front of the dramatic snow-capped peaks of the Nyainqentanglha Mountain range.
Highlights and Travel Tips
About 230 km or a 5-hour drive far from Lhasa, the drive to the sacred Namtso Lake is tiring but special, offering beautiful scenery and views of typical Tibetan life along the way. Visitors will take in views of the North Tibet grasslands along the way and climb over the snow-capped Nyainqentanglha Mountains, including a stop at Lakenla Pass. The Lakenla Pass, at an elevation of 5,190 m, offers magnificent views of the surrounding mountains and Namtso Lake from a distance.
Upon reaching the Tashi peninsula of Namtso Lake, visitors can take a stroll along the shores of the lake and enjoy stunning views of the blue lake with snow-covered mountains in the background. There is also a small temple at the end of the walk. There are yaks and horses on the shores that visitors can ride and take pictures with for a small fee.
There is a small hill near the welcome area, which visitors can hike up for a bird's-eye view of the lake, taking just 15-20 mins. If you do opt to do the hike, remember that you are at an elevation of over 4,700 meters and be sure to pace yourself. Motorcycles are also available to give you a ride up or down the hill for a fee.
Even during the summer, it can get very windy and cold at Namtso Lake, especially at night, so be sure to dress warmly. If you stay overnight, you will get to appreciate sunrise and sunset views of the lake. However, please note that the guesthouses here are VERY basic. There is no electricity at night, no heater, no toilet or washing facilities in the guesthouses, and public toilets are dirty. The bedding is often unclean and not changed between guests.
Opening Hours and Ticket Prices
Opening hours: 6:00am - 6:00pm
Entrance fee: 120 RMB
Average time for this activity: 1 to 2 days
How to Get There
Visitors to Namtso Lake should join a tour or hire a private car in order to visit. A day trip from Lhasa to Namtso, returning to Lhasa the same day, is possible but would be rushed and tiring. That said, the advantage of a day trip is that visitors can avoid the poor accommodation options at Namtso Lake. Please also note that due to the high elevation at Lakenla Pass, the road to Namtso Lake is subject to closure in case of snow or ice.
Popular Tibet Tours