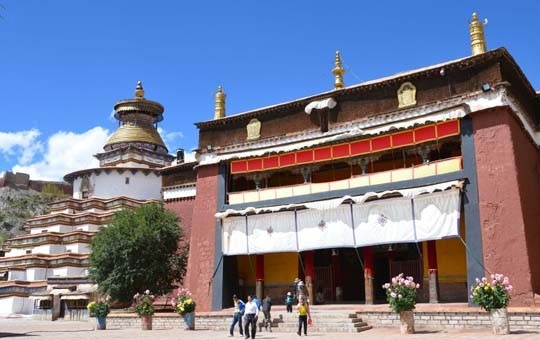 Located in the town of Gyantse, Palkhor Monastery is home to the largest stupa in Tibet, as well as numerous ancient Buddhist statues and murals.
Highlights and Travel Tips
Built between 1418 and 1425, the Palkhor Monastery is an interesting religious center where multiple sects of Tibetan Buddhism coexist. The complex of structures includes the Tsuklakhang Monastery, the main temple, and its Kumbum Stupa, believed to be the largest of its kind in Tibet. The monastery is unique and has a relaxed atmosphere.
The main temple has three floors and many well-preserved murals and images that date back to the 15th century. While the main temple is beautiful, the most striking architecture in the monastery is the Kumbum, a 32 m (105 ft) high, nine-floor stupa with 108 gates and 76 chapels. Visitors can climb to the top of the stupa for a nice view of Gyantse Dzong and the old city. The 100,000 Buddhist statues and thousands of murals housed in the chapels are interesting to look at as well.
Gyantse, at an altitude of about 4000m, is even higher than Lhasa, so be sure to pace yourself when climbing the stupa. Visitors are allowed to take photos inside the Kumbum Stupa for a small fee.
Just a short walk from the Palkhor Monastery is an old street that is worth exploring. The traditional houses that flank the street offer some great photo opportunities and give visitors a glimpse of old Tibet.
Opening Hours and Ticket Prices
Opening hours: 9:00 am - 7:00 pm
Entrance fee: 60 RMB
Average time for this activity: 2 hours
How to Get There
Gyantse is a small town about 100 km southeast of Shigatse. Visitors usually visit Gyantse either on their way from Lhasa to Shigatse or beyond to Mt. Everest Base Camp, or vice versa.
Popular Tibet Tours